Singapore, considered to have the world's best airport, isn't resting on its laurels.
On Tuesday (Oct. 31), Changi Airport's new terminal, its fourth, began operations. The new terminal has an annual passenger capacity of 16 million, raising the airport's total annual capacity to 82 million. Changi, one of the world's busiest airports, last opened a new terminal nearly a decade ago.
The new terminal is infused with plants and shrubs and offers a "contactless" experience, including automated check-in, baggage drop and immigration clearance with the help of facial scanning. "From passenger processing to the use of cleaning robots and automated guided vehicles to move bags and perform other tasks at the airside restricted areas, T4 is a huge experiment in how to run an airport with minimal staff," said the Straits Times.
First announced in 2012, the project cost SG$985 million ($723 million). The terminal's departure level has fig trees from neighboring countries, such as China and India in its Avenue of Trees. In all, the 225,000-square-meter terminal, roughly the size of 27 football fields, has 340 species of plants.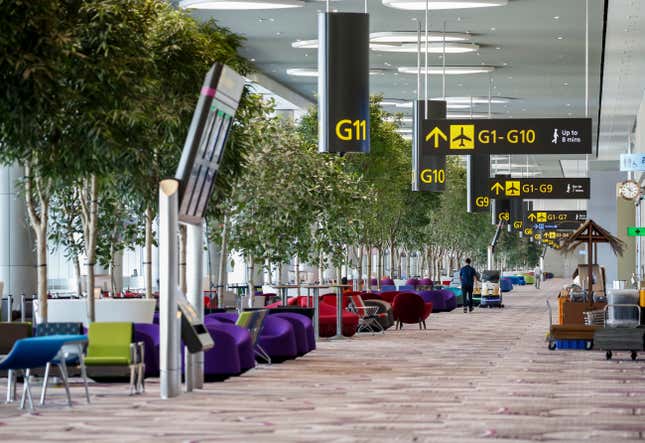 Some parts of the design—such as its large suspended moving sculptures—are apparently inspired by the petals of an orchid, as are other design elements in the airport.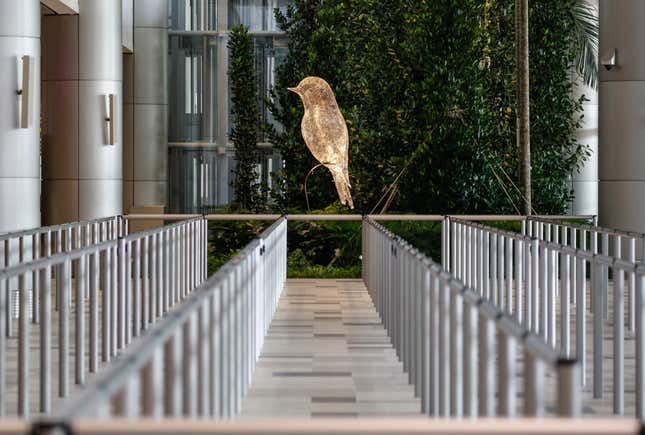 The airport, already admired for its greenery, is going to get even greener. Changi Airport Group, together with mall developer, is constructing a complex called the Jewel, set to open in 2019. It will have a 140,000-square-meter rainforest-inspired canopy garden nestled at the topmost level, with about 2,500 trees and 100,000 shrubs from countries such as Brazil, Australia, and the US. The garden will also have the world's tallest indoor waterfall, mazes, and walking nets located 25 meters above the ground. The Jewel connects directly to Terminal 1 and two other terminals with bridges.
Changi Airport Group, through its Changi Airports International subsidiary, is also developing or revamping airports in other countries, including Myanmar,  Saudi Arabia and Brazil.