It appears the real estate sector is no less susceptible to Brexit jitters than the financial one. As the months drag on with no clear UK plan on how to exit the European Union in sight, real-estate investors are eyeing up more predictable, lucrative places to put their money—and stable haven Germany is proving a major draw.
A survey released this week from auditing company PwC and the Urban Land Institute found that Germany's capital Berlin tops the charts as the most attractive European city for investment and development potential. Berlin, Frankfurt, Munich, and Hamburg grabbed places in the top six cities in the Emerging Trends in Real Estate 2018 report, which interviewed 818 people from the real-estate industry. London's 2018 "overall prospects" are ranked 27th.
Real estate investment in Germany in the last year came to €68 billion ($79 billion) up from €54 billion last year, and outstripping the UK's €66 billion worth of investment in the last year.  
The bad news for Germans is that all this investment enthusiasm is driving up prices and rents in Berlin, but PwC found that industry leaders believe the capital's growth is sustainable, thanks to its thriving tech hub and its population growth. London is the only city in Europe in which rent prices are likely to fall, the study found.
"Germany has been a steady state for a long time now. With Berlin, people truly believe it's going to become a major city," one financier told PwC.
The bane of Brexit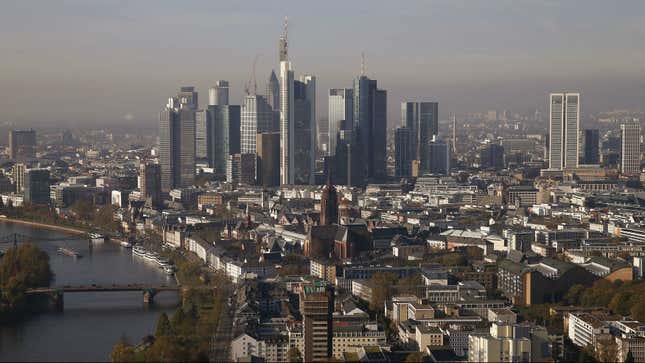 Worries over the financial impact of Brexit have not been soothed since Britain's EU referendum last summer and the lack of any kind of clear exit agreement with Brussels so far has led to many sectors worrying about how new rules could damage business. 
"We don't see the next 18-month period as the end of Brexit; we see it as the beginning," a London-based global investor told PwC. "That issue is going to weigh on investment sentiment and decision-making by all agents in the economy, ourselves included, for a number of years unless there is an unexpected upside surprise, but that seems quite unlikely."
Brexit-induced worries are already looking like a boon for Germany's financial hub Frankfurt, with big global banks like Standard Chartered and Goldman Sachs, getting ready to base their European operations in the city.
Macron Magic
Now that core European economies like Germany, France, and The Netherlands have all had their general elections in 2017, and avoided any significant populist victories, the political situation in Europe appears less volatile than it did a year ago.
Investors are reportedly feeling a bit of the Emmanuel Macron magic too, with the French president's pro-business approach widely expected to give the country a boost.
"There is this swing to Paris and the French with Macron, which wasn't there a year ago," one UK interviewee told PwC. "They're going out of their way to woo people."
Another noteworthy addition to the top-tier this year is Copenhagen, which bagged joint second place with Frankfurt. The Nordic capital has a robust tourist trade and its employment growth has spurred residential investment. It's also seen as one of the world's most livable cities.