Government officials on Wednesday (Nov. 1) released a collection of ads that Russian operatives purchased on Facebook between 2015 and 2017. The collection is part of the 3,000 ads Facebook handed over to Congress in September, when the company first disclosed that it had found $100,000 in ad spending by accounts linked to Russia. Facebook said in a blog post at the time that the ads were "connected to about 470 inauthentic accounts and Pages," and that they focused largely on "divisive social and political" subjects like gun rights, immigration, and LGBT issues, and less on particular presidential candidates and the election itself.
Facebook said in its testimony before a Senate Judiciary subcommittee yesterday that 126 million users on Facebook have seen the ads. Included in the collection released today was metadata showing exactly how some of the ads were targeted to Americans. Here, we've rounded up five ads, along with detailed information about how they were targeted, how much they cost, and how many people they reached. If you'd like to see more ads, we've put together a longer list here.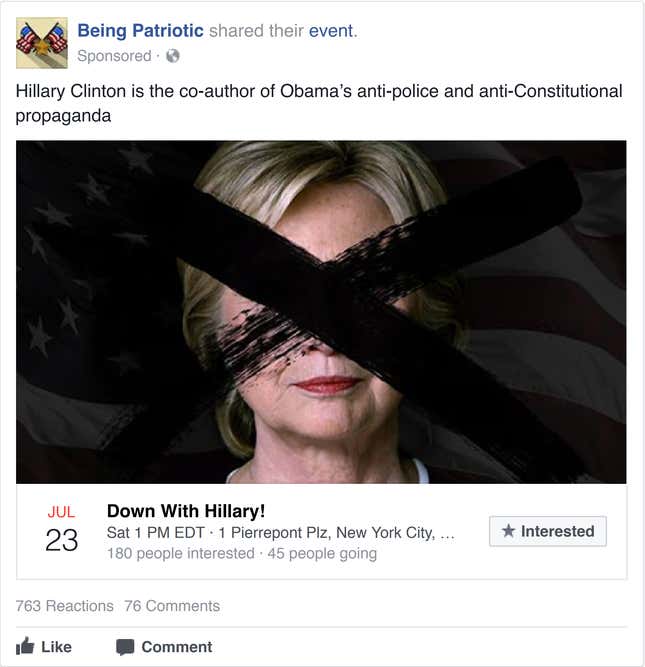 Down With Hillary event
Ad spend: 14,705 RUB ($252.34 USD at current exchange rate)
How it was targeted:
Location: Within 40 kilometers of New York
Interests: Donald Trump, Donald Trump for President, Donald Trump Jr.
Age: 18 – 65+
Language: English
Dates run: July 12 – 23, 2016
Placement: Desktop and mobile
Results:
Impressions: 15,255
Clicks: 1,312
---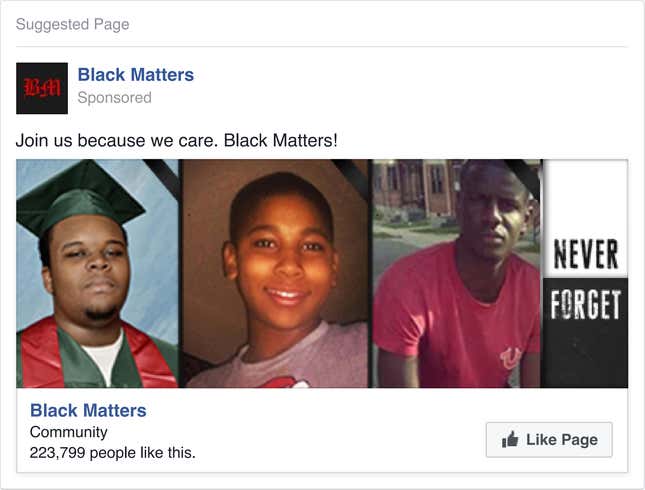 Black Matters
This page was promoted in three separate campaigns; the data below is an aggregate of those.
Ad spend: 151,608.21 RUB ($2,601.58 USD)
How it was targeted:
Location: Within 20 kilometers of Atlanta, GA; 20 kilometers of Ferguson, MO; 20 kilometers of St. Louis, MO; Also: All of Missouri, Georgia, Maryland, and Virginia, and all of the United States.
Interests: BlackNews.com or Huffpost Black voices; Martin Luther King, Jr., African-American Civil Rights Movement (1954-68), African American History, Malcolm X
"Behaviors": African American (US)
Age: 18 – 65+
Language: English
Dates run: July 13, 2015, October 5, 2015, August 29, 2016 [End dates not included]
Placement: Desktop and mobile
Results:
Impressions: 784,113
Clicks: 55,734
---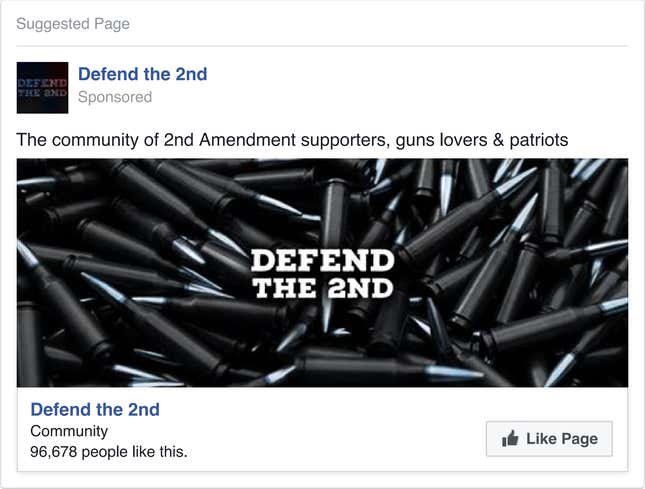 Defend the 2nd Amendment
Ad spend: 48,305.55 RUB ($828.92 USD)
How it was targeted:
Location: Living in the United States
Interests: Right to keep and bear arms, The Second Amendment, National Rifle Association, Second Amendment Sisters, Gun Owners of America, Second Amendment to the United States Constitution, Concealed Carry in the United States, Gun rights, National Association for Gun Rights, Guns & Ammo or Guns Rights Across America
Employers: Gun Owners of America
Age: 18 – 65+
Language: English
Dates run: October 21, 2016 [End date not included]
Placement: Desktop and mobile
Results:
Impressions: 301,608
Clicks: 24,955
---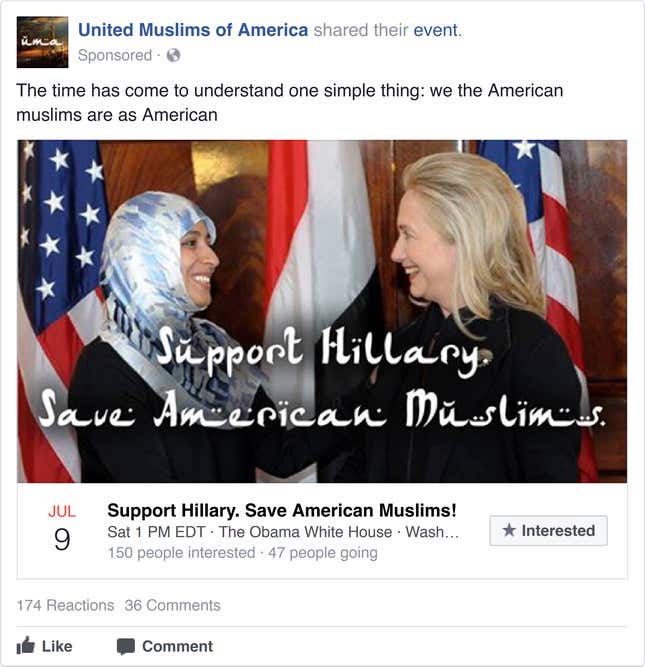 United Muslims of America
Ad spend: 3,981.07 RUB ($68.31 USD)
How it was targeted:
Location: Within 50 miles of Washington, DC
Interests: Hillary Clinton or Muslim Brotherhood
Age: 16 – 53
Language: English or Arabic
Dates run: June 24, 2016 [End date not included]
Placement: Desktop and mobile
Results:
Impressions: 1,849
Clicks: 94
---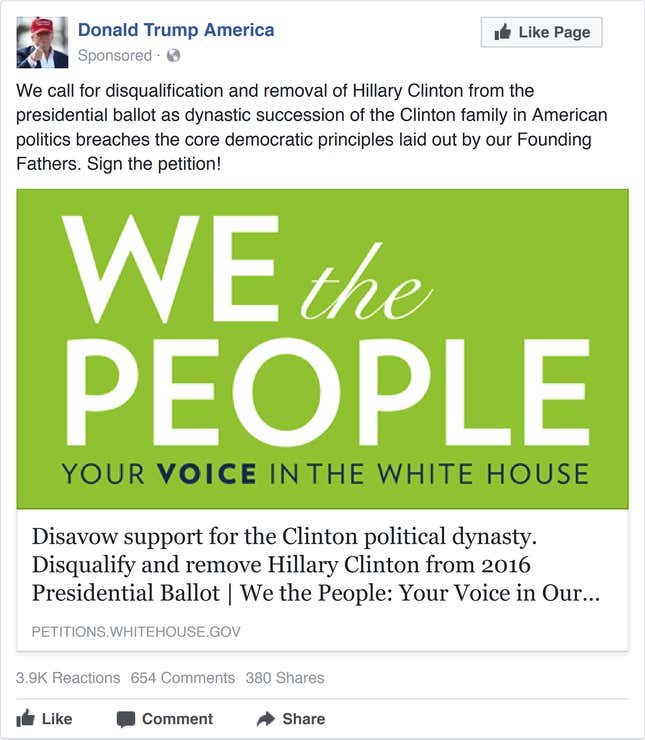 White House Petition
Ad spend: 14,606.52 RUB ($250.65 USD)
How it was targeted:
Location: Living in the United States
Interests:Donald Trump, Donald Trump for President, Donald Trump Jr.
Age: 18 – 65+
Language: [None indicated]
Dates run: August 2 – 5, 2016
Placement: Desktop and mobile
Results:
Impressions: 34,943
Clicks: 6,276