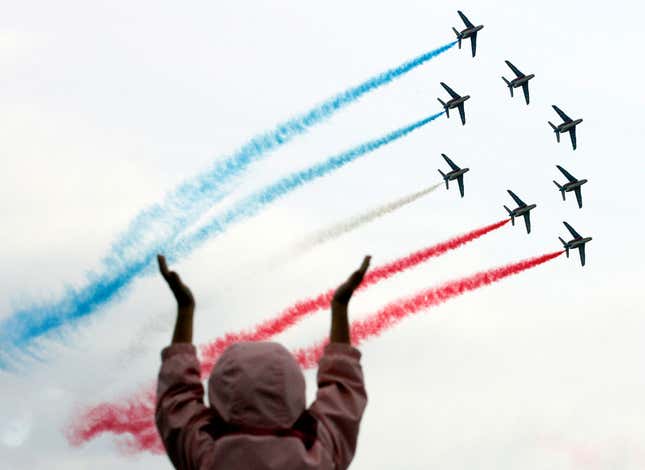 Since he became CEO of Europe's leading aerospace-defense contractor last year, Tom Enders has been a man on a mission: Eliminate the political interference that has overshadowed the regional conglomerate's attempts to compete globally.
Now, a British hedge fund wants him to put his money where his mouth is.
The activist fund, TCI, owns 1% of EADS, and in a letter urged the company to sell its 46% stake in Dassault, the French aerospace manufacturer. While the investment has been profitable, it has not created manufacturing synergies with the rest of EADS aerospace companies, and per TCI, that money could be better spent on other projects, or at least paying off shareholders. But the real purpose of the investment—though EADS denies it—might be placating the French government, which sees Dassault as a key part of the French defense industry and has the ability to veto EADS sales of its stake.
Enders is probably sympathetic to TCI's view. His first major act as CEO was an attempt to merge with the UK defense firm BAE Systems, diluting the oversight of Germany, France and Spain. When that failed, he spearheaded a reorganization and stock buyback aiming at similar results. Now, he promises shareholders that EADS—which will soon be known as Airbus, its most successful brand—is a regular company that only concerns itself with business fundamentals and its stock price, words TCI paid close attention to:

France, however, will complicate the situation. President Francois Hollande's cash-strapped government has been selling off stakes in state-owned business, but it may be reluctant to purchase a big stake in Dassault from EADS. On the other hand, it sees the company as integral to the country's defense base, and may be reluctant to allow a significant stake to be sold to a third party.
That means TCI may be setting itself up for a fall: While the sale of Dassault would be good for the hedge fund's bottom line, especially if that money is returned to investors, EADS's stock price has already been rising on the success of Airbus and the promise of less government interference in its business. If it pursues a sale of Dassault only to have the French rebuff it, it will be clear to all involved—including the markets—exactly how much leeway Enders and his managers have to ignore elected officials.