Amazon received 238 bids to host its much-anticipated new headquarters, HQ2. Wondering if your town or city was among the applicants? Amazon declined to share a full list, so Quartz combed through media reports and contacted local and regional officials around North America to identify as many bids as possible.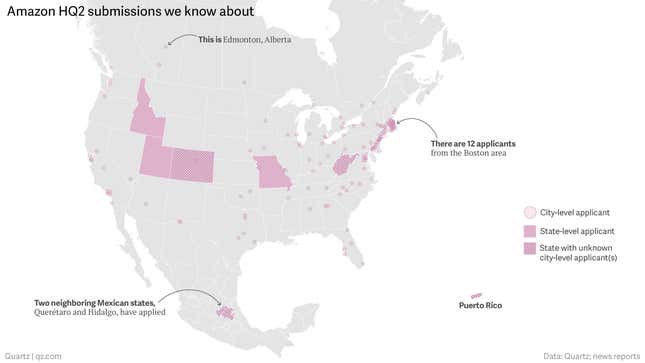 We confirmed close to 200 bids, with applicants ranging from major metropolitan areas to three businesswomen in Anchorage, Alaska. Some states are more eager to host the online behemoth than others; two dozen towns in Massachusetts submitted bids, 12 from the Boston area alone. Our list is a living document: Please contact me, agriswold@qz.com, if you submitted a bid but don't see it represented here.
Alabama
Alaska
Anchorage, via three local business owners
Alberta, Canada
Arizona
British Columbia, Canada
California
Cal Poly Pomona-Fairplex-Pomona
Concord-Freemont-Oakland-Richmond-San Francisco
Fresno
Irvine
Long Beach-Huntington Beach
Los Angeles
Sacramento
San Diego-Chula Vista
San Jose
Chihuahua, Mexico
Colorado
The state submitted eight sites; Quartz confirmed Denver is one of them
Connecticut
Bridgeport-New Haven
Danbury
Greater Stamford
Greater Hartford
Waterbury
Delaware
Florida
Manatee-Sarasota (submitted three proposals)
Orlando
South Floria (Miami-Dade, Broward, Palm Beach)
Tampa-St. Petersburg
Georgia
Hidalgo, Mexico
Idaho
Submitted a statewide bid
Illinois
Indiana
Gary-Hammond (Northwest Indiana)
Indianapolis-Fishers (Central Indiana)
Iowa
Kansas
Kentucky
Louisiana
The state declined to reveal details of any bids placed by or within Louisiana
Maine
Manitoba, Canada
Maryland
Baltimore
Charles County
Montgomery County
Prince George's County
Massachusetts
Boston
Everett
Fall River
Foxborough
Gardner
Holyoke
Lawrence-Haverhill-Andover-Methuen-North Andover
Lee
Leominster
Lowell-Billerica-Tewksbury
Lynn
Marlborough
New Bedford
Northborough
Peabody
Pittsfield
Quincy
Somerville
Springfield
Taunton
Union Point-Abington-Rockland-Weymouth
Waltham
Westborough
Worcester
Michigan
Detroit-Windsor (Canada and Michigan)
Grand Rapids
Minnesota
Mississippi
At least one bid was submitted; details of it are unknown
Missouri
Kansas City
St. Louis
Also submitted a statewide bid
Nebraska
Nevada
New Hampshire
New Jersey
Atlantic City
Bayonne
Camden County
Jersey City
New Brunswick
Newark
Trenton
West Windsor-Mercer County
New Mexico
El Paso-Borderplex Alliance
Santa Teresa-San Jeronimo (New Mexico and Mexico)
New York
Albany
Buffalo-Rochester
Mount Vernon
New Rochelle
New York City-Long Island-Hudson Valley
Syracuse-Utica
Westchester
North Carolina
Charlotte-York County
Greensboro
Hickory
Raleigh
Nova Scotia, Canada
Ohio
Cincinnati-Dayton
Cleveland
Columbus
Toledo-Maumee
Oklahoma
Ontario, Canada
Detroit-Windsor (Canada and Michigan)
Hamilton
Ottawa-Gatineau
Sault Ste. Marie (Canada and Michigan)
Simcoe County
Toronto
Oregon
Pennsylvania
Delaware County
Harrisburg
Lehigh Valley
Philadelphia
Pittsburgh
Northeast Pennsylvania
Puerto Rico
Has declined to reveal details
Quebec, Canada
Querétaro, Mexico
Rhode Island
East Providence
North Kingstown
Pawtucket-Central Falls
Providence
Richmond
Warwick
Woonsocket
South Carolina
Tennessee
Knoxville
Memphis
Nashville
Texas
Austin
Dallas-Fort Worth
Frisco
Houston
Milam County
Utah
Submitted a statewide bid
Virginia
Alexandria-Arlington-Loudoun-Fairfax (Northern Virginia)
Great Richmond
Hampton Roads
Northern Virginia
Washington
Pudget Sound Region
Tacoma-Pierce County
Washington, DC
West Virginia
Declined to reveal details
Wisconsin
Dave Gershgorn, Mike Murphy, Karen Hao, and Hanna Kozlowska contributed reporting.