US president Donald Trump tried today (Nov. 8) to land at the Demilitarized Zone (DMZ) between South Korea and North Korea, but turned back because of heavy fog, according to a pool report on this leg of his lengthy Asia tour.
Despite early messaging from the White House that Trump wasn't all that interested in visiting the heavily fortified border between the two Koreas, press secretary Sarah Huckabee Sanders told the press pool that Trump was "actually pretty frustrated" not to have been able to get there.
A senior White House official said last month that going instead to Camp Humphreys, a military base whose construction was largely funded by South Korea, would be more in keeping with Trump's messaging on security issues in the region.
"It's been a minority of American presidents who have visited the DMZ since the end of the Korean War. It's fewer than half," said the official. "It's becoming a little bit of a cliché, frankly."
But the US president attempted a visit to the DMZ after South Korean president Moon Jae-in made the suggestion when the two leaders met yesterday (Nov. 7), according to a representative for the Korean presidential Blue House. White House reporters were informed of the destination early Wednesday when press secretary Sanders held up a piece of notepaper with the letters "DMZ" scrawled on it, according to the pool report. As Trump made his way to the DMZ, Moon was waiting for Trump inside a guardpost.
Later in a speech delivered to South Korea's legislature, Trump said of the DMZ:
We did not choose to draw here on this peninsula, this magnificent peninsula, the thin line of civilization that runs around the world and down through time. But here it was drawn and here it remains to this day. It is the line between peace and war, between decency and depravity, between law and tyranny, between hope and total despair. It is a line that has been drawn many times, in many places in history. To hold that line is a choice free nations have always had to make.
Vice president Mike Pence visited the DMZ in April, and delivered a cold stare at North Korea.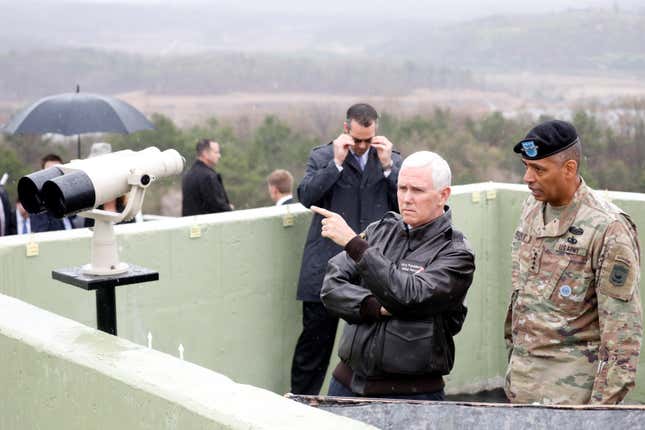 Sanders added that Trump's botched DMZ trip had been planned "for a little while" since before Trump left on his Asia trip, and stressed that it was "something the president wanted to do."