Update: Trump announced to reporters on Friday (Nov. 3) that he will be attending the East Asia Summit, after coming under criticism for skipping it. The trip will be extended from 12 days to 13 to accommodate the Summit, which Politico called "a symbolic move aimed at building good will in the region."
In his longest official visit yet—and the longest in decades of any US president to Asia—Donald Trump will visit five Asian countries in little more than a week. It's a busy trip, and a chance for the Trump administration to try to make headway on some of the most thorny strategic matters before it: how to deal with North Korea, shore up regional alliances, and find common ground with China while pressing hard on issues like trade.
The trip begins in Hawaii on Nov. 3 where he will visit Pearl Harbor. He kicks off the Asia portion of the visit in Japan on Nov. 5, and concludes his trip in the Philippines just after the following weekend.
Here's a primer on where he will be, whom he will meet, and equally important, where he is not going.
Japan, Nov. 5-6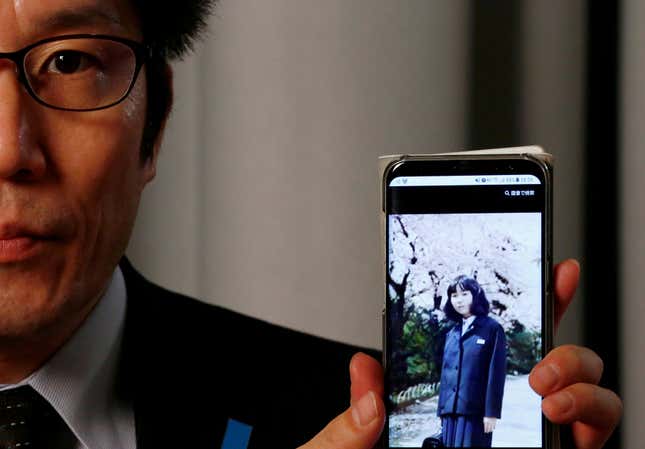 Japanese prime minister Shinzo Abe just had a strong showing in a general election where he essentially campaigned on one issue: North Korea, playing up his friendship with Trump as the key to keeping Japan safe. Abe's also keen to revise Japan's anti-war constitution, a move that could allow the nation more leeway on things like when to shoot down North Korean missiles. It's rhetoric that Trump might appreciate, as the president said during campaigning last year that Japan and South Korea need to take more responsibility for their own security (since taking office the president has said the US stands "behind Japan, its great ally, 100%"). In Japan, Trump will:
Meet US service members and Japan's Self-Defense Forces at Yokota Air Force Base, near Tokyo
Play a round of golf
Call on the Japanese imperial family
Meet the parents of Megumi Yokota, a Japanese teenager abducted by North Korean agents in 1977 when she was 13. Abe says he proposed the meeting to Trump in September at the United Nations General Assembly meeting, where Trump mentioned Megumi in a speech
Attend bilateral meetings and a banquet hosted by Abe
South Korea, Nov. 7-8
South Korea is not first among equals when it comes to dealing with the global security issue that concerns it more than it does any other country—North Korea. It's not one of the five permanent members of the United Nations Security Council, which periodically meets to slap more sanctions on Pyongyang (it last sat on the council as an elected member in 2013-2014). If a war breaks out with North Korea, it won't have operational command (paywall) over its troops. And unlike China and Japan, there's still no US ambassador in Korea to regularly communicate Seoul's point of view. Japan and the US are far more closely aligned (paywall) on North Korea, and the feeling of being sidelined—dubbed in the country "Korea passing"—emerged early in Trump's term. From president Moon Jae-in's point of view, Trump's trip is a chance to do something about this state of affairs.
But Trump isn't likely to see eye-to-eye with a man who made his career as a human-rights lawyer, and whose approach to North Korea involves persuading North Korea to join the Winter Olympics that South Korea is hosting early next year. Trump may also be looking for concessions on the US-South Korea free-trade agreement. In South Korea, Trump will:
Visit American and South Korean military personnel at Camp Humphreys, described in a briefing by a senior administration official ahead of the visit as "an excellent example of burden-sharing by the South Korean government"
Have a bilateral meeting with president Moon and attend a state dinner
Address lawmakers at the National Assembly on Nov. 8, in a speech the administration official said will call for "maximizing" pressure on North Korea
Visit the Seoul National Cemetery, where the remains of tens of thousands of soldiers who died in the Korean War are buried
China, Nov. 8-10
When Trump and Chinese president Xi Jinping meet on the latter's turf, Xi's power will be the greatest it's ever been. Trump's, meanwhile, has partially diminished in the time since he hosted Xi at Mar-a-Lago in April, where he ordered a missile strike during dinner. Nonetheless, Trump is expected to bring up contentious issues, such as market access for US companies, the trade deficit, and whether China is tough enough on North Korea. Trump's entourage will also include business leaders brought together by commerce secretary Wilbur Ross—but not his daughter Ivanka Trump, who is admired in China (paywall).
Ryan Hass, a foreign-policy expert at the Brookings Institution's John L. Thornton China Center, said that there are risks to going in with the assumption that Trump will be able to come back with something from China.
"Trump has tried to increase pressure on trade for much of the past six months through tweets, phone calls with Xi, and messages conveyed through his envoys, to no avail," wrote Hass. "During that period, China has not blinked. The U.S. trade deficit with China has grown, not shrunk."
His advice? "Trump should avoid levying specific threats of future enforcement actions, as doing so now would only result in limiting future negotiating space."
In China, Trump will:
Be welcomed with a honor guard
Engage in commercial and cultural meetings, including with Xi
Attend a state banquet
Vietnam, Nov. 10-11
Last year, during president Barack Obama's visit to Vietnam, the US announced it was lifting a decades-old arms embargo (paywall), but also emphasized that Vietnam had to make improvements on human rights. Trump is going to arrive in a Vietnam that is continuing, if not deepening, a crackdown on dissidents. Just days ahead of the visit, the daughter of imprisoned blogger Mother Mushroom posted a letter on her mother's Facebook page appealing to Trump's wife, Melania Trump, for help in freeing her mother. Vietnam also has concerns about China's activities in the South China Sea, and trade with the US—it stood to gain a lot from the Trans-Pacific Partnership trade deal that Trump has pulled America out of.
Earlier this year, Vietnam's prime minister visited the White House.
In Vietnam, Trump will:
Participate in the Asia Pacific Economic Cooperation (APEC) Economic Leaders meeting in the resort town of Danang
Speak at the APEC CEO summit
Attend bilateral meetings with president Dan Trai Quang in Hanoi.
Philippines, Nov. 12-13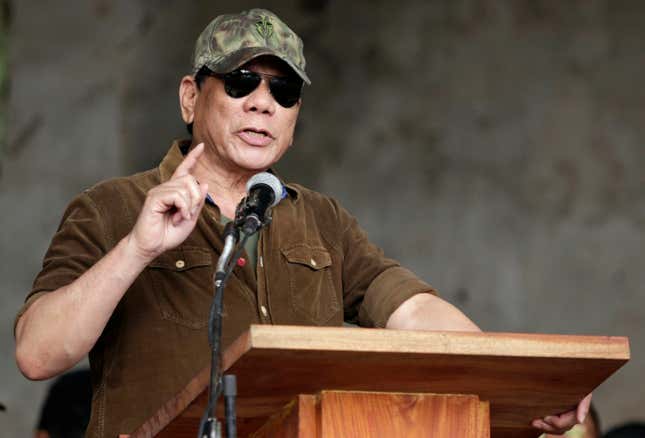 Soon after Philippine president Rodrigo Duterte took office last year, he began taking swings at the longstanding US-Philippine alliance. He told then president Obama to "go to hell" and worse, leading Obama to cancel a planned trip there. He threatened to discontinue joint military exercises with the US—they have continued, but have been scaled down. Meanwhile, Duterte has warmed significantly to China, and has appeared to set aside a vindicating international tribunal decision over disputed parts of the South China Sea, that was handed down in response to a complaint brought by Manila.
The senior administration official said Trump has a "warm rapport" with Duterte. Trump has said that Duterte—whose war on drugs has resulted in thousands of extrajudicial killings—is doing a great job combating the drug problem. He has also invited Duterte to the White House, but the Philippine leader said at the time he was a bit busy. In the Philippines, Trump will:
Attend a gala celebration for the 50th anniversary of the Association of Southeast Asian Nations (ASEAN)
Mark the 40th anniversary of US-ASEAN releations with a summit on Nov. 13
Hold bilateral meetings with Duterte and other officials.
Where he's not going
Although it initially seemed to be on the cards, Trump in the end decided not visit the Demilitarized Zone dividing the two Koreas, with a senior administration official calling such a visit a "cliché."
Trump also won't attend the East Asia Summit on Nov. 14 in the Philippines, even though he'll already be in the country. Some analysts say that even though Trump is already attending other summits on his Asia trip, this particular one focuses on crucial regional political and security issues (paywall). Trump's move to go home early could be a mistake, as it could be seen as an example of the US ceding valuable ground to China in a geopolitically tense region.