Yesterday, (Nov. 9), China's president Xi Jinping hosted Donald Trump at a state dinner at Beijing's Great Hall of the People. Among the guests were Chinese business leaders, who signed deals worth some $250 billion with their US counterparts earlier during the day. One of them, Xiaomi founder Lei Jun, posted the menu on microblogging site Weibo.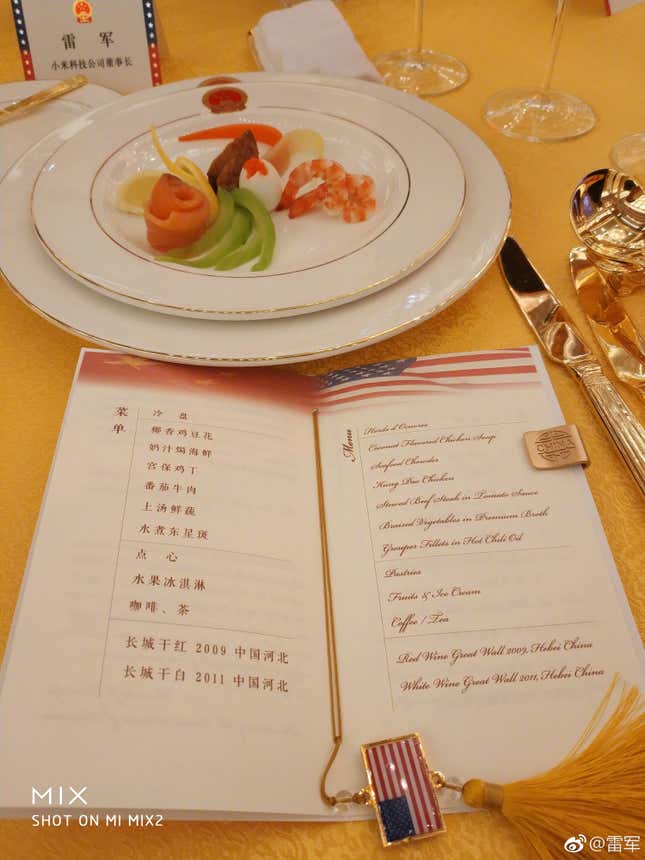 Menu
---
---
---
Hors d'Oeuvres

Coconut Flavored Chicken Soup

Seafood Chowder
Kung Pao Chicken

Stewed Beef Steak in Tomato Sauce

Braised Vegetables in Premium Broth

Grouper Fillets in Hot Chili Oil
Pastries

Fruits & Ice Cream

Coffee/Tea

Red Wine Great Wall 2009, Hebei China
White Wine Great Wall 2011, Hebei China
China's state dinners are big productions that usually involve more than 160 chefs, and the menu is designed to take into consideration the guest's "tastes, age, and state of health," according to state media.
Bearing that in mind, the Chinese side ensured that Trump's favourite food—steak with ketchup, or at least a variation of it—was offered alongside local dishes. (Saudi Arabia did the same when hosting Trump's first overseas trip as president in May.) Kung Pao chicken, a dish familiar to many Americans, was another inspired choice that connects China with the US—although the Chinese version is a lot different to the Americanized version that features a sticky sweet and sour sauce.
The dry wines in both red and white were made by domestic producer Great Wall Wine, founded in 1983, whose headquarters are located at the foot of the Hebei stretch of the Great Wall. A 2011 Great Wall Riesling is on sale (link in Chinese) on Alibaba's Tmall, one of China's biggest shopping sites, for 198 yuan, which is around $30. (Not that any of that would matter to Trump, who is teetotal.)
When Xi visited the US in April, Trump fed his Chinese guests Caesar salad, a choice between fish or steak, and chocolate cake—a decidedly less lavish affair than when Barack Obama hosted Xi in 2015.
Some Chinese internet users commented under Lei's post that the menu was too plain for a state banquet, according to Hong Kong Free Press, which rounded up the comments before Lei disabled them. One person commented: "My mom can cook these dishes—next time just come over to my house."