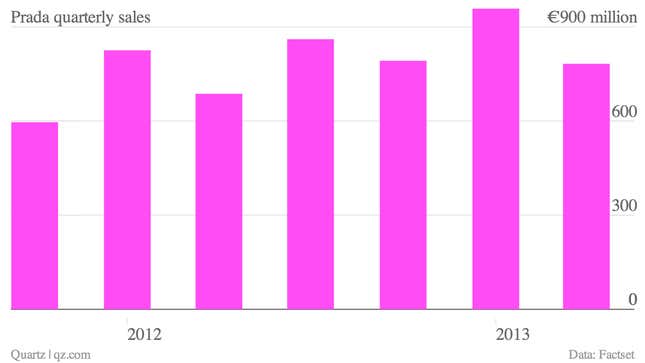 The numbers: Sales at the Italian fashion house Prada increased 11.6%—or €1.73 billion ($2.3 billion) over the first half of the year ended July, compared to the same period a year earlier. Its shares were down 1.45% in Hong Kong, where it is listed.
The takeaway: Prada appears to be rebounding slightly after a less-than-stellar first quarter. Until this year, it had avoided a slowdown that hit other luxury-goods retailers. We reported before that Prada's sales in Asia Pacific are being dragged down by certain markets like South Korea. Now, overall sales in the region seem to be picking up steam, growing 17.7% for the six months ended July, and 16% in Japan in particular. In Europe, sales grew 5.7%, the company said, because of a boost in tourism.
What's interesting: Prada's image in Asia hasn't been dented by an ongoing discrimination lawsuit, in which a former Prada employee in Japan accused the company of harassing her and others for their appearance and not fitting the "Prada look". The company also said earlier this year that it "does not want to distract [itself]" and was not shopping for possible acquisitions as rumored. This year, Prada plans to expand by opening about 80 stores. As we noted before, many of those will be in second-tier Chinese cities, as part of Prada's strategy to focus on growing demand for luxury goods in Asia.