Thanksgiving is about family, friends, and gratitude. It's about celebrating America over towering plates of stuffing, turkey, and cranberry sauce. It is, of course, a commercial holiday, but we're supposed to pretend that it's not—at least until Black Friday, when pretenses and food comas lift.
Except Amazon is breaking with tradition.
Since it bought Whole Foods over the summer, Amazon has slashed prices on grocery staples (bananas, eggs, apples) and trendy items (avocados, kale, almond butter) in a bid to attract more customers. As the Thanksgiving holiday approaches, the e-commerce giant is at it again, cutting prices on regular and organic whole turkeys at Whole Foods—but this time just for Amazon Prime members.
"In this season of thanks, we'd like to thank you for being a Prime member," reads a promotion Amazon posted online last week. "Please enjoy extra savings on high-quality whole turkeys from Whole Foods Market, part of the Amazon family. Now through November 26th, use this coupon to save up to an additional 20% off whole turkeys—a delicious centerpiece for your Thanksgiving meal."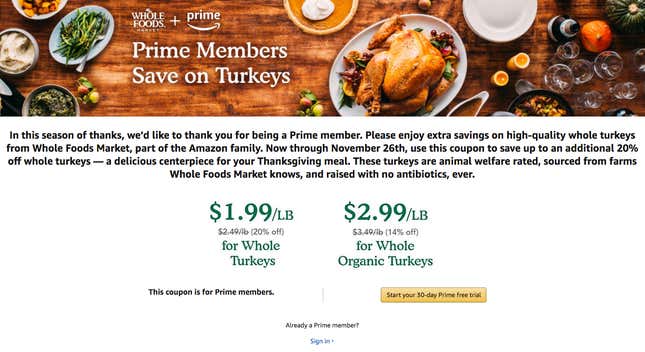 The deal takes 20% off prices for whole turkeys ($1.99 per pound vs. $2.49) and 14% off whole organic turkeys ($2.99 per pound vs. $3.49). Non-Prime members will pay the higher (though still discounted) rates for their turkeys, unless they sign up for a 30-day free trial. The discounts, in other words, are a brazen attempt to parlay Thanksgiving into more subscribers for Prime, Amazon's $99-a-year membership program.
Amazon has big plans for Whole Foods, where it's already selling Amazon Echoes and building out Amazon Lockers, among other things. The company has yet to explicitly outline how Prime fits into those plans, but it makes sense that Amazon would use discounts at Whole Foods to generate new signups, particularly when Amazon CEO Jeff Bezos has called it "irresponsible" not to be a Prime member. Amazon could effectively move Whole Foods to a Costco-like model, where a Prime membership is, if not the price of admission, a prerequisite for the best services and deals.
The trouble is that people don't like feeling excluded, especially from things they're used to being able to access. Whole Foods was always pricey but, in its pre-Amazon life, sales were for everyone. Asking people to pony up $99 for Prime to save a couple bucks at Whole Foods could be a tough sell. And especially at Thanksgiving, discounting turkeys only for those already in the club doesn't feel like much of a thank you. It feels cheap.
This post was updated to clarify that all whole turkeys at Whole Foods are discounted, but Prime members receive deeper discounts.