In many developing countries, finding a clean public toilet can be extremely hard. The problem has prompted cooperation between tech giants and local authorities. Google, for example, partnered with India's urban planning authorities to help people locate the nearest toilets.
To mark World Toilet Day, which this year fell on Sunday (Nov.19), China unveiled a similar platform, the "National Public Toilet Cloud." It's from China's Ministry of Housing and Urban-Rural Development, and is available via an app and a WeChat public account, a rough analog to a business's Facebook page. The ministry aggregated information about nearly 330,000 national public toilets across the country, state news agency Xinhua (link in Chinese) said in a report, noting that "restrooms can reflect a country's civilization level."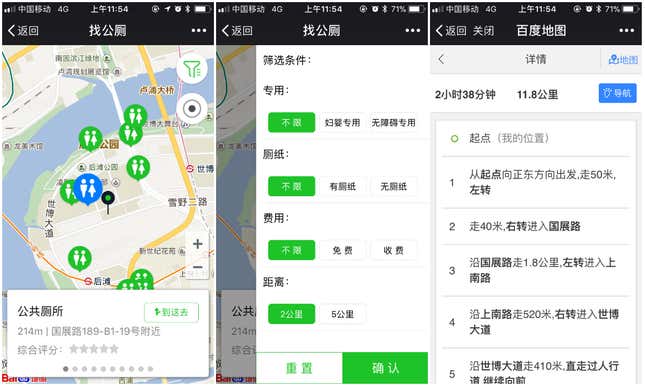 After scanning the QR code through WeChat, for instance, a page pops up and identifies your current location on the map app developed by China's search giant company Baidu. Once you pinpoint a location, the next step is to choose the restroom type—whether it has toilet paper, whether the toilet's free, and how far away it is from you. The platform then filters those meeting your requirements and tells you how to get there. The WeChat account right now only provides Chinese-language service.
Besides locating a restroom, restroom operators can share information about their facilities, including pictures, opening hours, fees, and how many pot or squat toilets it has.
There are already other similar apps developed by private companies—Gaode map, one of China's most popular GPS applications, also allows you to search for a public toilet by inputting keywords. But the National Public Toilet Cloud platform has much more detailed information.
The toilet-finding platform is part of a project initiated by China in 2015 in hopes of boosting its tourism. Led by the China National Tourism Administration, the country has been on what it calls a "toilet revolution" journey—it has spent more than one billion yuan ($150 million) to build and renovate 68,000 restrooms across the country (link in Chinese), according to a report the organization released Sunday.
The tourism administration said it would continue to build and renovate another 64,000 restrooms (link in Chinese) from 2018 to 2020 as the country's tourism industry continues to boom—close to half of the country's population traveled during the country's weeklong National Day holidays this year, the bulk of them domestically. Collectively, these tourists spent some 1.5 trillion yuan ($230 billion), including on food and shopping.
During the Golden Week's peak hours, restroom queues can be lengthy.  The new toilets, and the app to find them, might help shorten the wait.