Worried you may have unwittingly viewed Russian propaganda on Facebook? Fear not! In its new role as the protector of American democracy, the social network wants YOU to know whether you liked content produced by Russian operatives!
"We will soon be creating a portal to enable people on Facebook to learn which of the Internet Research Agency [editor's note: a Kremlin-linked Russian "troll farm"] Facebook Pages or Instagram accounts they may have liked or followed between January 2015 and August 2017," Facebook said today (Nov. 22). "This tool will be available for use by the end of the year in the Facebook Help Center."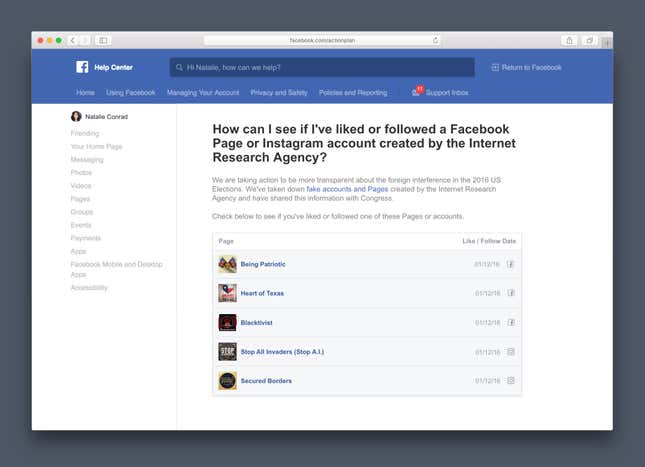 Oh, but where's the fun in a straightforward advisory that you may have been duped by Russian propaganda? Facebook would rather this be a bit of a challenge! Asked whether the company plans to notify users who have liked or followed Russian content, a Facebook spokesman clarified in an email that "they will have to go to the Help Center portal to see the information," adding that the company will "take significant steps to make users aware of this new tool."
The tool will also not tell Facebook users if they were exposed to content from the Internet Research Agency that they didn't personally like or follow. In other words, if a friend shared pages from Russian trolls, or they were promoted into your newsfeed, you may never know. The portal is only available to US users of Facebook, which calls it "part of our ongoing effort to protect our platforms and the people who use them from bad actors who try to undermine our democracy."
Coming from a company that specializes in content-sharing, data-tracking, and addictive red notifications, that seems wildly inadequate at best. The lackluster tool demonstrates how Facebook remains reluctant to police its platform, even as the company has publicly hardened its stance on propaganda and other so-called "fake news" under pressure from federal lawmakers. In September, Facebook confessed to letting Russian-linked ad buyers spend $150,000 on US political ads during the 2016 election campaign. About $100,000 of that spending, on 3,000 political ads, was affiliated with the Internet Research Agency.
Earlier this month, Facebook general counsel Colin Stretch was asked by the House Intelligence Committee whether the company had an obligation to inform users who had been duped by hoaxes and Russian content. "We have tried to notify people about the issue broadly through information on the website, through our white paper last April, and [the] hard questions blog," Stretch said. "It's a much more challenging issue to identify, and notify reliably, people who may have been exposed to this content on an individual basis."
Facebook built its multibillion-dollar business by promising advertisers the ability to hyper-target ads and content to its users. It said in late October that it would make advertising more transparent by requiring that all ads be associated with a Facebook page when they were created, and providing details on total spending, impressions, and audience demographics for political ads.
The company began scrutinizing Russian ad buyers this spring, after initially panning the idea that misinformation on Facebook could have impacted the election. This time last year, Facebook CEO Mark Zuckerberg dismissed the notion that propaganda on the platform could have influenced the results, calling it a "pretty crazy idea" and accusing critics of a "profound lack of empathy." Zuckerberg hasn't testified in any Congressional hearings.