Bitcoin is a whisker away from the $10,000 mark, as it continues its spectacular run this year. It has gained 900% since January. One company in particular is benefiting from this bull run. The startup "unicorn" Coinbase is adding thousands of bitcoin-curious users daily and now has more registered users than the number of active accounts at the stock brokerage Charles Schwab, CNBC reported.
Coinbase, which operates one of the biggest consumer-facing bitcoin wallets and exchanges in the business, added 100,000 users yesterday alone. Over 780,000 new users have signed up so far this month. That's according to data it publishes on its website, and which was collated by cryptocurrency fund manager Alistair Milne.
Coinbase's rise is also apparent in its App Store rankings. It's ranked 53 out of all apps in the US App Store, up from 1,264th place in September. Yesterday it claimed the third spot among finance apps, behind only Square's Cash and PayPal's Venmo. Square Cash has long held the top spot, and it's perhaps no coincidence that it is also experimenting with a feature that will let customers buy and hold bitcoin.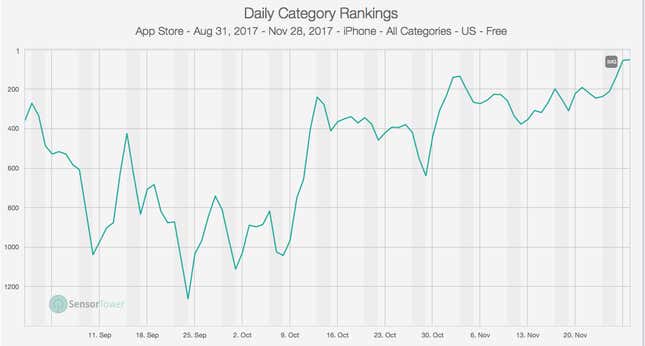 Coinbase appears to be far more popular among consumers than other cryptocurrency firms that have raised comparable amounts of venture funding. It has raised over $200 million since 2012, at an estimated valuation of $1.6 billion. While Coinbase has nearly cracked the top 50 most popular apps among US iOS users, the rival wallet service Blockchain.info, which has raised $70 million to date, is ranked 760th. Blockchain claims 19 million wallets have been created on its platform, while Coinbase claims 45 million wallets. Circle, which once allowed users to buy and hold bitcoin within its app, has raised  $137 million, and is ranked 1,036th. Circle no longer lets users buy and sell bitcoin directly, but it still uses the cryptocurrency in the background to settle transactions.
If the oft-quoted analogy that bitcoin is like the internet of the 1990s is taken seriously, then Coinbase is the AOL of the bitcoin world, acting as a user-friendly, on-ramp for millions to a weird and wonderful new network—while collecting a healthy chunk of fees. No matter how bitcoin trades in the coming days, Coinbase has already reaped the rewards of the cryptocurrency's bull run.