NBC News has fired Matt Lauer over complaints of sexual misconduct, and already began the process of scrubbing the TV host's face from its walls and promotional materials.
In addition to taking down Lauer's likeness, NBC has also swiftly moved to rebrand across social media, removing pictures of Lauer sitting next to former co-hosts on Facebook, Twitter, and YouTube accounts. And yet, Lauer's presence persists on the lowest rung of social media: The Today Show iMessage sticker pack.
Three stickers of Lauer exist on the app: One of him with a vapid smile holding a Today Show coffee mug, a cartoon version of Lauer high-fiving a female co-host, and a GIF where Lauer snaps his fingers and makes co-host Savannah Guthrie, who announced his dismissal this morning, disappear (😬).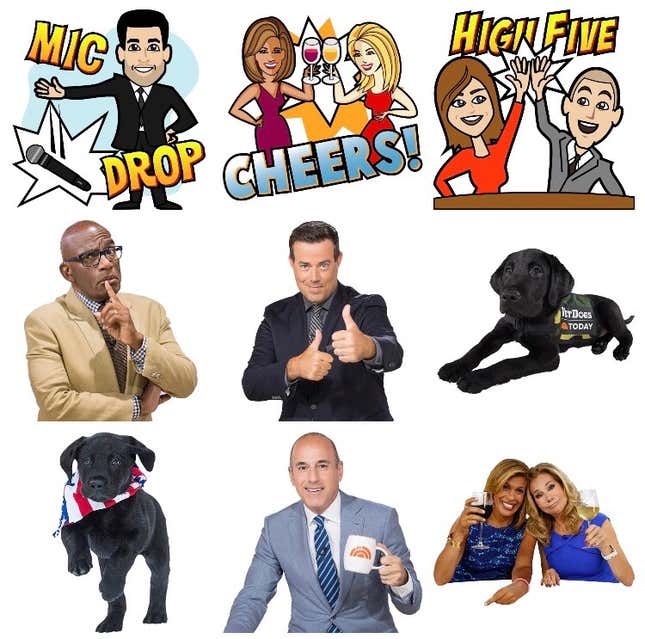 Technology platforms like Facebook, Twitter, YouTube, and even iMessage have created sprawling libraries of media capitalizing on our obsession with celebrities. GIFs and memes have become a form of visual culture and, unlike a poster on NBC's wall, aren't as easily scrubbed from tech companies' hard drives.
This is true of anyone in the modern world, but especially celebrities: Memes and GIFs of famous figures like Louis CK aren't going anywhere. Just check Google.
Lauer's image will linger, not necessarily on the Today Show iMessage sticker pack, which can be easily updated by the network, but in the phones and social media pages of everyone who has ever sent a Matt Lauer sticker or GIF. (Why someone would do so unironically I truly do not know, but I'm sure those people are out there.)