Japan's GDP grew 2.6% in the second quarter—the third consecutive quarter of growth. In another era, that figure would have shown an impressive rebound for the Japan's long-suffering economy. But this is the age of Abenomics, the economic revival  sponsored by prime minister Shinzo Abe, and analysts expected more, particularly after Q1's 3.8% growth. Here's a look at the trend: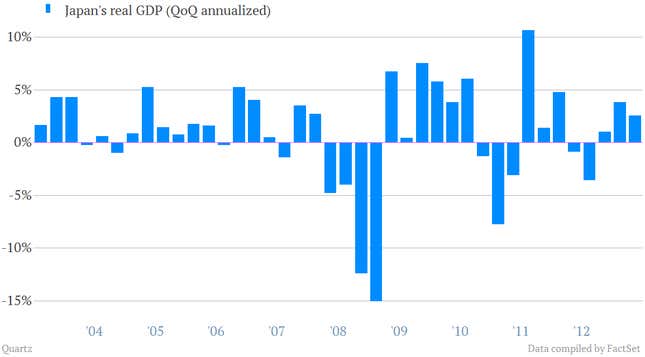 William Pesek flags one reason for the disappointing Q2 performance: "stingy businesses." The expectation of massive quantitative easing has weakened the yen nearly 12% since the beginning of 2013. That's boosted earnings for Japanese exporters in a big way. However, as Pesek points out, business investment tumbled 0.4% annually in Q2. Companies will have to start bumping up wages and shelling out more on research and development for Abe's plan to work.
As the Financial Times points out, Q2's muted growth will likely spark even more debate about the national sales tax (paywall) that the government is currently planning to launch in April 2014. That program, which parliament okayed last year, will help put money in government coffers—something much needed given the debt-to-GDP ratio is around 240%.
Of course, lower-than-expected growth signals that Japan's recovery is more fragile than expected, and more vulnerable to a shock like a sales tax. Even more concerning, though, is that Japan has only just begun to break free of the the debilitating deflation that lies at the heart of Japan's decades-plus of low growth. A tax on consumption would threaten to reverse that. Abe can kick the sales tax plan down the road, but he probably has to decide by September.