Time magazine has named the "silence breakers"—mainly women who kickstarted the #metoo movement—as its Person of The Year.
The win for the #metoo movement marks the 91st time the magazine has named a person, group or a concept that has had the greatest impact on the world that year. As the magazine is keen to stress, this impact can be either positive or negative. (The magazine's long list of controversial choices include Adolf Hilter, Joseph Stalin, and Ayatullah Khomeini).
The #metoo movement won for a "reckoning" that has rapidly spread across the globe. As Time explains:
The women and men who have broken their silence span all races, all income classes, all occupations and virtually all corners of the globe. They might labor in California fields, or behind the front desk at New York City's regal Plaza Hotel, or in the European Parliament. They're part of a movement that has no formal name. But now they have a voice.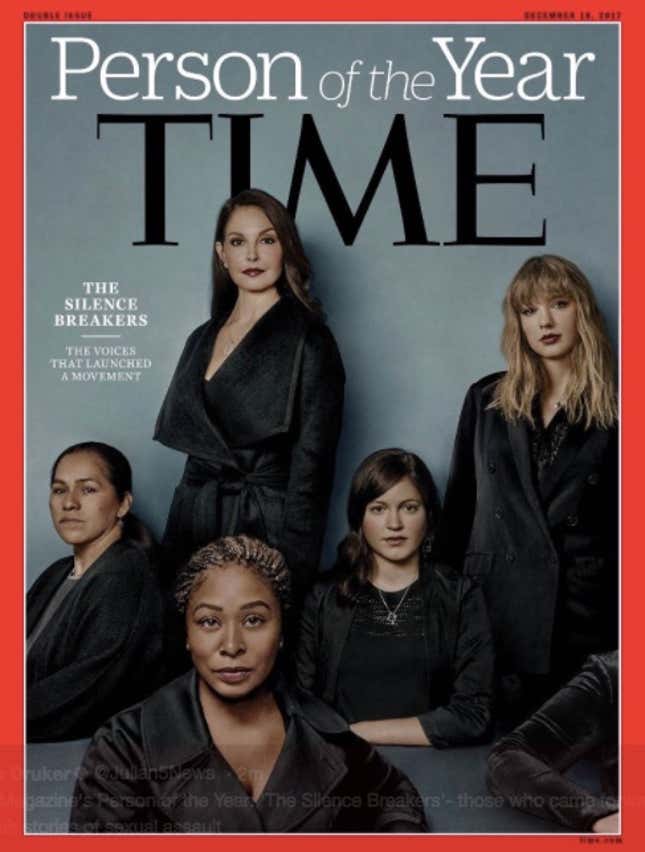 The magazine names a number of prominent women who helped kickstart the movement, including movie stars Ashley Judd, Rose McGowan, Alyssa Milano, as well as activist Tarana Burke. Burke is the founder of a non-profit which helps survivors and she called on women to show solidarity with each other as early as 2006. The Plaza Hotel Plaintiffs (a group of seven women who filed a sexual-harassment suit against the hotel) were also named by the magazine as "silence breakers."
The magazine also pays homage to state senator Sara Gelser, singer Taylor Swift, and an anonymous survivors. Judd, Susan Fowler, Adama Iwu, Swift, and Isabel Pascual are pictured on the magazine's cover.
President Donald Trump was runner-up this year, but in 2016 he won the accolade for the "revolution" he stirred in the US. In 2015, the magazine named Angela Merkel for her decisive response to Europe's refugee crisis, one of many emergencies she has managed over the last decade. Merkel was the fourth woman to be named Time's Person of the Year (formerly "Man of the Year").
Last month, Trump suggested he was going to be named Time Person of the Year again, but that he turned it down. The magazine was quick to rebuke Trump: "The President is incorrect about how we choose Person of the Year. TIME does not comment on our choice until publication, which is December 6."
This year's short list was dominated by men, including Chinese president Xi Jinping, special prosecutor Robert Mueller, North Korean leader Kim Jong Un, and NFL player Colin Kaepernick. In the end, however, it was women who made a firm stance against sexual harassment and assault that won.
---
Read more: The unexpected, paradigm-shifting power of #MeToo