Keynes was onto something when he wrote about the "animal spirits" that animate the economy. The CryptoKitties game, which lets players trade digital kittens on the ethereum blockchain, continues to dominate traffic on the cryptocurrency's network. Over 6,000 players are buying, selling, and breeding the blockchain-based felines—and a few of them are making tons of money doing so, according to new data from the independent data site CryptoKitties Sales.
The site recently added the ability to track the historical price of any kitten, which reveals the inner workings of the virtual cat trade. The site's creator, Niel De La Rouviere, picked a couple of kittens randomly that turned out to have interesting price histories. Each kitten has a number based on when it was first generated.
Kitten number 23 was first traded for over $4,000 on Dec. 2. Two days later, it was sold on for over $32,000. Yesterday, a user named It's All About The Money paid about $63,000 for it, and it's now one of the the most expensive cats for sale in that user's stable. It's on offer for 240.12 ether, or about $106,000 at current prices.
Here are De La Rouviere's picks, charted: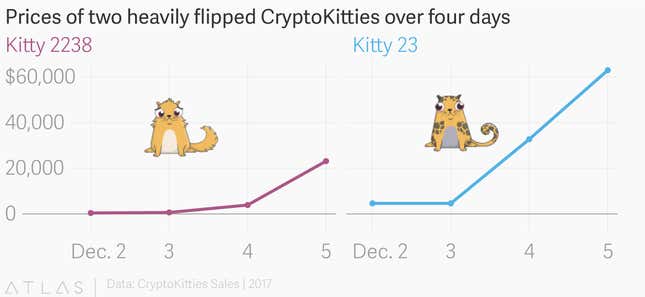 CryptoKitties players have already spent about $6.7 million since the game launched on Nov. 28, which averages out to nearly a million dollars in daily trading volume, according to data from CryptoKitties Sales. De La Rouviere is the founder of an ethereum project called StakeTree and started the site as a side project, pulling the data, which is public, from the ethereum blockchain. He's not affiliated with the game's developers, a company called Axiom Zen in Vancouver.
De La Rouviere's site has generated 50,000 pageviews over the past 48 hours, a level of popularity that he says he's now feeling conflicted about. "I'm happy it became popular, but I can't help shake [the feeling] that part of the site also drove the huge speculation and viral nature of it," he says. "It's all good. I just hope some people didn't lose a lot of money." It's hard to tame those animal spirits.
---
Rad next: The ethereum world is now obsessed with breeding cartoon cats