China's increasingly massive middle class is developing quite a taste for beef, much to the benefit of the cattle stations* of Australia, which exported a staggering 57,060 tons of beef products in the first five months of 2013—compared to only 36,273 tons in all of 2013.
Part of Australia's gain was Brazil's loss—its beef products were banned in China at the end of 2012 due to fears of mad cow disease. Imports from the US, the world's biggest beef producer, have been banned since 2003. But regardless of the source, China's total beef imports from January to April were up more than 10 times from the year ago-period. As Quartz has reported, China's beef prices have risen at least 30% every month for the past year.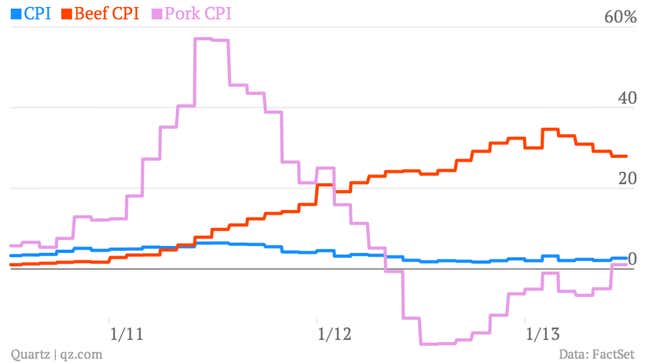 Pork is still the Chinese meat of choice—some 52 million tons of pig are consumed every year, compared to only 6.3 million tons of beef. But while pork is mostly produced domestically by companies like Shanghui—currently in the process of buying US-based Smithfield—China doesn't have nearly enough arable land to satisfy its appetite for steaks and hot-pot beef. The US Department of Agriculture estimates that China's cattle herds are declining, and will total 46.3 million beef cows this year, or one cow per 28 people, compared with one for every 11 in the United States. Most of China's domestic beef is produced by small slaughterhouses who undercut larger meat processors like Haoyue Group, Kerchin, and Fuhua Meat, making it difficult for them to grow.
That makes for a juicy business opportunity for raising cattle in Australia and New Zealand, which have the advantage of geographical proximity over competing cowboys in the Americas.  China only allows imports from Australia, New Zealand, Argentina, Uruguay, and Costa Rica, though it has started the process of authorizing Canadian imports. However, Reuters reports that "significant quantities" of US beef, banned for a decade due to mad cow fears, are smuggled into China via Hong Kong.
At the heart of the China beef boom is the middle class consumer who is developing new appetites to go with new-found prosperity. Those consumers are about to do for Australian farms what Chinese manufacturing demand did for Australian mines a decade ago, ANZ Banking Group chief executive Mike Smith told the Australian Financial Review earlier this year. "A lot of people talk about the move out of poverty as leading to the big shift in food demand but that's not right," he said. "Going from a bowl of rice to two bowls of rice a day isn't going to make a difference. The difference is the growth of the middle class. That's the big change."
Even after a sharp rise in recent years, China only consumes 4 to 5 kilograms of beef per person annually, which is about 20% of the world average. The OECD and UN forecast that meat imports could rise 3 percent annually over the next 10 years to 1.7 million tons in 2022, with beef growing fastest at 7 percent.
That's a lot of upside for Australia's cowboys.
*Correction: An earlier version of this article referred to Australia's ranches, when in fact they are known as "cattle stations."