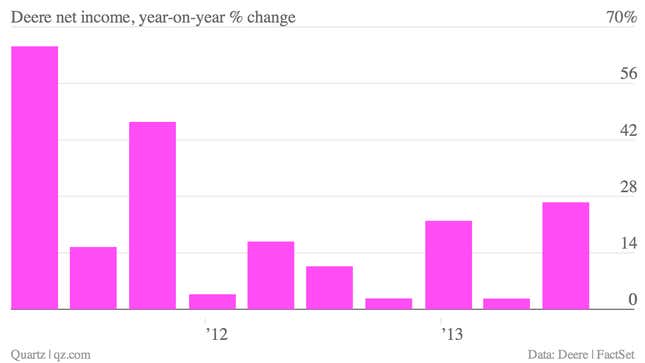 The numbers: Surprisingly good. Quarterly profit rose 26.5% to $996.5 million, compared to the same quarter of 2012. Sales rose more than 4% to $10.01 billion. The iconic Moline, Illinois tractor maker raised its full-year profit forecast.
The takeaway: Brazil's consumer economy might be faltering, but its agricultural sector is chugging along. Forecasts for record corn and soybean production there are juicing demand for farm equipment. Brazil is currently the second-largest soybean producer in the world after the US. But it could take the crown soon, as US crops have been hit by droughts.
What's interesting: If you read Deere's quarterly release carefully, you can pick up some rumblings of the economic challenges Brazil faces. Deere cited "strong market conditions and the impact of government-financing programs in Brazil" as reasons industry sales are expected to be up about 20% in South America. With Brazil's consumer-credit-driven growth slowing and banks looking overstretched, government-linked lenders (paywall) have stepped in to ensure Brazil consumers can borrow to keep the economy growing. That might keep the country's economy moving forward in the short-term. But some argue (paywall) that increased government involvement in financing represents a decided step back for the country and bodes ill for longer-term growth, as government-directed lending can result in misallocation of capital to favored groups and other inefficiencies.