In China, you can use WeChat for just about everything from sending messages to grabbing a taxi to getting your laundry done. Owned by Chinese tech giant Tencent, WeChat is a smartphone Swiss army knife of sorts, and it's on the path to becoming the one and only app users will ever need.
A new update for iOS released yesterday (Dec. 11) will only help it achieve that goal.
Though WeChat has long provided voice calls on its app, it's now overhauled the feature so incoming calls made on its platform are nearly indistinguishable from regular calls. Whereas before users would only get a notification of an incoming call—and open the app if they wanted to answer it—now calls will ring the iPhone, even when it's locked, and can be answered like regular phone calls. The new functionality makes use of Apple's CallKit, which was added in iOS 10. WhatsApp calls, for example, have been integrated into iOS since last year.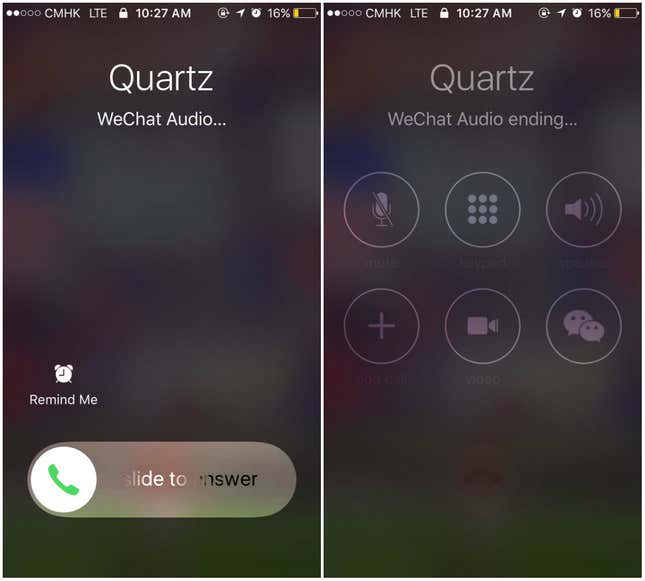 The change might sound incremental, but Chinese tech media are calling it "revolutionary" (link in Chinese), an assessment users seem to agree with, according to their comments online. 
China's state-run telecom operators are also unlikely to be happy about the update, having for years whined about WeChat's growing influence in messaging and calls. The enhanced alert function gives users one more reason to choose WeChat over ordinary phone calls. WeChat calls are already favored by many users because the calls are free over wifi, which is increasingly commonplace in China, and for the intimate social networks they've built up around the app.
Knowing Tencent, we can expect WeChat to continue to upend the phone experience in the future.