WeChat has evolved from China's answer to WhatsApp into a smartphone Swiss army knife. Originally a chat app, it's become far more than a social networking platform for its more than 800 million active monthly users. Owned by internet giant Tencent, it also lets users order food, book hotels, and shop online through its Wallet feature, which links to the web apps of third-party providers.
But Tencent isn't satisfied. With the latest feature, officially released on Jan. 9, the company wants WeChat to eventually become the one and only app users need on their home screen. Called Mini Program (link in Chinese), the feature essentially offers miniature, low-memory "apps" within the WeChat app itself. The idea is to keep users within WeChat as much as possible.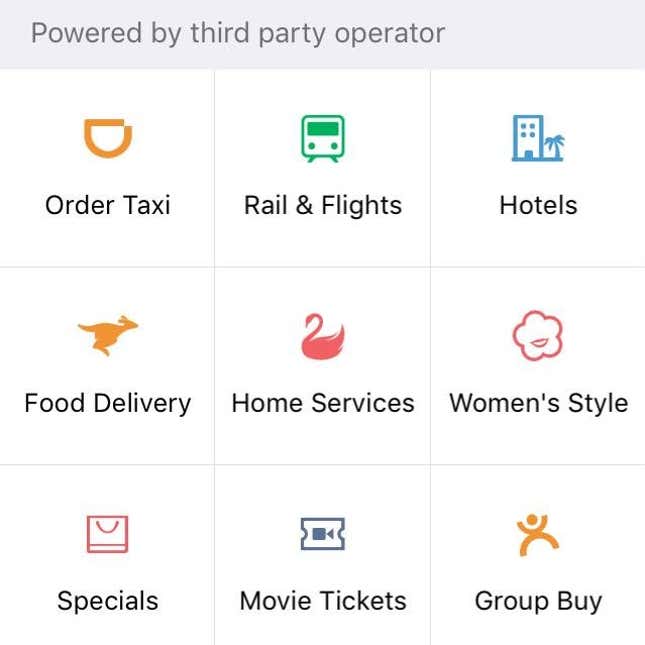 The Wallet feature takes users to services such as Didi Chuxing or the group buying site Dazhong Dianping. Tencent often invests in the companies behind these services.
Mini Program, on the other hand, provides development tools for a wide range of businesses to build their services within WeChat. For some that will mean not having to create standalone apps.
The new feature is "mini" in that it's simpler and more efficient to use than standalone mobile apps, explained Zhang Xiaolong (link in Chinese), head of WeChat, when he announced the official release date about two weeks ago.
But there are also disadvantages for developers. For example no games, push notifications, or sharing on WeChat's Twitter-esque Moments feed are allowed in Mini Program, Zhang noted.
Quartz tested the new feature to find out about its other limitations and advantages.
Users can find Mini Programs only by searching for them within WeChat or scanning QR codes. They don't need to download or install them (indeed, they don't have the ability to). The Mini Progam logo won't pop up on WeChat's interface until users use it for the first time. After that, every Mini Program is listed in a dedicated section: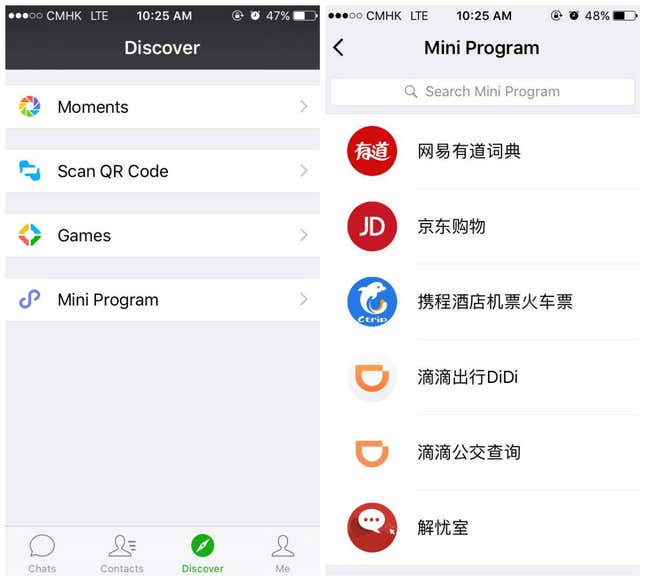 Users can share links to Mini Programs in either private or group chats. Android users can create shortcuts to Mini Programs on their home screens.
Some Mini Programs are quite handy, despite taking up little memory. For example, the Mini Program version of a multilingual online dictionary called Youdao has pretty much all the translation functions I need. As a result, I will probably delete Youdao's standalone app, which is more than 100 times the size of the Mini Program version.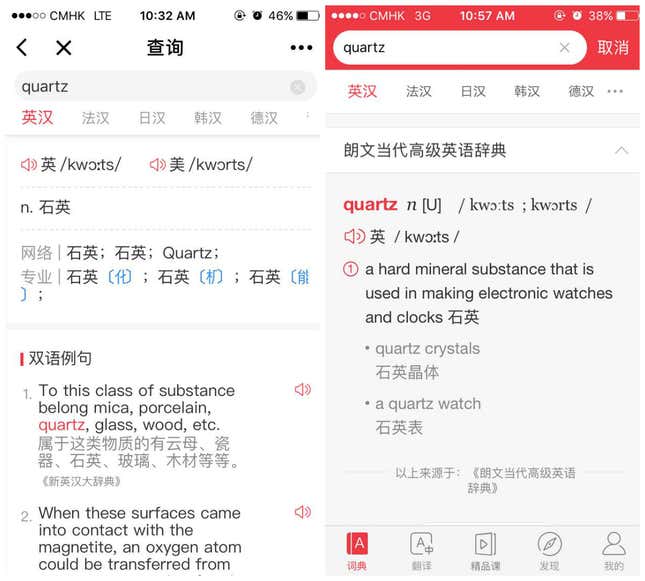 Other Mini Programs are more limited. Didi Chuxing offers its peer-to-peer ride-sharing service, but not other services that are available in its app, including taxi-hailing and car rentals. So as a current Didi user, I won't bother to hail rides through its Mini Program, at least for now.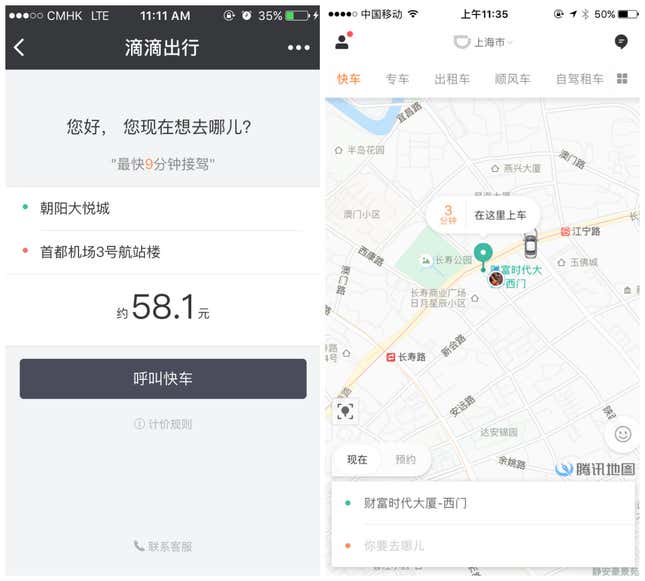 A Didi spokeswoman told Quartz that the company will develop more features for Mini Program. This could entail either bundling or, depending on consumer habits, creating separate Mini Programs for each service. For example, Didi has a Mini Program that shows real-time bus scheduling information, a feature also available in its app.
Businesses, governments, media outlets, and other organizations can apply to develop Mini Programs, which can't be larger than 1 megabyte. A Tencent spokeswoman didn't elaborate on how many Mini Programs are available at this stage, or how WeChat could make a profit from the feature.
An ecosystem appears to be rapidly emerging, however. Tencent announced the beta testing (paywall) version of Mini Program in September 2016, and hundreds of offerings are already available on third-party websites like minapp.com. On such sites, each Mini Program (some free, others paid) has its own QR code and touts services ranging from financing to health to online shopping. The sites could arguably compete to some extent with Apple's App Store and the many Android app stores available in Chinese, though Zhang previously dismissed the idea (link in Chinese) that WeChat itself might run a Mini Program store.
"We have [had] regular dialogue with Apple during the development process of Mini Programs. We would like to provide better services for users jointly with our partners," wrote the Tencent spokeswoman in an email to Quartz.
But the company might be playing down its ambitions for Mini Program. The service went live on Jan. 9, on the 10-year anniversary of the iPhone's debut. Zhang used the occasion to write about that historic product launch—on his WeChat account, naturally (link in Chinese)—noting that Steve Jobs declared the iPhone a "revolutionary product."
No doubt he hopes Mini Program will prove revolutionary as well.