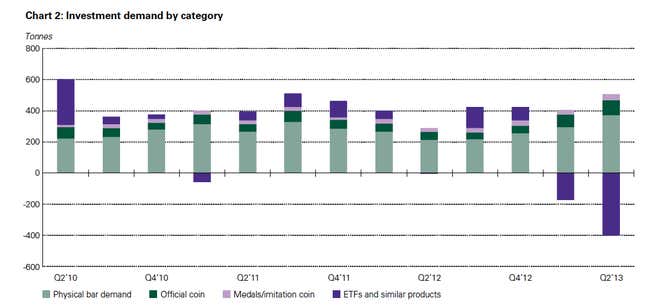 Thing's haven't been great for gold since the market for the metal started free-falling in late March 2013. Data out from the World Gold Council today show that the trend continued in the second quarter, as demand fell 12% in terms of tonnage, a drop of $10.4 billion on Q2 2012. Prices have picked up slightly in July and August, though, which analysts are attributing to Chinese demand for physical gold (paywall).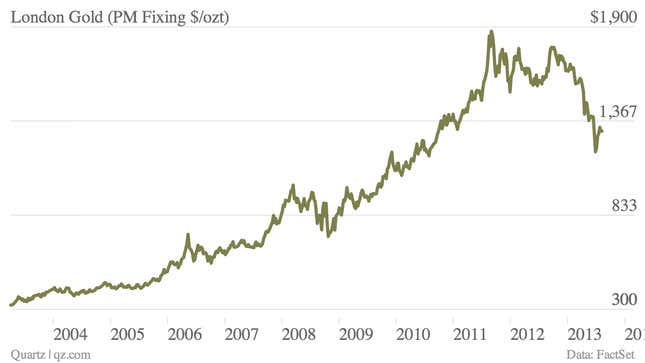 As the WGC data reveal, that recent trend is really an extension of surging Chinese demand throughout Q2. Last quarter, China bought more bars and coins (what you buy for investment purposes) than any other country, and was the second-biggest purchaser of jewelry.
That's not just a reflection of China's size; its appetite for gold increased a lot. The $5.6 billion in bars and coins that Chinese investors bought marked a 125% increase from the same quarter a year earlier, while jewelry demand jumped 36%, hitting $7.5 billion (including sales in Hong Kong, where mainlanders stocked up on gold throughout the quarter). That meant Chinese households bought about 27% of the global total of retail gold sold last quarter.
There are some good reasons behind gold's booming popularity in the Middle Kingdom, of course. For one thing, excessive lending that the Chinese government relies upon for growth constantly threatens to fuel inflation. Since it's difficult to hold other currencies in Chinese bank accounts—and even then, there's a limit to how much a customer can hold—gold has even more than its conventional appeal as an inflation hedge. (Note that in addition to bars and coins, Chinese investors often buy jewelry for investment purposes as well.)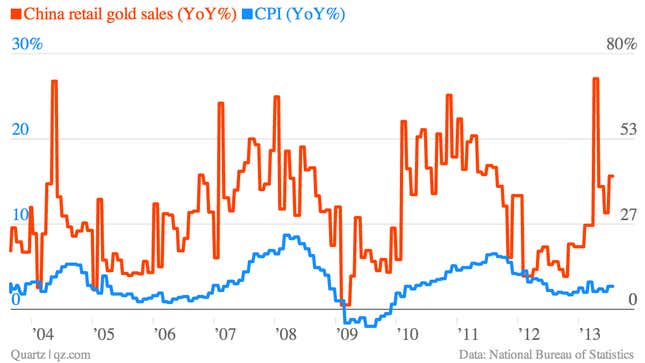 And Chinese savers need an inflation hedge more than most. The government sets artificially low bank deposit rates, often leaving depositors earning negative returns, as you can see (data via ChinaScope Financial):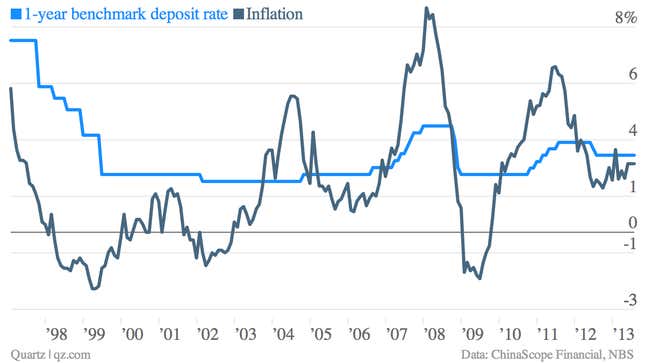 Perhaps worst of all, the closed capital system makes it extremely difficult for Chinese households to invest their money outside China. That gives them few options in which to hold savings—the domestic stock market is volatile and unappealing, while real estate prices are sky-high.
That's driven investment crazes in alternative stores of value like art, tea, and postal stamps. But prices on those are well out of reach for middle-class households. Add to that the thrill of bargain-hunting, which is pretty much a Chinese national pastime, and you get the "Chinese aunties" phenomenon of May and April. That's the popular term for a rumored gold binge among older women, who bought up more than 300 tons of gold in 10 days, according to the China Daily. Even if the media overhyped the craze, the rumor spurred a larger buying frenzy (link in Chinese), reports Caijing, particularly in jewelry. So those cheering a gold price recovery probably have a lot of Chinese aunties to thank.