One of the most powerful functions of a country's central bank is its ability to set interest rates at which it lends money to a handful of qualified banks. Such monetary policy is a principal tool for steering a country's economy, and central banks around the world rely on a committee to deliberate over and collectively decide on where to set interest rates. Except for New Zealand, that is.
Since 1989, when the country enacted the Reserve Bank Act, granting its central bank statutory independence, the appointed head of the Reserve Bank of New Zealand (RBNZ) has been tasked with the sole responsibility of setting interest rates for the country. While there does exist a committee of sorts—a group of senior bank officials who help advise the country's central bank governor—its members do not vote, and instead make recommendations to the bank's head in private. According to the central bank's website, it's "expressly not a decision-making committee." Nothing the group and current central bank head Graeme Wheeler currently discusses is even available to the public.
As the Wall Street Journal notes, the initial thought behind granting New Zealand's central bank governor sovereign power over the final decision is that it makes blame easily attributable; with only one decision-maker, policy gaffes are explicitly a single person's fault. The counter argument, however—and the one favored by most every other country around the world—is that where a hand-picked committee tends toward moderation, a single person is more apt to act on extreme views and biases.
In practice, New Zealand's benchmark rate has followed a similar trajectory to Australia's (which is decided by committee) since the early 2000s, despite hovering a few percentage points lower from late 2009 to late 2012.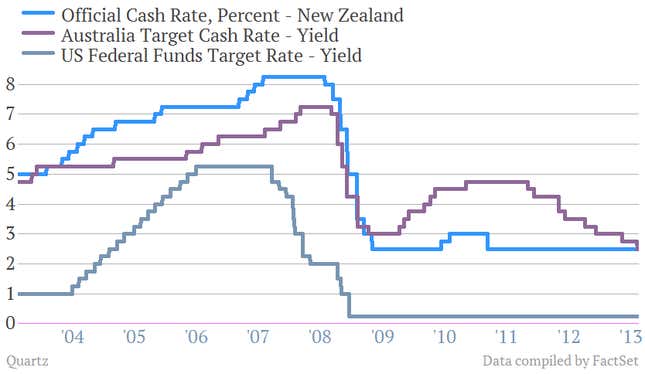 Wheeler, who was appointed last year, has left the benchmark rate untouched at 2.5%. Amid growth in the New Zealand economy, he recently alluded to the possibility of an interest rate hike.
Not everyone in New Zealand is thrilled about the way the country carries out its monetary policy, the Wall Street Journal reports. The government recommended an official review last year, and many lawmakers in New Zealand are pushing for the country to bring its central bank in line with the likes of the US and UK. Green Party co-leader Russel Norman has even drafted legislation that establishes a Reserve Bank Board, which would be responsible for setting the country's benchmark rate.
No other member country of the Organization for Economic Cooperation and Development (OECD) gives full responsibility for choosing its benchmark rate to a single individual;. And an RBNZ study on central banks in 14 countries and the euro zone this year found no other example of a country that sets such policy without a committee, either.