Snap marked the end of its first year as a public company with a huge New Year's Eve party for its employees and other guests. Chief executive Evan Spiegel reportedly spent $4 million of his own money on the event at the Microsoft Theater and adjacent venues in downtown Los Angeles. It was a real blowout. Drake was there!
Naturally, let's check Snapchat Stories for the party pics…

Oh, hmmm.
You can vicariously enjoy all sorts of fun New Year's Eve celebrations on Snapchat, from Hawaii to Puerto Rico to Lebanon, but the massive Snap party isn't among them. Weird.
It's easy to drop in on last night's concerts by Cardi B, Post Malone, David Guetta, Lil Yachty, and Keith Urban all over the world—just search their names in Snapchat, and you're in. But Drake's performance is a phantom. Huh.
How about on Snap Maps, the company's remarkably vivid and engrossing view of real-time public posts by its users? There's the theater just to the north of LA's basketball arena…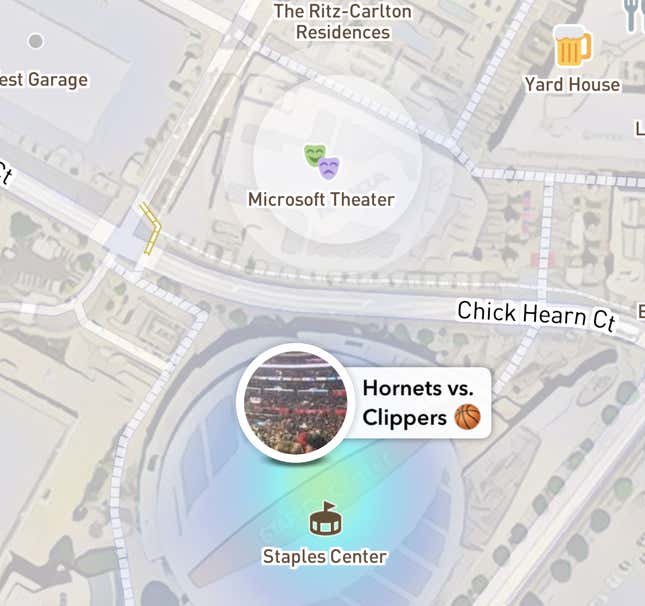 …but nothing appears to have been going on last night.
The reason, according to Daily Beast reporter Taylor Lorenz, is that Snap put a digital cone of silence over the Microsoft Theater, blocking public snaps from the area, and told its employees not to post to social media from the party—on Snapchat or otherwise.
It was a curious move by a company that's otherwise trying to make its content more public, available even outside the Snapchat app, getting even further away from its origins as an ephemeral messaging app. For a night, at least, Snap managed to make content disappear again.
Perhaps the company hoped to avoid scrutiny of its lavish affair after a year when tech companies found themselves under unusual public pressure. Snap didn't immediately respond to a request for comment.
The snap embargo did not thwart us from catching a glimpse of the company's festivities, however.
Because there's always Instagram…
There's plenty more out there. Just search for the Microsoft Theater.
Drake, who doesn't have a public Snapchat account, couldn't be stopped from sharing a glimpse of the event on Instagram using Stories, Facebook's clone of Snapchat's feature for public posts that quickly became more popular than the original.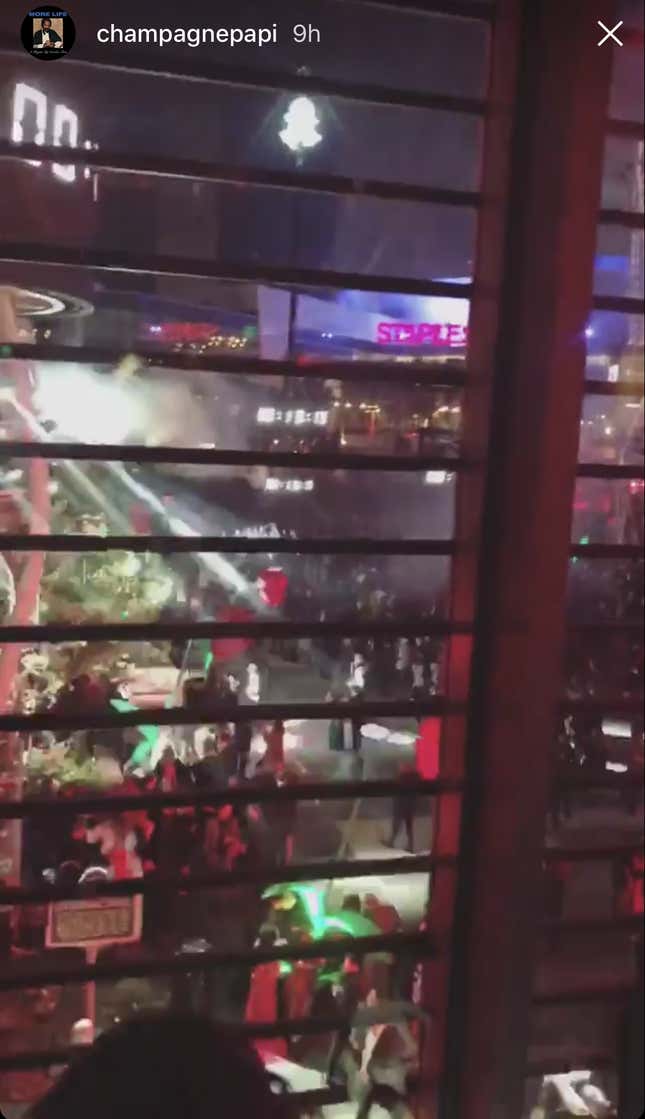 We'd say Drake's post must have hurt, but the whole Instagram Stories thing definitely hurts more.
Snap has had a rough time since going public in March. Its stock price ended the year 16% below its IPO price as investors concluded the company didn't have the potential scale of Facebook, which rose 51% last year, or Twitter, which gained 46% despite its own growth issues.
But Snap is still worth $17.6 billion and is rapidly becoming the best source of raw photos and video from people on the scene of sporting events, breaking news, and other group activities, big and small. They're allowed a big party to celebrate. It's just odd not to share the revelry on the platform that made it all possible.