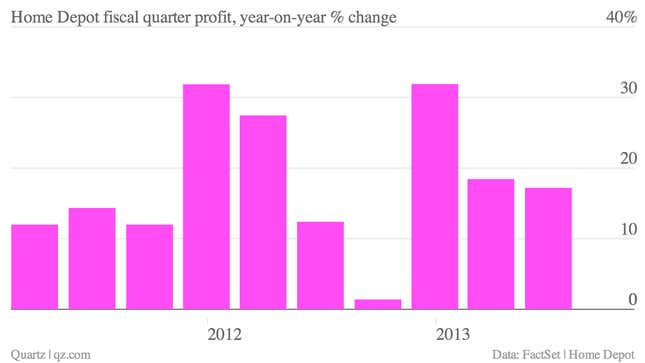 The numbers: Very good. Sales rose 9.5%. Profit jumped 17%, better than Wall Street expected. Sales at stores open for a year increased 10.7% overall. In the US they were up 11.4%. The company raised its 2013 forecast. The stock rose in premarket trading.
The takeaway: Home Depot continues to ride the US housing recovery. The stock is up about 22%—not counting this morning's pre-market rise—so far this year, better than the 15% rise in the S&P 500 benchmark. "Our business benefited from a rebound in our seasonal categories, continued strength in the core of the store and the recovering housing market in the U.S.," said Frank Blake, Home Depot's chief executive.
What's interesting: Home Depot's recovering momentum reflects the shifting sources of global economic growth. In September 2012, the company announced it was closing the least seven of its big box stores in China, (though it did keep a presence in China in the form of a few specialty stores). While exposure to emerging market growth was something to trumpet in the years following the Great Recession and sluggish recovery in the US, the surge of Home Depot shares this year suggests investors are don't regret Home Depot's decision to largely exit the Chinese market.