The UK's Department for International Trade is reportedly exploring the idea of joining the Trans-Pacific Partnership (TPP), to mitigate the impact of losing trade deals once it leaves the EU. This could reinvigorate the TPP, which has been in limbo for the last few months.
The TPP was once set to become one of the world's mega-trade deals. Championed by former US president Barack Obama, 12 countries, representing around 40% of the world's economic output, signed up to be a part of the pact in February 2016. But then, in January last year, only a few days after Donald Trump took office, he abruptly withdrew (paywall) the US from the agreement, part of his strategy to end the country's participation in multinational trade deals.
This had a huge impact on TPP's survival. The pact is a complex initiative that essentially aims to deepen economic ties between member nations, using trade and tariff deals to boost growth. It is similar to the EU's single market with unified trading terms. It cannot come into effect until it is ratified by all members. Many analysts questioned whether there was any point in pursuing TPP, after the largest and most powerful trading force of the 12 initial countries had pulled out. The US accounted for 65% of the total GDP of the original TPP members.
Then China joined talks to join the TPP shortly after the US dropped out, and has been working with other potential member nations on a restyled version of the deal. Analysts have mused that TPP could be a major boost for China, which could fill the vacuum of economic firepower created by US's withdrawal.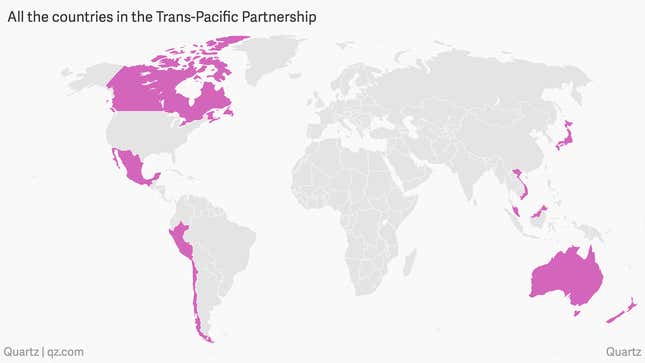 The clock is ticking on Britain's exit from the EU. While the UK has progressed onto the second stages of negotiations with EU officials, prime minister Theresa May has made it clear since the June 2016 referendum that Britain is going to enact a "hard Brexit." This means the UK will leave the 27-nation bloc's single market, sacrificing the unified trade deals under this mechanism in order to have full control over issues like immigration.
In tandem, the UK has been holding informal talks with different nations in order to kick-start exports post-Brexit. Some of its biggest economies on its hit list include Japan and China. Japan has already ratified the TPP, while China is the superpower looking to join in. Considering that these alliances are gaining traction in the foreground, the UK's push to enter the pact could reinvigorate talks further—without having anything to do with the US.