South Korean beauty products aren't just popular among women. Having also conquered the market for male grooming, K-beauty companies are now turning to another demographic: kids. 
Last year, sales of beauty products for children grew by 29% from the previous year, according to recent data provided by Korean e-commerce site 11st. More than anything else, kids love lipstick—sales jumped 549% in 2017 from a year earlier.
In South Korea, the eighth-largest cosmetics market in the world, girls are starting to wear make-up at a worryingly young age. A 2016 survey (link in Korean) conducted by nonprofit consumer rights group Green Consumers Network showed that almost a quarter of elementary school students said they had worn makeup. Among girls, 42.7% said they had used cosmetics. 
South Korea's Food and Drug Safety Ministry (link in Korean) said last week that it is reviewing whether to add a separate category for children's make-up, and make it mandatory to state whether the product contains ingredients that may cause allergies. Hwang Eun-joo, a dermatologist, said in an interview last year with Korean newspaper Chosun Biz that some chemicals in cosmetics, like parabens, could be especially harmful to children, and can increase the risk of breast cancer and early puberty.
US retailer Claire's announced a product recall before Christmas after a mother raised fears that some of its ingredients were harmful to children—the company later said that tests proved its products were safe.
In January 2016, the government produced a series of pamphlets titled "The Smart Way to Use Cosmetics on My Precious Skin" (link in Korean) and distributed them to elementary, middle, and high-school students. The pamphlets included specific guidelines such as:
When using cream products, use a clean spatula to scoop out the desired amount and use clean hands to apply them
Do not share eye and lip make-up with friends
Wash make-up tools like puffs and sponges with a pH-balanced cleaner and dry completely before use
Stop using any product if you sense a change in color or scent or separation of oil and water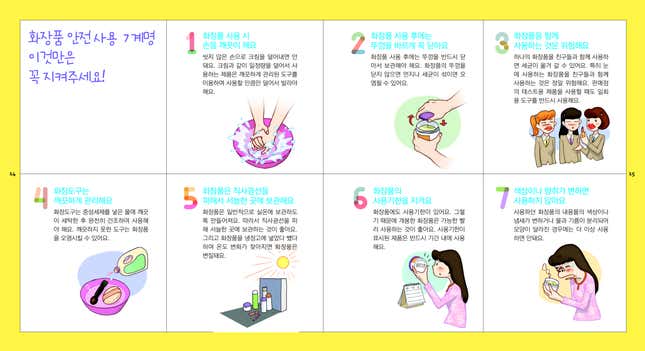 Beyond concerns over health and safety, the trend also points to the pressures faced by young people in a society that places a huge emphasis on physical appearances. For example, Korea's beauty industry, worth some $13 billion by one estimate, ceaselessly promotes new trends such as puffy eyebags and "glass skin" that men and women alike are expected to follow.
Wearing make-up is almost seen as a basic duty for women—Korean media reported (link in Korean) in 2016 that the country's largest cinema chain, CJ CGV, forced part-time female workers to wear make-up.