Seoul, South Korea
Personal connections go a long way in South Korea—just look at the scale of the influence-peddling scandal that brought down president Park Geun-hye, and ensnared some of the country's biggest companies and one of its most prestigious universities.
Now Korea's progressive president Moon Jae-in, who was elected in May, wants to overhaul the job application process altogether to try to put a stop to the practice of using one's privilege and connections to get ahead in the job market, and keep candidates from being rejected over their looks. It's a problem not just in private firms.
"Except in special cases where a job requires a certain level of education or meeting certain physical requirements, job application forms should not require discriminatory factors such as education background, hometown, and physical condition," Moon said on June 22 (link in Korean) as he announced plans to implement "blind hiring" in the public sector in Korea this year.
It is common for Korean employers to ask potential hires questions on the application form or in interviews about the applicant's parents' occupations, as well as details about other family members such as siblings; physical attributes such as weight, height, blood type, and eyesight, and whether or not the applicant lives with his or her family. Job applicants who attended universities in Seoul—home to Korea's most prestigious universities—are typically seen as having a leg up in the job market than those from regional schools.
"Every applicant, whether they are from a prestigious university or a university in Seoul or not, should start on the same line under the same conditions, and compete fairly only on their abilities," he added (link in Korean). During the presidential campaign, as part of a weekly series of promotional videos, Moon released a video where he talked about blind hiring.
In Korea, blind hiring, or bulaindu chaeyong (블라인드 채용), has gained more attention in recent years as an increasing number of people wake up to the unfairness of the hoops that people have to jump through to land a job in a market that is already hostile for job seekers, particularly the young. In May, the national unemployment rate eased slightly from the month before to 3.6%, while youth unemployment fell from a record 11.2% in April to 9.3%.
One of the most common requirements is for candidates to provide photos—according to a survey (link in Korean) of 760 companies conducted by job portal Saramin last year, about 93% of firms required a photo for job applications. Nearly 34% of 312 human resources managers surveyed (link in Korean) said that they have employed people on the basis of their looks even if their background was not the best fit for the job, while nearly 50% said they have rejected an applicant because of their appearance.
The Equal Employment Opportunity Commission in the US advises employers against asking for candidates' photographs, though it isn't illegal on a federal level, while questions about height and weight may be viewed as illegal under federal law unless the question is shown to be relevant to the job.
Jo Ga-hui, a fourth-year university student at Chonnam National University in Gwangju who is looking for a job, said that she and her friends only encountered one company that did not require a photo for the job application process—Korea Electrical Safety Corp.
"My friends and I were so surprised at that," said Jo, 23, who added that attributes that companies typically might look for in a candidate include, "good skin, kind eyes, and tidy hair."
In an online community (link in Korean) for job seekers called Dakchigo Employment on Naver, Korea's main internet portal, job hunters upload their photos and crowdsource comments from others on their looks and employment chances. "You should put your hair up to show your eyebrows. Showing clear eyebrows makes a good impression," said one comment. "Your neck seems too short," said another.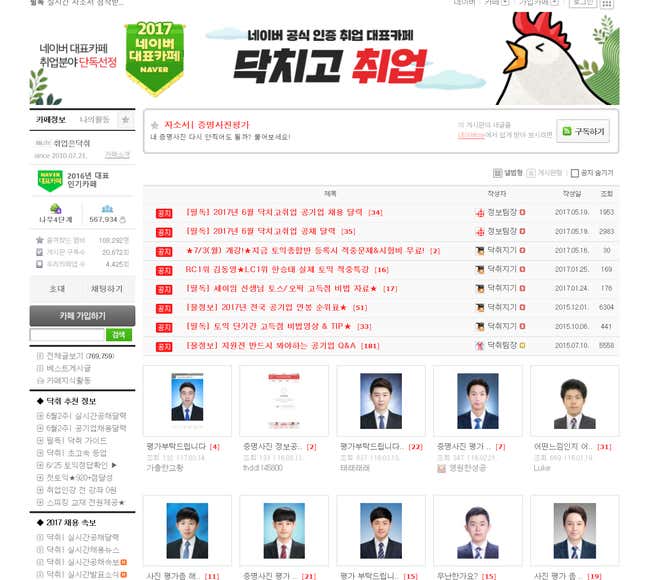 Plastic surgery clinics also peddle the idea that enhancing one's appearance can help in landing a good job. One clinic in Seoul (link in Korean) advertises on its page plastic surgery that is aimed at women hoping to get a job as a flight attendant, or other jobs where looks are seen as important, such as personal assistant.
President Moon said he hopes that the practice will be adopted in the private sector, and that his government will prepare a "blind hiring guidebook" for private companies to reference.
"We cannot force the private sector to follow suit unless we revise the law, but previous cases where private firms used a blind hiring system have repeatedly shown that they were able to hire far more skilled and more enthusiastic workers under such a system," said Moon.
Progressive lawmakers have repeatedly tried in recent years to legislate against unfair hiring practices, to no avail. The practice could finally be stamped out now that Moon's progressive government is in power after eight years of conservative rule in Korea.
The government's resolve has already had an effect on businesses who have thrived on serving Korea's job applicants. Koe Seog-min, who owns Fotos Studio, a photography studio near Ewha Womans University in Seoul, said business has "drastically decreased" as a result of the proposed blind hiring practices. In April and May, traditionally a busy period for job applicants, he said he used to get around 100 customers a month taking photos for job applications, but this year he only got about 30 customers a month.
"Being well-groomed is a sign of respect to the company, I don't think there should be a law against it," he said. He said Moon's words have him worried about his studio, where the most basic profile-photo package costs just 20,000 won ($17.50).

Still, in a country with a deep reverence for looks and personal connections, it may take time before such practices disappear altogether. Jo, the student, said that what Moon's government is doing is an important first step, but it won't necessarily solve the problem.
"Now we don't have to write down what our parents' jobs are. However, that doesn't mean we can't still talk about it in the interview. So what's the point? It would be a real blind application if… there was no room for talking about our backgrounds at all."