Seoul
As fall rolls around, hundreds of thousands of young people will prepare to take exams that could give them a shot at getting a job at one of South Korea's biggest conglomerates, or chaebols.
For recent university graduates like 24-year-old Moon Ye-won, the stakes are particularly high this year as she enters one of the worst job markets for young Koreans in recent memory. Moon graduated from the country's top school, Seoul National University (SNU), in August 2015, a school arguably harder to get into than the top Ivy Leagues. ("Even graduates from Seoul National University are unable to find a job" is a common refrain used to describe the dire job market.)
Youth unemployment hit an all-time high in February of 12.5%, compared to 11% a year ago (February's rate is traditionally higher than the rest of the year because many graduates flood the job market after graduating that month). In September, the most recent month for which data is available, that rate was 9.4%, compared to 3.6% for the national average, the highest September level since statistics were compiled in 1999.
The figure is still far below the double-digit levels seen in the European Union, but in a country known for its grueling culture of academic achievement, the problem is all the more urgent. The problem is compounded by the fact that the country is flooded with college graduates—according to OECD figures, 69% of 25- to 34-year-olds in South Korea have a college degree, the highest among OECD countries in 2015. A third of the nation's jobless have an undergraduate degree.
Young Koreans are so frustrated that many have taken to calling the country "Hell Joseon," using an ancient name for a Korean kingdom.
Moon graduated with a double major in economics and Spanish. After doing an internship with a Korean company in Iran, she now works part-time at Starbucks, and is preparing job applications for eight companies—including Samsung, Hyundai, LG, and steelmaker POSCO—which include written essays and aptitude tests.
It will be her second attempt to take the test for electronics maker LG. She said her friends joked that the reason she failed the exam was because she wrote that she would be straightforward with her boss in response to one of the questions.
Chaebol
or nothing
Moon's experience highlights a dilemma facing many young Koreans. Many dislike the chaebols for their disproportionate dominance of the Korean economy, and of everyday life. By one estimate, Samsung, LG, Hyundai, and SK make up almost half of the economy. Corruption remains a huge problem at the top levels of management in these companies. This year, Lotte Group's chairman is being investigated for embezzlement, while its No. 2 executive committed suicide; Hanjin, one of the world's biggest shipping companies, declared bankruptcy in August and its former chairwoman is being investigated for insider trading; and Samsung, arguably the most desirable of Korean employers, is grappling with an exploding-phone problem that increasingly looks like a poor management problem.

Korea's young jobseekers "are the product of an extremely unequal and unstable society that has concentrated all of its wealth and resources in the chaebol," wrote Kim Dong-chun, a sociology professor at Sungkonghoe University in Seoul.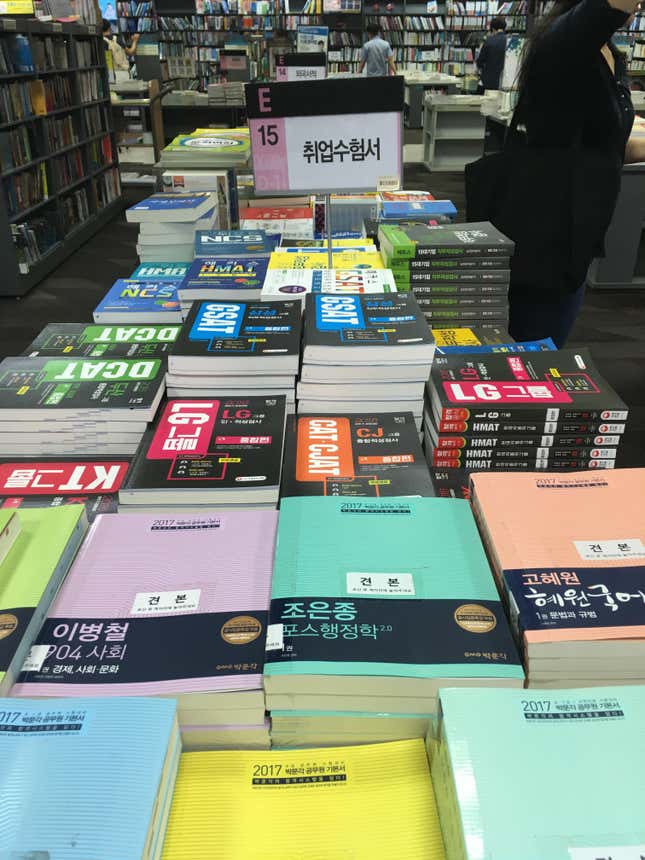 And as Korea's economy weakens, these companies are cutting back too. According to one survey, almost half of 500 of Korea's biggest companies, which typically conduct two rounds of hiring a year, said that they would reduce their hiring this year. 
"That's the problem, when I write my essays I'm just thinking about what these companies did wrong, and then I can't focus on writing my essays," said Moon, who recently took an almost six-hour-long Hyundai test. "Those stories just kept coming to my mind."
Still, everyone wants a job at the same handful of companies—200,000 people took Samsung's test in 2014, competing for 14,000 jobs. After a lifetime of cram schools and testing, the pressure to get into a prestigious Korean company remains high, and is expected. Alternatives like working at a small or medium enterprise or a startup are scant, or simply discouraged.
"You will work overtime in every company anyway, so it's better to stick with ones that actually pay you for overtime," said Hong Seung-min, another recent SNU graduate whose dream job is to work at a design consultancy, though she will take the exams for Samsung and LG. One estimate by McKinsey in 2013 said that SMEs pay just 62% of what chaebols pay.
"I don't want Samsung and LG to do badly, because it's my country and I want them to do well," said Regina Yoo, the co-founder of a salad delivery startup in Seoul called FreshCode. "But they need to change. Korea needs new blood."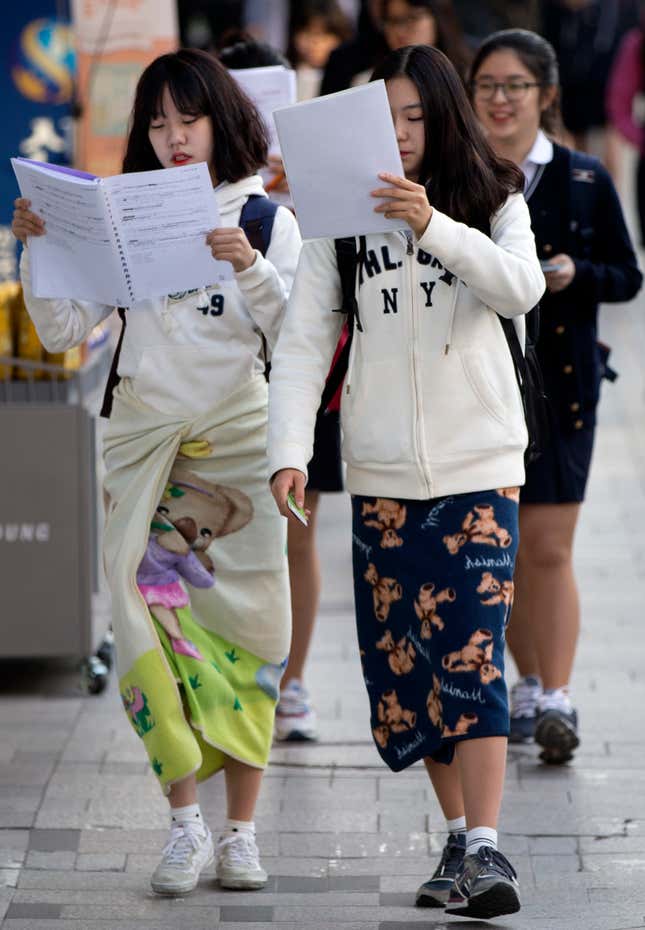 A political issue
The problem has proved vexing for Korea's government, and contributed to the ruling Saenuri party's heavy losses in parliamentary elections earlier this year. President Park Geun-hye—whose father, the dictator Park Chung-hee, was a strong proponent of chaebols—established a "Youth Hope Fund" last year to ameliorate the problem, and personally donated money to the fund. But Park has continued to lean heavily on the chaebols for help, too, asking the country's biggest companies to do their bit to help young Koreans, wrote Hyung-A Kim, an associate professor at Australian National University.
Geoffrey Cain, author of an upcoming book about Samsung, said that Park has turned out to be "less friendly" to chaebols compared to her predecessor, the ultra-conservative president Lee Myung-bak. However, he is critical of the chaebols' continuing power to crowd out SMEs and startups.
"Park has taken some moves to encourage startups and businesses, like setting up a $1 billion government startup fund. It was a step in the right direction, but there's still a lot of problems," said Cain. "There's concern that a lot of these chaebol-sponsored incubation centers are just doing this to pay lip service to what the government wants them to do."
But changing mindsets is as important as changing government policy.
Jeffrey Lim, the head of Campus Seoul, Google's first co-working and incubator space in Asia, said most young people in Korea still want to work for the big chaebols, but the mindset is slowly changing and many now think that it's "cool" to work at a startup.
Parents, however, are a different matter. One former Samsung employee who left to start his own company, surnamed Yoon, took the Samsung exam twice before passing it.
"It wasn't my dream job, but most people in college in Korea dream of working for Samsung," said Yoon, who didn't want to use his full name as he hopes to go back to Samsung if his startup fails. "In my parents' mind, Samsung is the best place in Korea. They were shocked that I left."