South Korean president Park Geun-hye's impeachment was confirmed today (March 10) following a ruling by the Constitutional Court upholding a parliamentary vote in December. Park's ouster follows months of sustained street protests by millions of people after details of the disgraced president's reliance on a female confidante were uncovered in October, a scandal that has embroiled some of Korea's biggest companies including Samsung.
Park becomes the first Korean president to be impeached—the impeachment vote of late former president Roh Moo-hyun was overturned in 2004.
The epic scandal caps what was a tumultuous presidency for Park, who came to power in 2012. She was reviled by liberal Koreans for her conservatism and for being the daughter of dictator Park Chung-hee, but was also beloved by older Koreans who looked back with fondness to her father's presidency, a time when Korea's economy took off.
Park Geun-hye also presided over a country that was beset by problems, such as anemic economic growth, mounting youth unemployment, persistent corruption among Korea's biggest conglomerates, and an increasingly belligerent North Korea. Many criticized her for what they saw as the gradual erosion of civil liberties under her presidency.
Deaths in the family
1952: Born in Daegu, South Korea, the oldest child of general Park Chung-hee.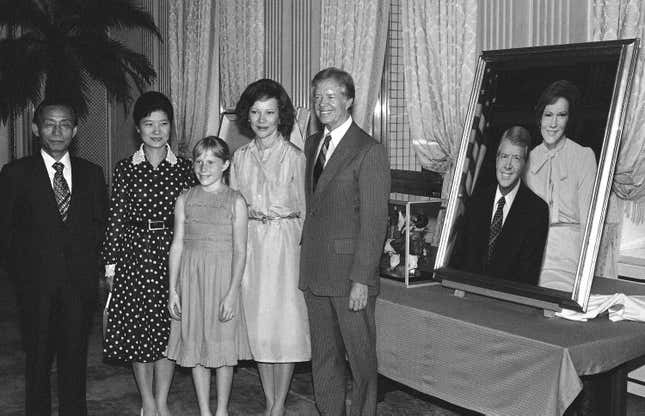 1961: Moves to the presidential compound in Seoul, the Blue House, after her father seizes power in a coup.
1970: Graduates from Sogang University with a degree in electronic engineering.
1974: Park's mother is killed in an assassination attempt against her father by a North Korea sympathizer while Park is studying in Grenoble, France. Park becomes de facto first lady of Korea.
1979: Park Chung-hee is assassinated by his chief of intelligence.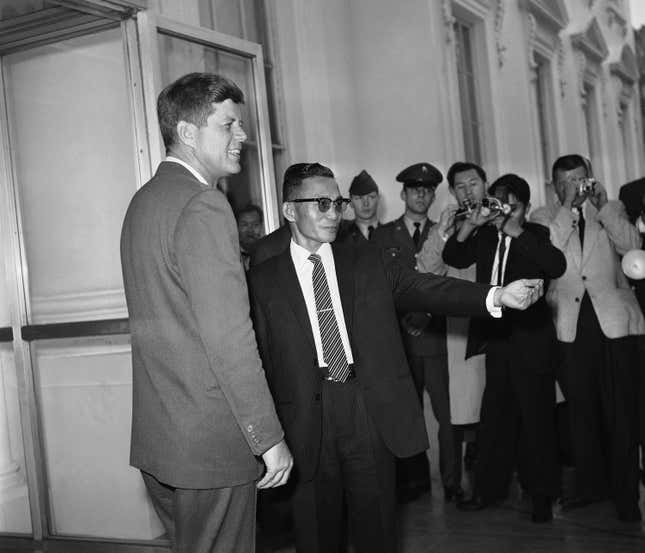 Road to the top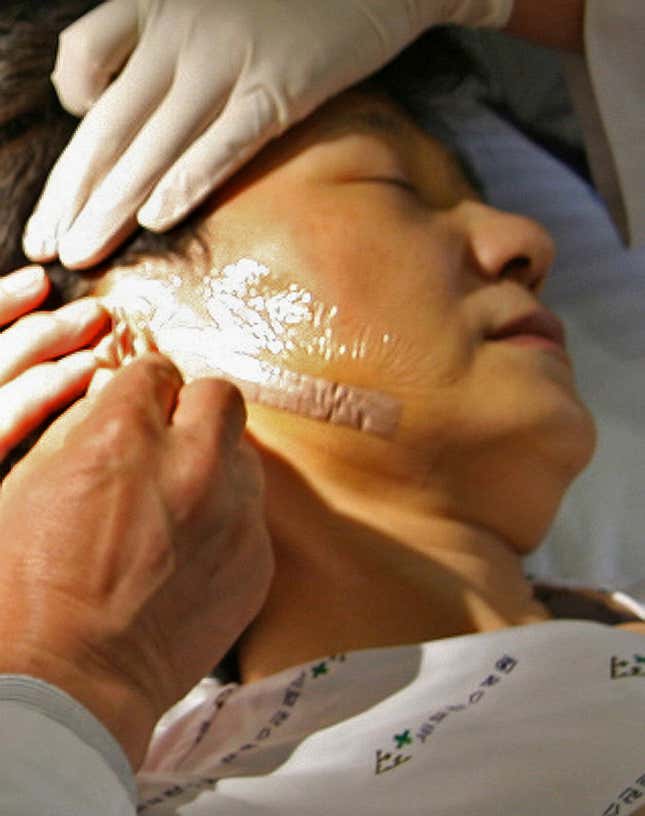 1998: As the Asian financial crisis batters Korea's economy, Park enters Korea's legislature after winning a by-election in Daegu, her hometown.
2004: Elected head of the opposition Grand National Party.
2006: Park is attacked by an ex-convict while she is on the presidential campaign trail. She suffers a long gash to her face.
2007: Lee Myung-bak becomes president of Korea.
2012: Park, 60, now the head of the Saenuri party, is elected president of Korea after beating her opponent, human-rights lawyer Moon Jae-in.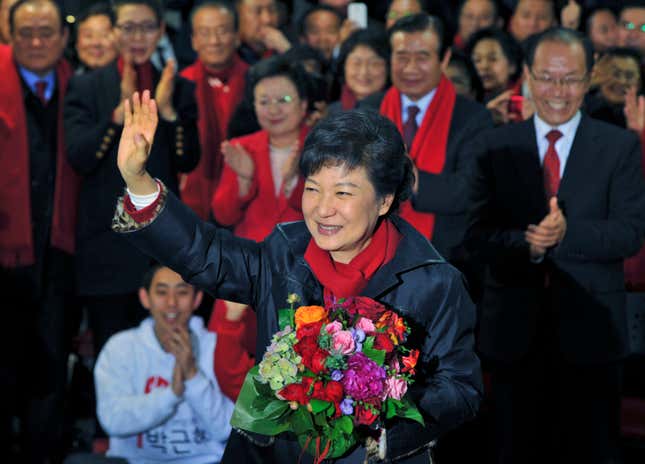 2014: Over 300 people, mostly teenagers, die in the Sewol ferry sinking. Park faced deep public anger over her handling of the disaster.
A scandal of breathtaking proportions
October 2016: A Korean television station reports that it has found evidence on a discarded hard drive that Park had been transferring confidential documents to a confidante called Choi Soon-sil. Choi allegedly also used her connections to the president to help her daughter, an aspiring equestrian, get into a prestigious women's university in Korea.
November 2016: Parliament passes a bill allowing a special prosecution into the bribery scandal surrounding Park and Choi. Korean authorities raid Samsung's offices as part of the corruption investigation into Park. Park makes a heartfelt apology to the Korean public, and says "loneliness" and a tragic life drove her to rely on Choi.
December 2016: Korea's parliament votes to impeach Park after weeks of protests by Koreans in Seoul and other cities. Park is suspended from her presidential duties pending the constitutional court hearing. Choi goes on trial on charges related to coercing donations from corporations; she denies all charges.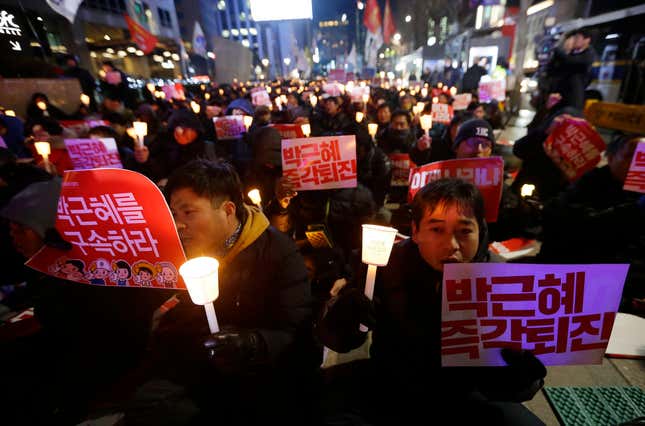 January 2017: Park denies any wrongdoing at a tea briefing with journalists.
February 2017: De facto head of Samsung Lee Jae-yong is arrested and later indicted. Prosecutors allege Lee paid over $37 million to businesses affiliated with Choi in exchange for government approval of a merger last year between two Samsung subsidiaries. Lee has denied the charges. At least some of the money allegedly went to fund the equestrian career of Choi's daughter.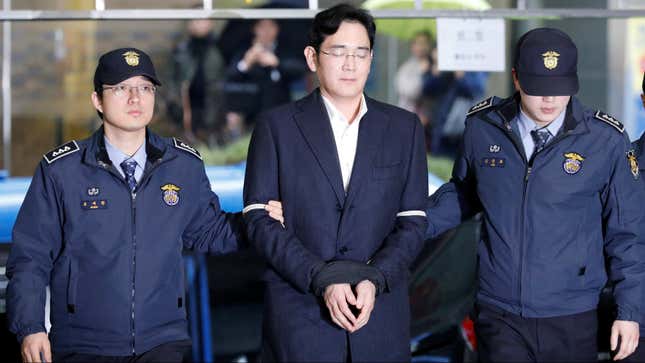 March 2017: Korea's Constitutional Court votes to uphold parliament's decision to impeach Park in a 8:0 ruling. Park also loses her immunity from prosecution. A presidential election will be held in 60 days. Conservative supporters of Park and those calling for her impeachment gather outside the court in Seoul. Korean media reports that two people died during the protests.