On Jan. 8 at CES in Las Vegas, VR company Oculus announced it will form a partnership with Chinese phone maker Xiaomi to take its latest virtual-reality headset to China. The news will finally bring the popular VR brand to the world's largest consumer market, where it will face off against several popular inexpensive headset makers.
Oculus said that together with Xiaomi, it will release a device called the Mi VR Standalone for China. Design-wise, it's basically a carbon-copy of the Oculus Go, a $199 headset set to hit stores this year that can be used to play games without tethering to either a smartphone or a PC. The exact release data and price in yuan hasn't been disclosed.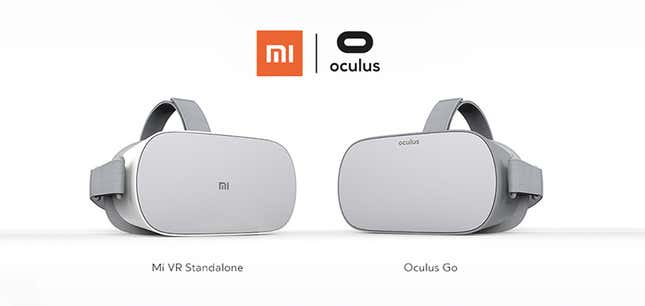 However, where Facebook powers the software for Oculus Go globally, Xiaomi will power the software for the Mi VR Standalone. The social media giant has struggled to make inroads into China, despite charm offensives from founder Mark Zuckerberg.
But it's not clear that Xiaomi can help Oculus reach the same popularity it has in other countries, because China's VR market has strayed from patterns in the global industry. Globally, just two players had 70% of the market as of June last year. That's Sony, with nearly half the market, and Oculus, with 21% of sales, according to research firm Canalys. They both price their flagship models at $400 and above, as does HTC, which is in third-place globally. In China, however, the top-selling VR company during the second quarter of 2017 was local brand DPVR, which released a headset series called the E3, with its most basic model priced at about $330.
While this is Oculus's cheapest headset yet, the Chinese VR market, which is quite fragmented, already counts on existing no-name, inexpensive brands. Throughout 2016, the country endured an VR explosion, as Chinese venture capitalists funneled money toward the sector, expecting the next big thing. Behind Sony and HTC, which rank fourth and fifth for VR headsets in China, were local brands Pico and 3Glasses—both of which sell headsets priced below name-brand rivals.
Beijing-based Xiaomi has a mixed track record when it comes to selling hardware beyond its flagship smartphones. Its wrist tracker, the Mi Band, has been a wild success, and recently ranked as the top-selling device in its category worldwide. But its other hardware products—which include smart lamps, drones, hoverboards, and two other VR headsets—have yet to make the same impact.