The archetype of success in Silicon Valley has long been young, male, and potentially a dropout from one of three or four elite universities. That may be slowly changing.
This week, Canva announced a $40 million founding round making its founder, Melanie Perkins, 30, perhaps the youngest female CEO to be leading a $1 billion startup. Perkins co-founded Canva in 2014 as a way to "democratize design" for everything from slide presentations to handouts. It offers web-based design tools for people who aren't professional graphic designers as an alternative to Powerpoint or Adobe's design suite.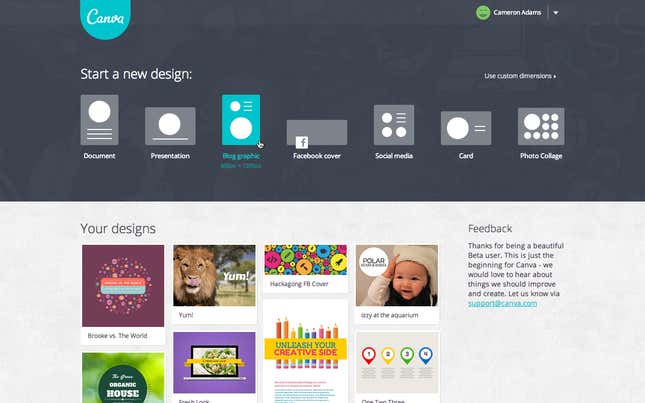 The 250 person-startup has scaled quickly claiming it has 10 million users. It has raised a total of $82 million from investors such as Sequoia China, Blackbird Ventures, and Felicis Ventures, and Canva says it is already profitable and hasn't touched money from previous rounds (investors valued the company at $1 billion in the most recent round). It plans to spend its new cash on product development to compete with incumbents like Adobe. The company is based in Sydney, Australia, and Manilla, Philippines.
Perkins follows in the recent footsteps of Katrina Lake, the founder and CEO of Stitch Fix. On Nov. 17, 2017, Lake became last year's first female CEO to take a company public in the US in 2017. Her e-commerce startup listed for $1.4 billion on Nasdaq. In just six years, Lake built a profitable business with nearly $1 billion in annual revenue while raising just $42 million, a fraction of the sum many startups raise to achieve the same milestone.
Perkins and Lake remain the exception.  Only about 6% of senior venture capitalists are female (down from 10% since 1999) and just 2.7% of venture-backed startups have female CEOs, according to studies by Babson College and Columbia University. Since 2000, the share of IPOs led by female CEOs in the US has averaged around 5%. Partly to blame are structural barriers arrayed against women, outright sexism, and a misogynistic work culture.
Only a few blockbuster startup success stories feature women, but the number of women leading "unicorns," startups valued above $1 billion, is rising to include Anne Wojcicki at 23andMe, Sarah Leary at Nextdoor, Julia Hartz at Eventbrite (who was 25 when she founded the company), Adi Tatarko at Houzz, and Jessica Alba of the The Honest Co (that company recently saw its valuation dip). Many more promising female founders in Silicon Valley and elsewhere are on the rise including Jessica Mah at InDinero, Kathryn Petralia at Kabbage, Polly Rodriguez at Unbound, and Whitney Wolfe of Bumble.
Rent the Runway's CEO Jennifer Hyman told Recode in an interview last November that Stitch Fix, and startups like it, are changing what a good investment looks like for venture investors. "We work in an industry where pattern recognition is still the name of game," she said. "So the more people like Katrina — and hopefully people like myself — who deliver results, the more other women are going to get opportunities."
Correction: A previous version of the caption misstated Cliff Obrecht's name.