The energy giant ExxonMobil claims to be "caught in the crosshairs" of a major political "conspiracy." The oil company says in a Jan. 9 Texas state court filing that "a collection of special interests and opportunistic politicians are abusing law enforcement authority and legal process to impose their viewpoint on climate change."
The company filed a request for depositions (pdf) in Tarrant County district court, claiming that governmental legal actions on climate change are designed to chill open debate and to force a point of view shared by only a few politically-motivated government attorneys working in cahoots with environmental lawyers and concerned scientists. ExxonMobil argues that this has violated the company's First Amendment right to free speech.
Specifically, ExxonMobil seeks to investigate 16 individuals who the company claims are behind a litigation campaign that led to California communities suing Exxon and others in 2017. Last July, Marin and San Mateo counties, along with the city of Imperial Beach, sued 37 oil, gas, and coal companies for allegedly knowing that fossil-fuel use would lead to climate change-related sea-level rise, and failing to warn the public. The communities want the companies to pay, arguing that corporations were responsible for roughly 20% of total emissions from 1965 to 2015. Since, other California coastal communities have joined the suit.
ExxonMobil is taking the climate change fight to friendlier turf. The company is located in Texas, a state that appreciates Big Oil. But it isn't yet counter-suing the California communities. With this request, ExxonMobil is simply asking a Texas court to allow it to depose 16 individuals, private and governmental attorneys it claims are behind that California case and other "abusive" litigations that are designed to push policy positions rather than to remedy actual, provable harms. Now, it's asking the Texas court permission to officially question the 16 individuals to determine whether to file a countersuit.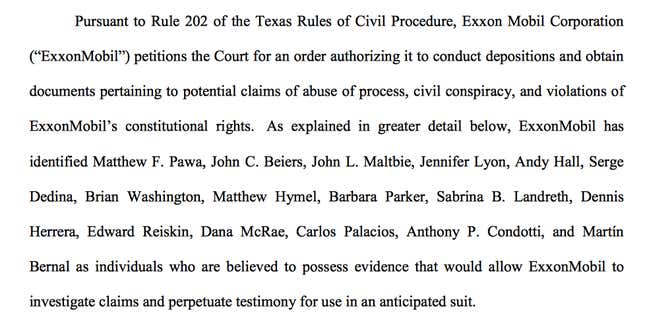 First on the list, for example, is Matthew Pawa, an environmental attorney. Pawa represented New Hampshire in a groundwater-contamination case against ExxonMobil, winning the state $236 million in damages after a jury trial in 2013. ExxonMobil now alleges that Pawa (and the 15 others on the filing) conspired with state and municipal attorneys in an "abusive" nationwide law enforcement and litigation campaign which arose from a 2012 gathering of attorneys and scientists in La Jolla, California. 
At that meeting, ExxonMobil argues, this group planned a massive nationwide campaign, based not on the desires of constituents but on the politics of a few. The filing explains:
This conspiracy emerged out of frustration in New York, Massachusetts, and California with voters in other parts of the country and with the federal government for failing to adopt their preferred policies on climate change. But rather than focusing their efforts in the marketplace of ideas and adopting a strategy of persuasion, the members of this conspiracy chose to advance their political objectives by imposing unlawful burdens on perceived political opponents.
That rhetoric might sound familiar. The notion that climate-change skeptics are targeted by leftists is a common conservative complaint. In 2016, Hans von Spakovsky, a senior legal fellow at the right-leaning Heritage Foundation, said that that there is an "incestuous relationship between climate -change activists and partisan state attorneys general" who "are subverting our democratic system by using the courts to silence the opposition to…an unproven scientific theory." 
Exxon isn't going so far as denying climate change science. On the contrary—the filing argues that the company "has long acknowledged the risks presented by climate change, supported the Paris climate accords, and backed a revenue-neutral carbon tax" but is nevertheless "targeted by state and local governments for pretextual investigations and litigation intended to cleanse the public square of alternative viewpoints."
This claim runs contrary to recent research that indicates ExxonMobil deliberately misled the public in its communications about climate for decades. In August 2017, a Harvard study, published in the journal Environmental Letters (pdf), examined 187 ExxonMobil communications on climate change published between 1977 and 2014 in places like peer-reviewed journals, advertorials, and internal documents. The study concluded that as the effects of fossil fuels became more widely known, ExxonMobil's public-facing communications increasingly expressed doubt about science that it internally acknowledged to be true. The paper explained:
This discrepancy is most pronounced between advertorials and all other documents. For example, accounting for expressions of reasonable doubt, 83% of peer-reviewed papers and 80% of internal documents acknowledge that climate change is real and human-caused, yet only 12% of advertorials do so, with 81% instead expressing doubt. We conclude that ExxonMobil contributed to advancing climate science—by way of its scientists' academic publications—but promoted doubt about it in advertorials. Given this discrepancy, we conclude that ExxonMobil misled the public.
The timing of ExxonMobil's request coincides neatly with another climate-related legal case filed on Jan. 9. New York City is suing Big Oil, claiming that in recent decades the fossil-fuel industry behaved like Big Tobacco last century, using "disinformation campaigns" to encourage use of products that oil companies knew were dangerous to the planet. The companies named in that case: BP, Chevron, ConocoPhillips, Royal Dutch Shell, and, of course, ExxonMobil.