America's largest mortgage maker, Wells Fargo, is cutting some 2,300 mortgage production employees, Bloomberg reports. Why? Higher interest rates. Since the US Federal Reserve started talking up the taper back in May, mortgage rates—which are closely tied to yields on US government bonds—have surged. As rates have gone up, refinancing activity collapsed, killing off a boomlet that has been one of the most tangible bits of evidence that the Fed is actually helping the economy.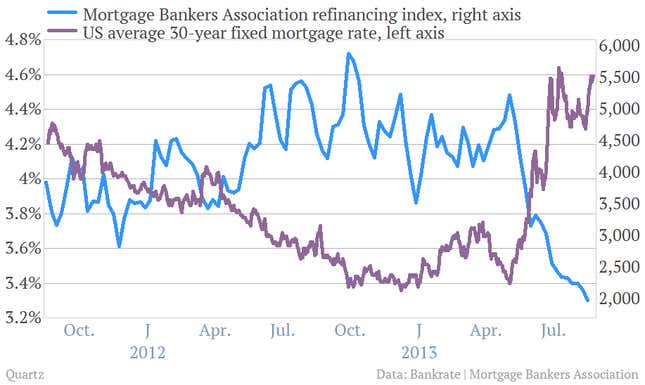 Refinancing was a boon to the economy in a number of ways. It helped consumers cut the share of monthly spending dedicated to housing, which frees up money to be spent elsewhere. Refinancing—along with defaults—has also helped Americans radically lighten their debt loads. And it's a tool that's becoming more and more effective along with the recent rise in home prices. It's also created a bit of hiring in the financial industry, which is a good thing after the collapse of employment there during the financial crisis.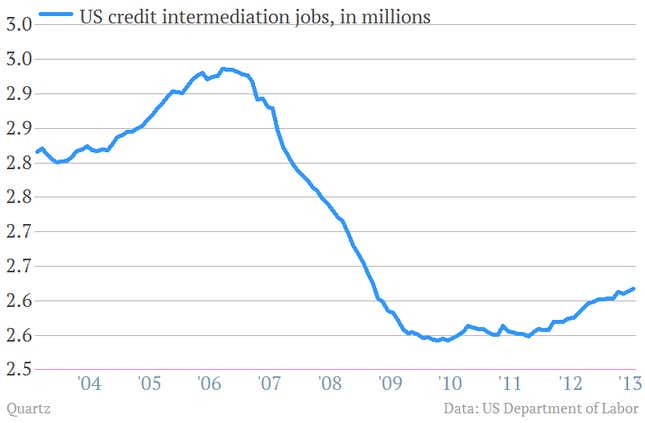 The FOMC minutes published yesterday seem to have cemented expectations that the Fed will start tapering—cutting back on its $85 billion in monthly bond purchases—in September. Let's hope the Fed's confidence in the durability of the US economy is well placed. Because signaling its willingness to cut back on its economic support is already having real consequences for the economy. Proof is in Wells Fargo's announcement.