Lamborghini, the Italian maker of racy luxury automobiles, reported record sales today. It delivered 3,815 vehicles to customers last year, its seventh consecutive year of sales growth.
Now, correlation is not causation, but Quartz would like to point out that as Lamborghini sales have surged, so has the price of ether, the digital token used by the ethereum cryptocurrency network. Ether traders prize Lamborghinis (half-jokingly) as the ultimate status symbol in their world. Behold: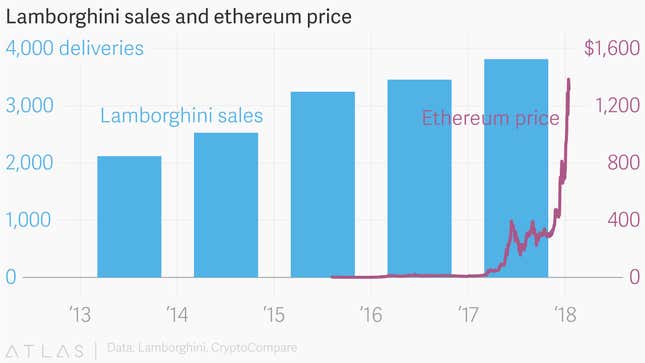 For the uninitiated, Lamborghinis and ethereum riches share an almost mystical bond. The most famous manifestation of this is a piece of digital art by Reddit user earthquakequestion depicting ethereum's creator, Vitalik Buterin, in the garb of a holy man. Between his open palms is a red Lamborghini Aventador (690 brake horsepower). It is titled "Soon…", a reference to "The Flippening," when the market value of ethereum will for the first time eclipse that of its better-known crypto counterpart, bitcoin.
So seriously do ether traders take their "Lambos" that a business has been created for the sole purpose of selling Lamborghinis and other sportscars for ether or bitcoin. As Venturebeat reported, the firm is called Moonlambos and its cheapest Lamborghini is a Gallardo that goes for 10.97 bitcoin ($154,348, or 120.3 ether at current prices).
Here is a handy ether-to-Lambo convertor, for future reference.
The "moon" bit of the firm's name is another crypto in-joke: Traders often speak of a future when the price of their cryptocoin of choice skyrockets "to the moon." Moonlambos co-founder Victor Faramond says no cars have been sold yet, although the firm has a dozen serious enquiries and expects to make its first sale this month. "Mostly [prospective customers] are located in the US, Canada, UK, China," he says. "Some of them have shown [us] a huge number of bitcoins in their wallet."
Getting rich off cryptocurrencies is all fun and games—as chronicled in a recent New York Times report on the excesses of the crypto nouveau riche (paywall)—until it isn't. Lambo riches and the attendant get-rich-quick culture in many cryptocurrency circles has made Buterin question his creation. He has threatened to quit the project if Lambo memes overwhelm ethereum's grand vision of a decentralized "world computer."