Steve Ballmer is finally going to hang 'em up. Microsoft shares are up more than 8% in pre-market trading after the company's CEO said he would retire "within the next 12 months." Here's why: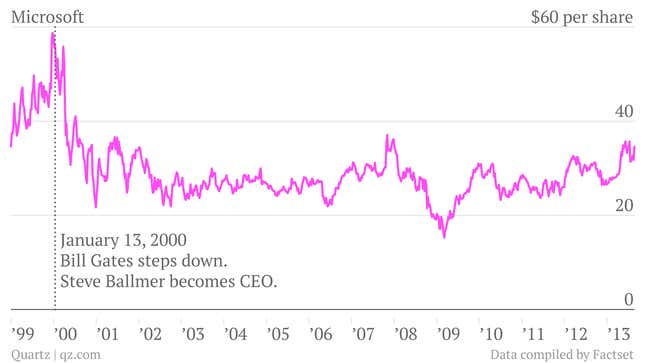 Microsoft stock is roughly 40% lower than where it was when Steve Ballmer took over on Jan. 13, 2000. Of course, Microsoft was coming off one of the greatest booms in stock market history at that point. But the notable lack of momentum in Microsoft's shares for the last decade has caused many to point a finger at the colorful executive.
Activist shareholders have recently been circling the company and angling for a board seat. In July, we wrote: "Microsoft and Steve Ballmer have a major shareholder problem."
Now maybe we're being unfair to Ballmer. After all, Microsoft couldn't keep growing at the gangbusters pace it set during the 1990s. Under his watch he oversaw its transition from a surging growth stock to a more staid value stock, which means it should be more focused on returning cash to shareholders through dividends rather than reinvesting for fast growth. But even looking at the performance of Microsoft through the lens of dividends, the shares haven't done great under Ballmer. The total return—share price gains/losses plus dividends—on Microsoft since Ballmer took over is -19.6%, according to FactSet data.