Ingvar Kamprad, the entrepreneur who created IKEA, died yesterday. Here are some surprising facts about the quirky Swedish tycoon and the low-cost furniture revolution he began.
1. He was the eighth-richest person on the planet
That depends on how you count, though. The Bloomberg Billionaires Index currently estimates his wealth at $59 billion. That means that when Kamprad died, he had more money than all but seven other people. However, it's hard to know what of that fortune truly belonged to him. IKEA is held through a string of trusts and foundations, all of it private. ("Kamprad has never borrowed money or issued a stock," according to the Swedish Institute.) Having retired as CEO in the 1980s, he gave up his board position in 2014.
2. He did his first business deal when he was five years old
Born in Småland in 1926, Kamprad was five when he contracted with an aunt who lived in Stockholm to buy boxes of matches in bulk, selling them locally at a huge profit, according to The New Yorker (paywall). By his final year in middle school, he had expanded into Christmas ornaments, fish, lingonberries, and garden seeds.
3. Kamprad bought his clothes at flea markets
"It's in the nature of Småland to be thrifty," he said in a 2016 documentary.
4. IKEA's quirky names come from Kamprad's struggle with dyslexia
The disorder made it hard for Kamprad to recall accurately inventory item numbers. He devised a system of naming different product types, as we noted last year, such as:
Bathroom articles = Names of Swedish lakes and bodies of water
Bed textiles = Flowers and plants

Beds, wardrobes, hall furniture = Norwegian place names

Bookcases = Professions, Scandinavian boy's names

Bowls, vases, candle and candle holders = Swedish place names, adjectives, spices, herbs, fruits and berries
Boxes, wall decoration, pictures and frames, clocks = Swedish slang expressions, Swedish place names

Children's products = Mammals, birds, adjectives

Desks, chairs and swivel chairs = Scandinavian boy's names

Fabrics, curtains = Scandinavian girl's names
Garden furniture = Scandinavian islands

Kitchen accessories = Fish, mushrooms and adjectives

Lighting = Units of measurement, seasons, months, days, shipping and nautical terms, Swedish place names

Rugs = Danish place names
Sofas, armchairs, chairs and dining tables = Swedish place names
Despite his dyslexia, Kamprad did well in school. He founded his IKEA business—combining the initials of his name and Elmtaryd, Agunnaryd, his boyhood home—with the money his father gave him as a reward for his academic performance.
5. There's an IKEA store on every habitable continent—except South America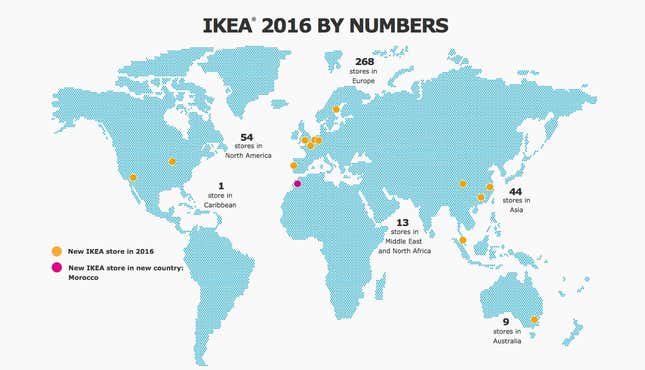 (Depending on how you count the Caribbean.)
6. He predicted present-day trends in digital retail
Kamprad launched his mail-order business in the 1940s, vowing to customers to keep prices low by cutting out the middleman, according to The New Yorker. Realizing customers still wanted to see the goods, he launched the "basis of the modern IKEA concept," as Kamprad later put it: a catalogue to attract interest, alongside a showroom for customers to visit. Opened in 1953, this showroom became the first IKEA store in 1958. Which is not so far from what internet retailers like Warby Parker, Everlane, and perhaps most similarly, Amazon have been doing recently.
7. IKEA is the world's largest consumer of wood
With its vast DIY home furnishing selection and 389 stores worldwide, the company consumes 1% of the world's wood supply.
8. Kamprad left Sweden in 1973 in search of lower tax rates
In a quest to minimize his taxes, he left Sweden for Denmark, eventually settling on Switzerland. His company is controlled via a Dutch nonprofit foundation—which, as such, is tax-exempt—and a series of offshore holding companies. In 2017, European officials launched an investigation into IKEA's tax structure, according to Bloomberg.
9. His biggest mistake involved fascism
A 1994 investigative report exposed Kamprad's involvement with a Swedish fascist movement in the 1940s and '50s. Kamprad responded by telling employees that it was "a part of my life which I bitterly regret," and "the most stupid mistake of my life," according to the New York Times (paywall).
And a bonus ad…
IKEA even managed to make lamps emotional, as evidenced by this famous ad directed by Spike Jonze.