North Korea will send 22 athletes to the Winter Olympics in Pyeongchang, South Korea, but only two of them qualified for the event: pair figure-skaters Ryom Tae-ok and Kim Ju-sik.
That said, the two, like the rest of the North Korean athletes, will be at the Olympics because of a special exception made for them. Though Ryom and Kim qualified for the games in September, North Korea's Olympic Committee missed the Oct. 30 deadline to confirm their spot, leaving the world wondering for months if any athletes from the reclusive country would compete at the games.
Eager to have North Korea there, the International Olympic Committee in late January gave out quota places—a rarely used wild card—to 22 athletes from the country: Ryom and Kim as well as two short-track speed skaters, three cross-country skiers, three alpine skiers, and 12 female ice hockey players, who will compete as part of a unified women's hockey team with South Korea. All of them will march alongside South Korea's athletes under the unified Korean flag.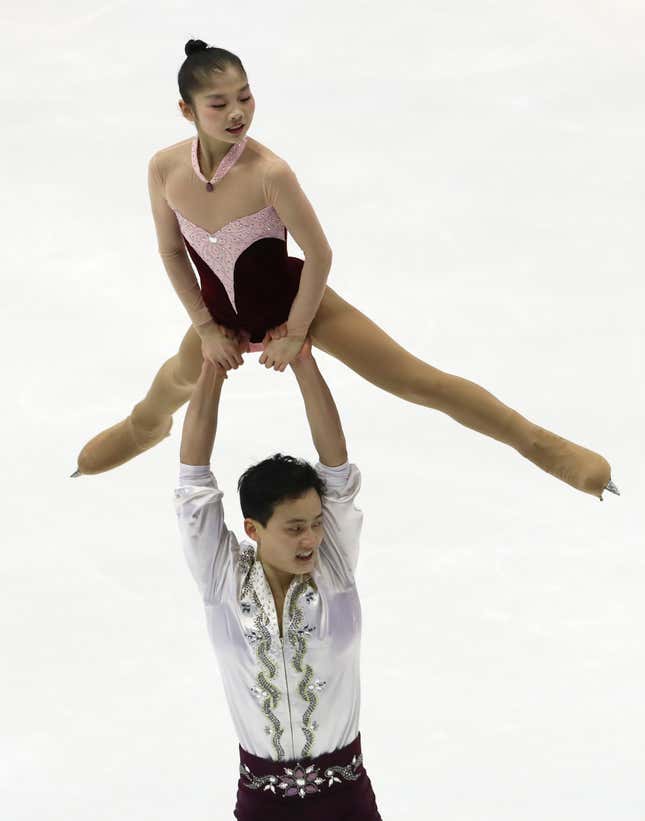 Who are the pair skaters?
Like much of North Korea, details about the personal lives of Ryom Tae-ok, 18, and Kim Ju-sik, 25, are scarce.
The figure skaters, who were both born in Pyongyang, have competed as a duo since 2015. According to their profile on the International Skating Union, both list their professions as athlete and student.
Some people doubt North Korea's athletes will bring home any medals (paywall), but Ryom and Kim seem to be the country's best shot. The two have placed on the international circuit, winning gold at the 2016 Asian Figure Skating Trophy in Manila, Philippines; bronze at the 2017 Asian Winter Games in Sapporo, Japan; and bronze at the 2016 Cup of Tyrol in Innsbruck, Austria.
In their most recent performance in January, they won bronze and scored 184.98, a personal best for their total score, at the 2018 Four Continents Figure Skating Championships in Taipei, Taiwan.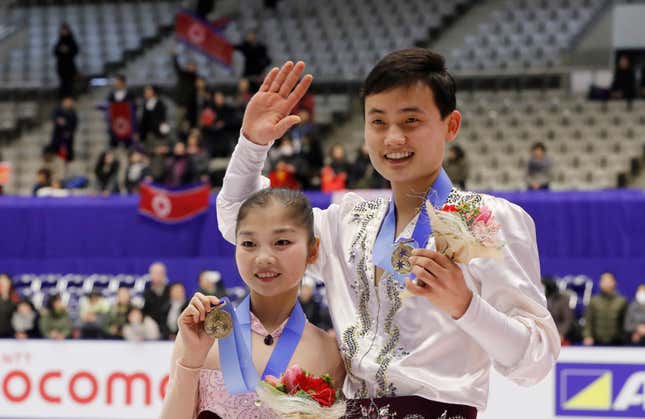 The two are coached by Kim Hyon-son (paywall), but trained under Canadian Bruno Marcotte in Montreal, Canada last summer. It is Marcotte's interviews with Western media that have provided the world with glimpses into the two skaters' lives.
Marcotte did not respond to an interview request from Quartz.
Marcotte, a former World Junior bronze medalist, told the BBC that when he first noticed the pair at a competition two years ago, he had thought they were just "okay." But after seeing marked improvement in their technique at the 2017 Asian Winter Games, where they placed third, he approached and complimented them. Last March, they asked if he would coach them. He agreed, and while in Canada, they also worked with his sister, Julie, a figure-skating choreographer.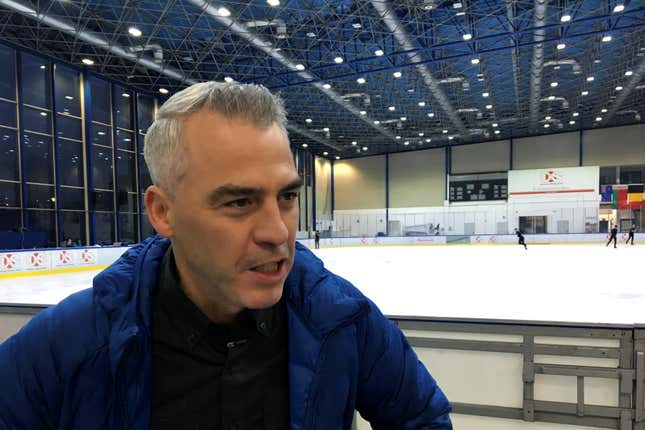 "I get approached by people from different countries all the time and usually I don't think twice about their background," he said. "So I decided to treat these guys the same way as I did everybody else."
While training in Montreal, Ryom and Kim were chaperoned by a man from the North Korean skating federation, an English speaker who acted as their translator, but Marcotte told Canada's Global News they weren't constantly monitored. Instead, he said it felt more like "family." Marcotte also said the two "wanted to make sure that I saw them as sportsmen and not as political representatives."
He described Ryom and Kim as affectionate, who at the end of each training session would come up to give him a hug. "They were not afraid to show their emotions," he told Reuters.
Over the summer, the skaters also befriended two South Korean competitors training in Montreal. "As we trained together for two months in Canada, we became close easily because we speak the same language," South Korean pair skater Kam Kang-chan told the CBC. "We rooted for each other and we said that we should meet in Pyeongchang."
There are many details about the pair's lives that Marcotte doesn't know for certain, but he's inferred a lot from their time together. He told the Global News that he believes their training routine is similar to the Chinese, where they live apart from their families and see them only on the weekends. He also doesn't think that competing internationally has necessarily improved their lives, since they probably had to come from some privilege to be able to figure skate in the first place.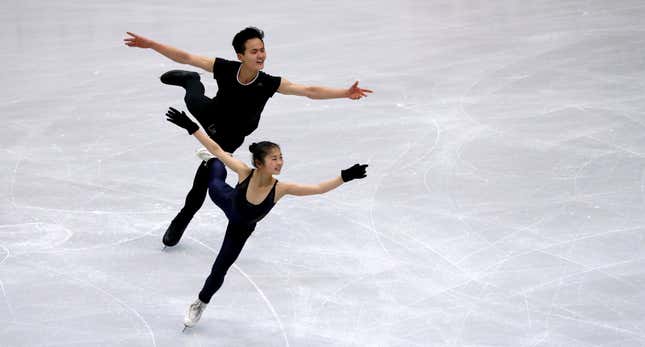 The two appear to have much backing from the government. Seong Moon-jeong, the Korean sports researcher who helped prepare the South Korean delegates for Olympics talks with North Korea, told NPR that pair figure-skating "became huge in North Korea ever since Kim Jong-un came into power." At the Four Continents competition in Taipei in January, Kim Ju-Sik also told reporters, "Our government really supports us, so we can pay full attention to our skating."
"Charisma on ice"
Ryom and Kim are "a crowd favourite," says Marcotte.
In September, at the Nebelhorn Trophy in Oberstdorf, Germany, where the two placed sixth and qualified for the Olympics, the audience responded enthusiastically after they finished their long program.
"There were many people of different nationalities and backgrounds cheering for us," Kim said in a press conference (paywall). "The fact that we gave them some kind of joy, that was the best part in the performance."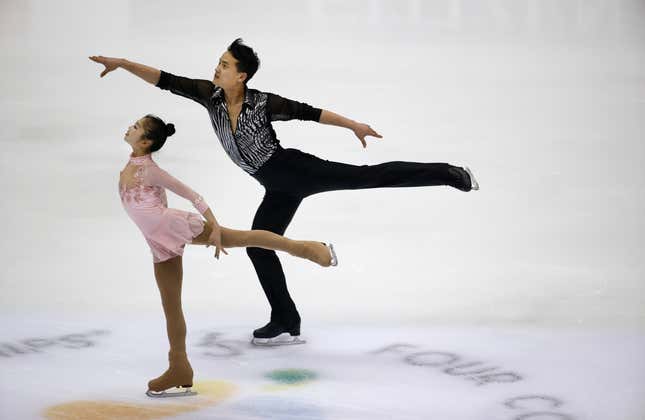 "They're so expressive that the audience just connects very well with them," Marcotte told the Global News. "They have a lot of charisma on the ice, that's for sure."
In addition, he's described them as fast, with "beautiful, classical lines," "good posture," and "unison [that] is really next to none."
During the 2016-17 season, Ryom and Kim performed to an instrumental cover by Jeff Beck of The Beatles' "A Day in the Life" for their short program, and the French-Canadian song "Je ne suis qu'une chanson" ("I am a song") for the free-skating portion. It's unclear if this will be their routine at the Olympics, since the competition favors originality. For the first time at a Winter Olympics, skaters will be able to perform to music with vocals in Pyeongchang.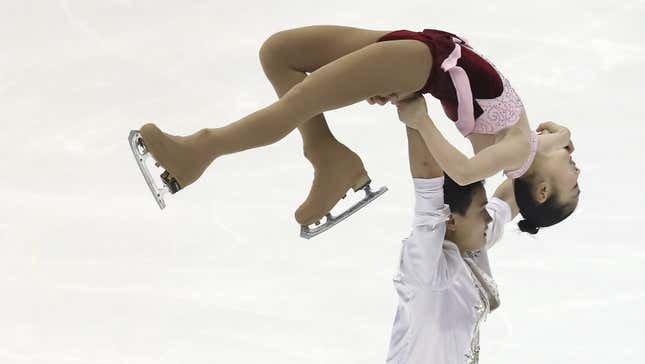 Marcotte said their goal wasn't to qualify for the Olympics. "As far as the Olympics goes, I don't think it's a big deal for them until they can be medal contenders," he told the Global News. Ultimately, what they want is to improve their score. "The only thing we talk about is how can they progress [in] the world ranking," he told CNN.
Watch them perform
For a preview of Ryom and Kim's skating, revisit some of their best performances:
2018 Four Continents
They earned a career best in international competition for their total score and the short program, the performance of which is below:
2017 Nebelhorn Trophy
Prior to Four Continents, they had earned their personal best with a total score of 180.09 at the 2017 Nebelhorn Trophy. They did not win a medal, but they did qualify for the Olympics. Below is a performance of their free-skate program at the competition:
2017 Asian Winter Games
North Korea won its first Asian Winter Games medal ever in 2017, when the pair came in third. Their free skate, below, is to "The Prince and the Sugarplum Fairy" from Tchaikovsky's The Nutcracker.