Who's scaring the markets more: Ben or Bashar?
The prospect of coordinated military strikes against Syria by the US, UK and France—after Syria's apparent use of chemical weapons against its own citizens—is adding momentum to the rush out of emerging-market nations, as investors scramble to the traditional safe-haven assets: gold, US Treasurys and the US dollar. Aside from general skittishness, the added concern is partially related to the prospect of a Syria-related spike in oil prices, which raises risks of inflation in emerging markets. 

Officials in fast-growing emerging markets have blamed Ben Bernanke's Federal Reserve and hints of a taper in monetary easing for the recent sharp selloff in their markets. In India, the key Sensex stock index is down 11% over the last three months and the rupee is tumbling to record lows against the US dollar almost every day. Stock markets in Thailand, Philippines and Indonesia are all down about 20% over the last three months.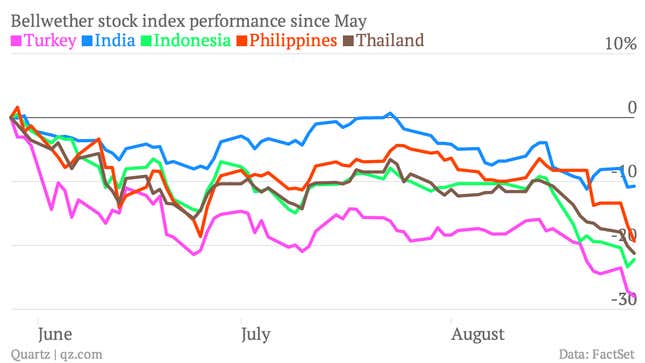 Of the emerging-market nations, Turkey—a member of the North Atlantic Treaty Organization—is perhaps most vulnerable to the Syrian crisis. The country, which shares a long border with Syria, has said it is weighing whether to take part in a military intervention, which would expose it to direct attack from Syria. Turkey's stock market is down 28% over the last three months. And its currency is down sharply, with losses accelerating in recent days.
Weakening emerging-market currencies are sure to amplify those markets' ongoing battles with inflation. In the short run, those price spikes will only be made worse by the sharp rise in oil prices, which have reached their highest level in two years thanks to the Syria crisis.
In short, emerging markets are only headed for more pain.