Most countries hosting the Olympics don't have to worry about a belligerent, unpredictable neighbor acting out. South Korea, which is hosting this month's Winter Olympics, doesn't have that luxury.
It's technically still at war with North Korea, which many South Koreans will remember blew up a passenger plane ahead of the 1988 Summer Olympics in Seoul because its demands to co-host the games hadn't been met. This time, North Korea is sending its own athletes to the games—and will march together with South Korea at the opening ceremony Friday—but that brings security challenges of its own. To be sure, when North Korea visited South Korea in 2002 and 2014 for the Asian Games there were no serious incidents—but add to the mix potential threats from drones, terrorists, and hackers and security operators will have their hands full regardless.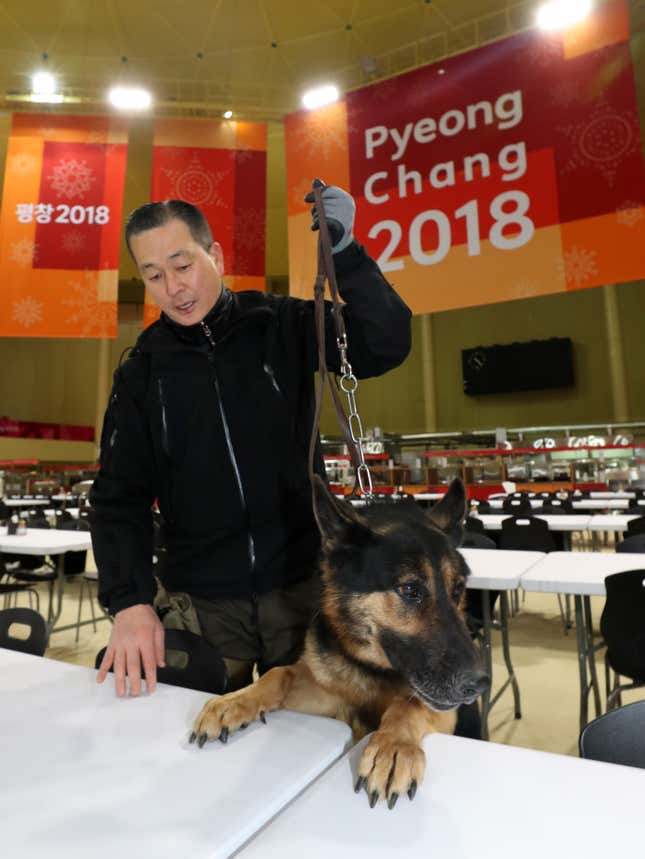 The nerve center of the massive security operation is the Pyeongchang Olympics Counter-Terrorism and Safety Headquarters, which includes the involvement of the armed forces, police, intelligence agencies, and over a dozen other government entities. Established in November 2016, it's had plenty of time to prepare. Up to 60,000 people a day will be working to ensure the safety of the games, including about 5,000 armed forces personnel to guard venues around the clock, plus 10,000 or so police officers.
About a million spectators, athletes, and guests—including 26 heads of state—are expected for the games in Pyeongchang County, just 50 miles (80 km) from the border with North Korea. Over 2,900 athletes from 92 countries and territories are participating, meaning South Korea will be hosting the largest Winter Olympics ever. With numbers like that, organizers are not taking any chances.
Getting Pyongyang to play
Though it isn't often described as such, getting North Korea to participate in the games was in itself a security measure. In 1987, North Korean agents placed explosives on Korean Airlines flight 858, headed from Baghdad to Seoul, resulting in the deaths of all on board. Pyongyang had been angry that its demands to co-host the 1988 Summer Olympics, which it ended up skipping, had not been met.
For this year's Olympics, Seoul knew Kim Jong-un's regime would be less likely to engage in such malicious acts if North Korean athletes were part of the proceedings. Yet it wasn't clear they would be until recently. In September, ticket sales to the Olympics were slow amid the escalating tensions, and France's sports minister said his country would not send athletes to the games if their safety couldn't be guaranteed.
But South Korean president Moon Jae-in, a former human-rights lawyer whose parents fled North Korea, insisted that sports could help ease the tension. In the summer he welcomed a North Korean demonstration team to the World Taekwondo Championships in South Korea. He used the occasion to invite North Korea to the upcoming Olympics, emphasizing in his address the "strength of sports" in encouraging peace.
Last month Pyongyang softened its tone toward Seoul and indicated its willingness to send a delegation to the games. While it might have ulterior motives—such as driving a wedge between South Korea and its allies, as some believe—the participation of its own athletes will make it less likely to disrupt the games with violence, or so it's hoped.
Mind the North Koreans
However, North Korea's large delegation—including athletes, minders, cultural performers, and cheerleaders—also gives the organizers plenty to worry about. The head of a defector's association in South Korea estimates that at least one in every 10 members of the delegation is a state agent who might attempt to communicate with agents already embedded in South Korea.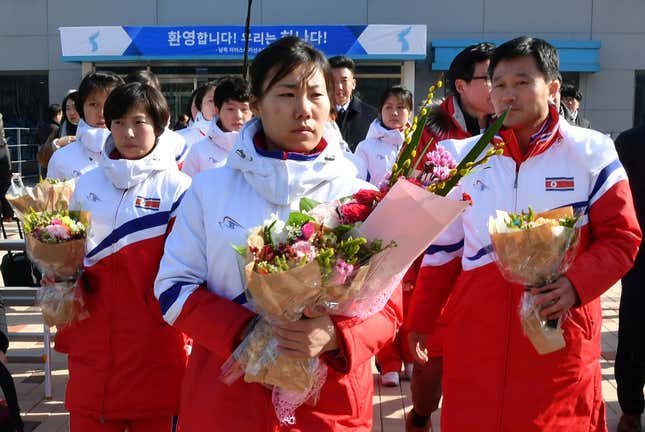 But to outsiders, some of the South's fears are not as readily grasped—for instance, that its own domestic extremists could target the North Koreans. Another is that a member of the North Korean delegation might defect, adding to a long history of athletes using the Olympics as an occasion to flee their home countries. While that's unlikely given how carefully the North vets members and how harshly it punishes the extended families of escapees, it would take just a single asylum seeker to put the South in a difficult situation.
Should the South decide to protect a defector, Pyongyang could yank its delegation from the games, or take more drastic action. "I cannot and do not want to anticipate how the North Koreans will react," Greg Scarlatoiu, executive director of the Committee for Human Rights in North Korea, told Canada's Global News.
On the other hand, not protecting a defector would pose ethical dilemmas and bring problems of its own, including protests from rights groups and headlines the South would rather avoid.
Eyes above and below
High-tech hardware is playing a key role in the South's security efforts. One concern is that an unauthorized drone could be used to disrupt the proceedings with a bomb, and possibly deliver biological or chemical weapons. With that in mind, security teams have practiced shooting down unmanned aerial vehicles (UAV). In one training session, they neutralized a bomb-carrying UAV headed for a bus full of athletes. Also on hand are drones that catch other drones by dropping nets over them from above, and equipment for jamming the signals that control UAVs. All the Olympics venues have been classified as no-fly zones for unauthorized planes and drones.
Last month, organizers revealed a tactical airplane equipped with high-end CCTV technology that will fly at 150 to 200 m (492 to 656 ft), plus facial-recognition capabilities for identifying individuals deemed to pose a terrorist threat. (In December, South Korea deported 17 foreigners in a preemptive anti-terror move.) The plane will be complemented by some 900 24-hour CCTV cameras on the ground complete with tracking technology and wide-angle lenses to monitor blind spots. The cameras will also immediately communicate back to headquarters if they've been damaged.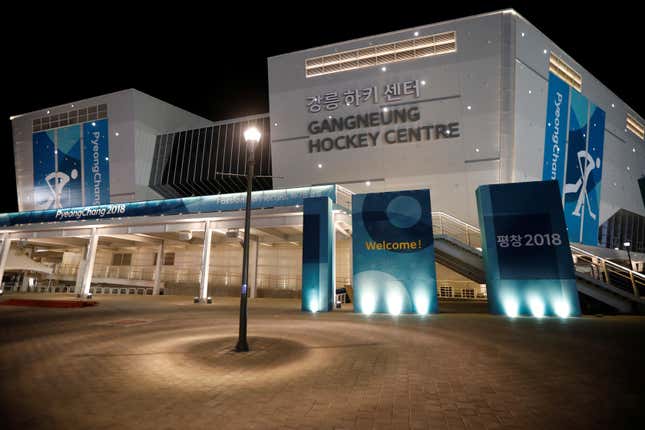 Guarding against hackers
The Olympics organizers are also bracing for online attacks. In September, government documents reviewed by Reuters showed Pyeongchang organizers were fast-tracking the search for a cyber-security firm to help guard against a hacking attack from the North, and earmarked about $1.2 million for such protection. The South has blamed the North for a number of such attacks over the years, including one in 2013 that froze computers at banks and broadcasters for over a week.
Last month cybersecurity firm McAfee said that hackers had attempted to target organizations involved in the Olympics. An email attack in late December sent infected documents to South Korean organizations involved in the Olympics, among them an ice-hockey association. Written in Korean, the Microsoft Word documents appeared to be from South Korean officials, but were actually implanted with malicious software.
Russian hackers are also a concern, especially after Russia's Olympic team was barred from the games in December over state-sponsored doping allegations. Last month cyber-security firm ThreatConnect shared evidence suggesting hackers linked to the Russian government could be engaged in a broad campaign against this year's Winter Olympics.