North Korea and South Korea are holding their first high-level talks in more than two years on Tuesday (Jan. 9). Whatever their representatives do or don't accomplish, it's notable that a meeting is even being held in the first place.
Since early 2016, South Korea had been calling its neighbor twice daily from a special hotline in the Demilitarized Zone, the heavily guarded border that separates the two countries. Finally, last week, the North picked up. North Korea then faxed a letter, saying its representatives would travel to the Peace House, on the South Korean side of Panmunjom, the truce village that straddles the border, for talks on Jan. 9.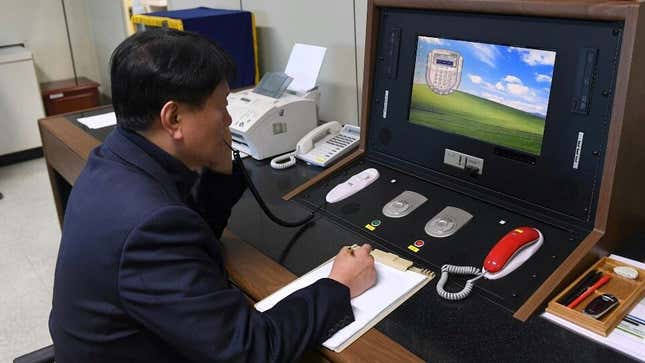 The fax came after the US and South Korea agreed to delay joint military drills—long viewed by Pyongyang as a threat—until after next month's Winter Olympics, being held in South Korea. South Korean president Moon Jae-in had proposed the suspension on Dec. 19 to the Trump administration.
The main topic of this meeting will be ways that North Korean athletes can participate in the Games, to be held from Feb. 9 in the South Korean city of Pyeongchang, about 80 km (50 miles) from the border. North Korea has signaled it's likely to be part of the event, and leader Kim Jong-un said in a New Year's Day speech:
"As for the Winter Olympic Games to be held soon in south Korea, it will serve as a good occasion for demonstrating our nation's prestige and we earnestly wish the Olympic Games a success. From this point of view we are willing to dispatch our delegation and adopt other necessary measures; with regard to this matter, the authorities of the north and the south may meet together soon. Since we are compatriots of the same blood as south Koreans, it is natural for us to share their pleasure over the auspicious event and help them."
In Moon's view, sports can play a key role in creating peace on the Korean Peninsula. In June of last year, he welcomed a North Korean demonstration team to the World Taekwondo Championships, held in South Korea. He took the occasion to also invite North Korea to send a delegation to the upcoming Olympics.
"I believe in the strength of sports that has been establishing peace," Moon said in his address.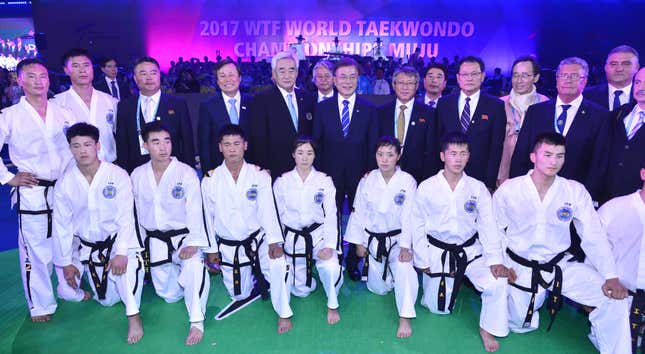 It might also help that North Korea's Kim is an avid fan of at least one sport: basketball. A former classmate of his from a Swiss grade school he attended has attested to his love of the game, adding that he was pretty good on the court.  And the Kim regime has welcomed former NBA star Dennis Rodman as a guest to North Korea on several occasions.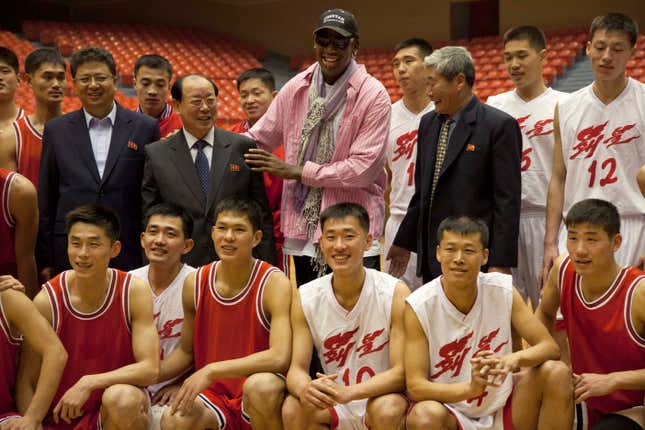 Of course, a shared love of sports can only go so far when nukes are involved. North Korea is still racing to build nuclear missiles that can destroy any city in the United States. Some fear it might already have that capability—it's certainly demonstrated missiles with the necessary range—and it's threatened to detonate a hydrogen bomb somewhere over the Pacific Ocean to show what it can do.
What's more, today's ongoing tensions exist despite sports cooperation between the two nations in years past—including unified teams at table tennis championships in Japan in 1991 and marches under a "unification flag" at various Olympics.
Still, these talks offer hope that they could lead to discussions beyond sports. Aside from the Olympics, a Moon administration official told the BBC, there will also be "discussions related to improving South-North ties after the North's participation in the Olympics becomes final."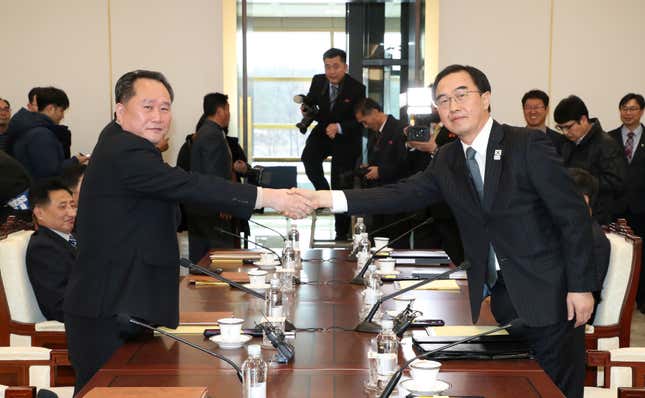 Ri Son-gwon, the chairman of the state agency in charge of affairs with the South, is leading the North Korea side. The five-member South side is headed by unification minister Cho Myoung-gyon, who told reporters on Monday (Jan. 8), "Basically, the two sides will focus on the Olympics. When discussing inter-Korean relations, the government will seek to raise the issue of war-torn families and ways to ease military tensions."
The North Korean delegate on Tuesday described the talks as "the first new year present" to the Korean peoples, according to South Korean news agency Yonhap. "These talks started after long-frayed inter-Korean ties," said his countepart, Cho, in response. "Well begun is half done."
Donald Trump, who threatened to "totally destroy" North Korea during his first address to the United Nations in September, offered a positive note Saturday (Jan. 6) on the North-South meeting: "Look, right now they're talking Olympics. It's a start, it's big start… If something can come out of those talks, that would be a great thing for all of humanity."
This post was updated Jan. 9 with details from the start of the talks.