Hong Kong recently passed a law to outlaw ivory trading in the city in four years time. That's good news for elephants.
Other animals, however, still aren't faring well in the city, which remains a busy and lucrative trading hub for all sorts of endangered flora and fauna. Most of these products are bound for China, with its voracious demand for all kinds of animals and their by-products for use in traditional medicine.
Just five months before China's ban on ivory trade went into effect last year, Hong Kong made its biggest seizure in three decades of illegal ivory, measuring over 7,300 kg.
The overall number of illegal wildlife trade seizures in Hong Kong jumped 400% in the first nine months of 2015 compared with the same period a year ago, according to data from non-profit organization Greenpeace. The South China Morning Post reported that in the first seven months of 2017, seizures of endangered wildlife products increased 60% from the same period in the previous year.
Here are some of the animals that are still in peril in Hong Kong.
Pangolins
Pangolins are the world's most traded mammal, mostly because of demand in China for their fetuses, scales, and meat, which are believed to cure diseases such as asthma and improve virility. More than 10,000 pangolins are traded every year, 50 times the number of tigers traded annually. The scaly animals, which have roamed the earth for 80 million years, are dying out in India.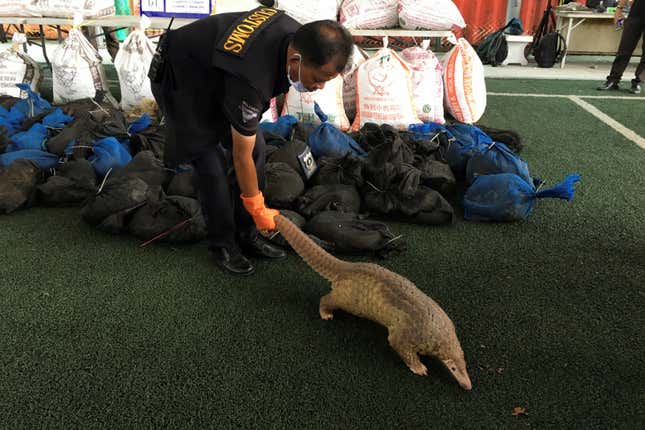 Several months before the Convention on International Trade in Endangered Species of Wild Fauna and Flora (CITES) banned all international trading of pangolins in September 2016, Hong Kong recorded some of the biggest cases of pangolin smuggling ever. In June 2016, authorities seized 4 tonnes (4.4 tons) of pangolin scales, a haul worth some $1.25 million. In July, officials seized another haul worth around $ 1.8 million, followed by one more in May last year, when Hong Kong customs uncovered pangolin scales worth around HK$4.6 million ($590,000) hidden among frozen fish.
Reef fish
The appetite for live reef fish for food, such as groupers, in Hong Kong and China are driving some fish to near extinction.
The demand has led to such serious levels of overfishing that catch levels of reef fish exceeded natural reproduction rates by as much as six times according to a recent study (pdf) led by the University of Hong Kong (HKU). One species in particular, the humphead wrasse—which commands one of the highest prices among live reef food fish—is listed by CITES as an endangered species.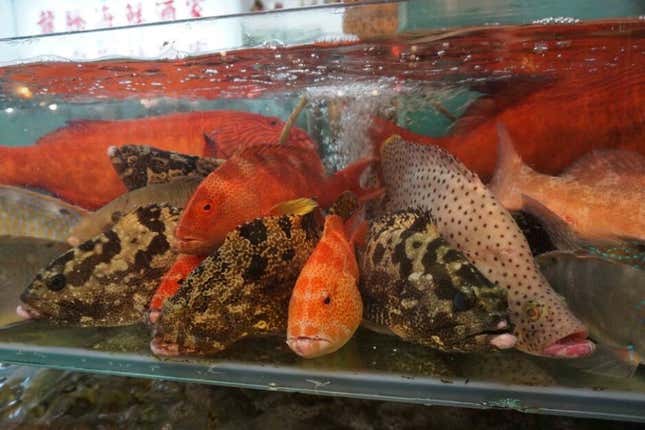 Although the live reef fish trade is a small part of the global fisheries trade, the report notes that it's still a highly valuable one, with some 20,000 to 30,000 metric tons (22,000 to 33,000 tons) traded in Hong Kong each year worth about $1 billion. The fish are mostly imported from Southeast Asian countries. The HKU report also highlights the fact that the trade volume in Hong Kong could be underreported by as much as 50%, as the figure doesn't include black-market trading.
Japanese eels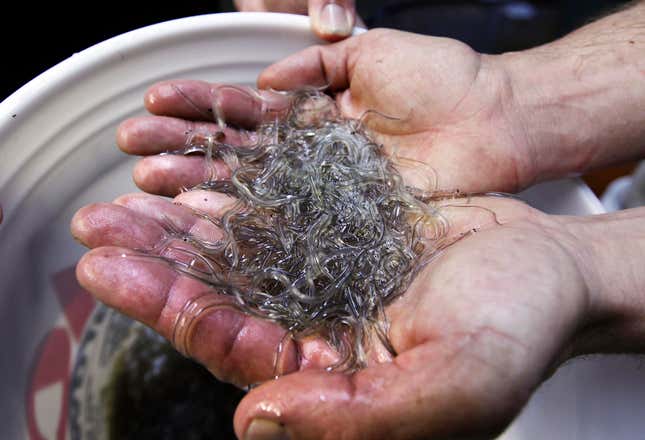 Hong Kong plays a key role in the illegal trade of live eels, which are widely consumed in East Asia and particularly in Japan. Eels are often fished and transported as babies, and then farmed in countries in Asia before being consumed as adults. Despite efforts to control the international trade of live eels, Hong Kong remains a loophole for the trade. According to the Japan Times, Japan, China, South Korea, and Taiwan agreed to reduce the volume of baby eels being put into aquaculture farms, but Hong Kong didn't participate in the talks.
The International Union for Conservation of Nature has listed the Japanese eel, a species found mostly in East Asia, as an endangered species. The European Union in 2010 outlawed the trade of European-caught eels to outside of the bloc.
Rhino horns
Rhino horns are extremely popular in China, where they are made into powder or cut into pieces as people believe the product can cure snake bites and hallucinations. People in China and Vietnam also collect rhino horns as a status symbol. To sustain this trade, at least 1,000 rhinos have been illegally killed every year since 2013 in southern Africa.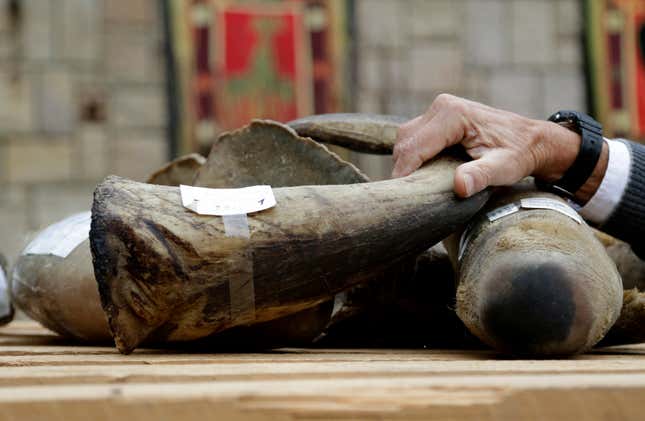 Last month, Hong Kong officials seized about 2 kg of suspected rhino horns, estimated to be worth some HK$400,000 ($51,000), at the airport from a passenger traveling from Mozambique. The discovery followed four similar cases in 2017, when customs officials seized rhino horns at the airport amounting to over HK$3.7 million ($473,000). In one case, a passenger from Johannesburg wrapped the rhino horns in tin foil and placed them inside a food package.