It's going to be a ruff year for Trump.
In Chinese culture, it's widely believed that people born under the same zodiac sign as the current year will face bad luck, believed to be cursed for offending the god of age. And Donald Trump, who was born 72 years ago during a "fire dog" year, is expected to see his share of challenges in the coming year of the dog, which begins on Feb. 18, three prominent Hong Kong feng shui masters tell Quartz.
Lee Shing Chak, Raymond Lo, and Yeo Tin Ming—feng shui experts who have each practiced for more than three decades—made their predictions using the "four pillars of destiny," one of China's ancient concepts for fortunetelling. According to the practice, a person's fate is determined by the four components of his or her birthday—the year, month, day, and hour—with each corresponding to two of the five elements (metal, wood, water, fire, and earth). It's believed the dominating elements can predict a person's traits, career developments, and relationships.
People born on the year of dog are generally thought to inherit some of the animal's characteristics, such as loyalty, patience, and reliability. Fire dogs, such as Trump, however, can also be hot tempered.
All the masters are in agreement that Trump is heavily influenced by earth and fire elements, but they differ slightly in their outlook of how it will impact his coming year. Based on Trump's birthday (June 14, 1946), they foresee relationship problems, policy failures, and possibly even being removed from office.
A blow in the midterms
While people born during dog years are associated with traits such as honesty, Lee Shing Chak—who in 2018 attended the World Economic Forum in Davos, Switzerland, representing Hong Kong's traditional culture sector—says Trump's ego and mood fluctuations can be attributed to the other pillars of his birthday. Because he was born on the fifth month of the lunar calendar, he is strongly affected by the pull between the sun and the moon, notes Lee.
In general, those born on dog years will likely encounter challenging relationships at work in 2018, and Lee predicts Trump will see further upheaval in his staff, which could "affect the world." He also suggested a power shift in the US this year, with Republicans losing ground in the midterm elections in November, and that Trump's policies, such as his proposal to build a border wall, would fail.
Because Trump's wife, Melania, was also born on the year of the dog (1970), Lee cautions Trump to pay special attention to his marriage. Based on her birthday, his daughter Ivanka, who was born on the year of the rooster (1981), could also face professional challenges. Ultimately, he says the family will have to weather these challenges together.
Enemies rising
Though Trump was born on a fire dog year, he's particularly strong in earth elements because of the day of his birth. His earth characteristics have shaped his tough personality and helped him in the property business, says Raymond Lo, who was a feng shui representative at the World Economic Forum in 1996. But too much earth can make one out of balance, and this is why Lo—who claims to have predicted the re-election of Barack Obama in 2012—says Trump will suffer an "earth penalty" in 2018.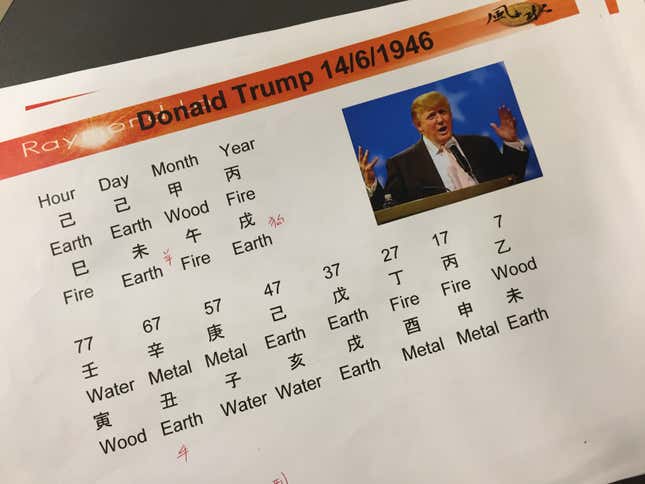 The earth penalty will stimulate his enemies, "so there will be anti-Trump movements," he adds. Lo foresees more obstacles and resistance for Trump, especially in the first six months. Not only will his enemies (Democrats) get stronger, he predicts that "maybe more people from the Republican party will also be against him." But if he survives October—one of the worst months for people born on the year of dog—then November (and the midterms) could end up in his favor.
Trump might have a tough time with Ivanka too, according to Lo. Based on her birthday, Ivanka is influenced by the metal element. Because earth produces metal, Trump might make his daughter out of balance. "She will feel frustrated not being able to carry out her ideas," Lo says.
Removal from office?
Trump will continue to provoke the world, maybe even try to start a war, but because luck isn't in his favor this year, "none of the bad plans he has will become the reality," says Yeo Tin Ming.
Using I Ching, one of China's most consulted books that's believed to be the guide to everything, Yeo, who's often featured as a feng shui expert on Hong Kong television, predicted health problems and accidents this year, especially from early October to early November. This will be a rough period for him, and "he might be removed from the office," he adds.
Yeo, who claims to have predicted Brexit (link in Chinese), says Trump has a "vicious" heart. He's persistent and confident because of the earth's influence, and short-tempered because of the fire element.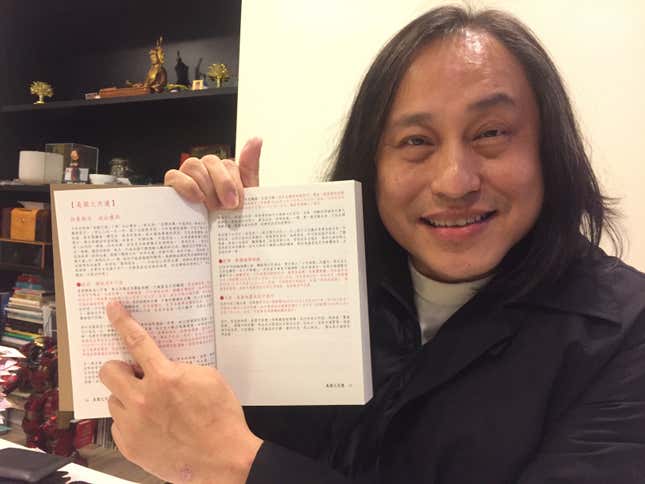 Trump will face a lot of challenges from colleagues and even allies because of his decisions and the scandals surrounding him, Yeo said, referring to his campaign's Kremlin connection. Those who choose to side with him will likely get into trouble themselves.
These are reasons Yeo says the Democrats will surely win the midterm elections, and Trump's policies, such as the Mexico border wall, will fail to pass.