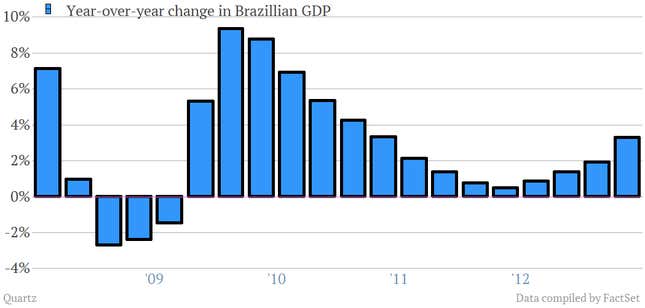 Brazil has a name for its economic woes: PIBinho. The Portuguese portmanteau, which translates as "little GDP," combines the Portuguese equivalent of GDP (PIB) with the Portuguese diminutive. But more recently, the country's economic policymakers have been pleased by signs of PIBão (big GDP), after new statistics from the government showed year-over-year growth increased 3.3%. Its economy grew 1.5% in the past quarter alone, exceeding expectations of an 0.9% expansion.
Brazil has been facing a bout of low growth and high inflation, exacerbated by pressure on its currency from global markets. Investors have reacted to slowing expansion and the expected tightening of US monetary policy by pulling cash from the country, weakening the real against the US dollar.  That has helped contribute to higher prices, but the central bank's plans to tighten interest rates have been tempered by fears of hindering already slow growth.
Today's news, then, should brighten the mood; a higher growth rate should give the country more flexibility to fight high prices. Indeed, the real gained slightly against the dollar after the announcement.
But there's a warning in the figures, too: The gains came mostly because of increased agricultural production, lead by soybeans and corn. Increased productivity is nothing to sneer at, but with commodity prices trending downward, it's not clear this is a sustainable trend, especially if the country's transit infrastructure can't get the goods from the farms to the market. It's a reminder—alongside the protests at this summer's Confederations Cup—that more reform is needed for Brazil to fulfill its potential.