Today, 64% of South Africa's mining workforce are going on yet another strike, echoing those that paralyzed the industry for months last year.
Lesiba Seshoka, a spokesman for the National Union of Mineworkers (NUM),  told Quartz that the union wants mining employers to raise entry-level wages for miners who work underground from 5,000 rand ($488) a month to 8,000 rand. But the Chamber of Mines, which negotiates on behalf of the companies, has made a final offer of a 6% to 6.5% wage increase, which would nudge the current monthly wage up to between 5,300 and 5,325 rand.
Government statistics (pdf, p. 17) might make one think the miners have little to complain about. From 2009, average wages for mining and quarrying workers have well outstripped inflation. At current prices (i.e, not adjusted for inflation), wages have risen from 10,348 rand in February 2009 to 15,577 rand in February 2013, a 50.5% increase. Consumer prices rose only 23% (pdf, p.2) over the same period: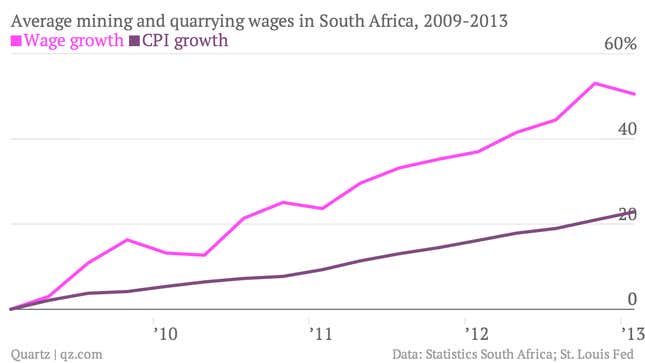 But the lowest-paid miners have not enjoyed these inflation-beating wages. Seshoka said the 5,000 rand monthly entry-level wage is the result of a two-year collective bargaining agreement. Before then, entry-level miners made 4,200 rand a month from 2009 to 2011—also the result of an agreement. So with the maximum proposed increase today, they would make 27% more than in 2009—just barely more than inflation.
That entry-level wage also hardly covers basic necessities. According to Numbeo—a database of user-contributed data about cities and countries worldwide—the median costs of transportation, basic utilities and rent outside city centers in South Africa add up to 4,950 rand a month.
"With 5,000 rand you can't do anything," said Seshoka. "We want [the entry-level miners] to be able to earn a decent living. Many of them live in shacks," he said.
So far only one of four unions has accepted the Chamber's offer. But NUM Seshoka told Quartz the NUM won't accept anything less than what it has demanded, and that the 80,000 person strike will continue until its exact demands have been met.
And with companies saying they can't afford it and rumors of a preemptive lockout, a compromise doesn't seem likely to happen, which is not good news for South Africa's struggling economy.