North Korea's pair figure skaters, Ryom Tae-ok and Kim Ju-sik, electrified the stands in Pyeongchang with their Olympic debut, where they recorded their personal best score for the short program.
Ryom and Kim scored 69.40 for their routine, set to a Jeff Beck instrumental cover of The Beatles' "A Day in the Life," immediately putting them second in the standings behind Russian skaters Kristina Astakhova and Alexei Rogonov with 70.52. Several teams, including from the US and Canada, had yet to perform.
A CBC commentator said the pair likely came into the Olympics with more confidence because they won bronze last month at the Four Continents Figure Skating Championships in Taipei, Taiwan.
Though Ryom and Kim had the support of the North Korean cheerleading squad, the audience clearly loved them as well. At Pyeongchang, the pair started off technically strong with a triple twist lift, but the crowd favorite was when Kim lifted Ryom overhead. They ended the routine with a forward inside death spiral.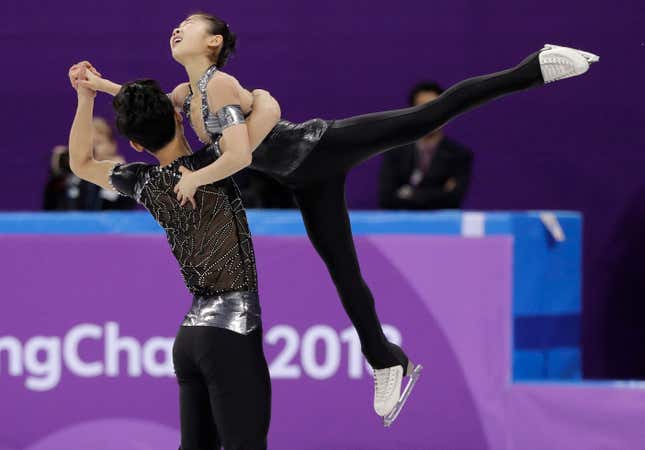 The two trained under Canadian Bruno Marcotte in Montreal, Canada last summer, and his sister, Julie, choreographed the routine. Marcotte described them as fast, with "beautiful, classical lines," "good posture," and "unison [that] is really next to none."
"They're so expressive that the audience just connects very well with them," Marcotte told the Global News in November. "They have a lot of charisma on the ice, that's for sure."
While expectations are low that they'd medal—the New York Times says they have "zero chance"—they've been been among the most popular athletes at Pyeongchang. Given their standing, they will be among the 16 pairs to advance to the free skate tomorrow (Feb. 15), for at least a shot at a medal.
Today's routine is similar to the one they performed a month ago in Taipei: