European Central Bank President Mario Draghi didn't do or say much to make the situation on the continent any better Oct. 4. But make no mistake about it, the problems are far from fixed. Just look at this snapshot of the Spanish banking system, from Morgan Stanley: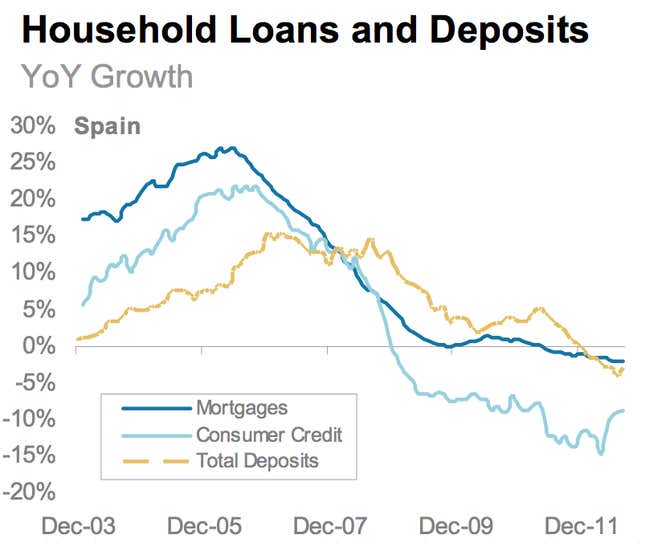 The shrinking of deposits—the yellow line—tells you people continue to pull their money out of Spain's banks. This amounts to more or less a slow motion run on the nation's banks, and it underscores how interconnected and daunting the problems in Europe are.
It goes something like this: Spain's banks got dangerously over their skis during the boom years, handing out loans for housing like a meth-addled Las Vegas mortgage broker circa 2005. Amid the economic slowdown, a lot of those loans went bad and continue to get worse. Historically, when banks get into this situation, they go to the government to bail them out. But Spain doesn't have the cash to bail out the banks. So Spain needs the richer nations of Europe to lend it a hand.
The ongoing difficulty of arranging a bailout of Spain itself is making some people jittery about the future of the euro. Those jitters make the situation with the banks even worse. People with accounts at banks in heavily indebted countries may worry that they could see their bank accounts re-denominated into another currency with a lot less buying power. To avoid that risk, some likely pull their cash out of the bank. JP Morgan analysts wrote in September that since mid-2011 non-domestic residents who have 90 billion euros of deposits in Spanish banks have pulled almost 50% of their money out, as opposed to a decline of 20% for Spanish non-financial corporations and a 4% decline for Spanish households.
Those falling deposits have real implications for the economy. As the deposits disappear, it means the banks have to take less risk. That means they make fewer loans.  Lower levels of lending means lower levels of growth, and the next thing you know, you've got record high levels of unemployment. At any rate, the outflow of deposits remains a worrying sign.