Barcelona
When Apple relaunched the MacBook in 2016, it miniaturized the design of its existing MacBook Pro models, removed almost all the ports, and covered them in a nifty matte coating.
The laptops were structurally quite similar to what came before, albeit thinner and with far louder keys. The designs now seem somewhat dated compared to some newer Windows machines on the market, like the Dell XPS 13 and Lenovo Yoga 920.
At a press event in Barcelona on the day before the opening of the Mobile World Congress trade show, Apple gained yet more competition in the laptop market from a somewhat unlikely source: Huawei.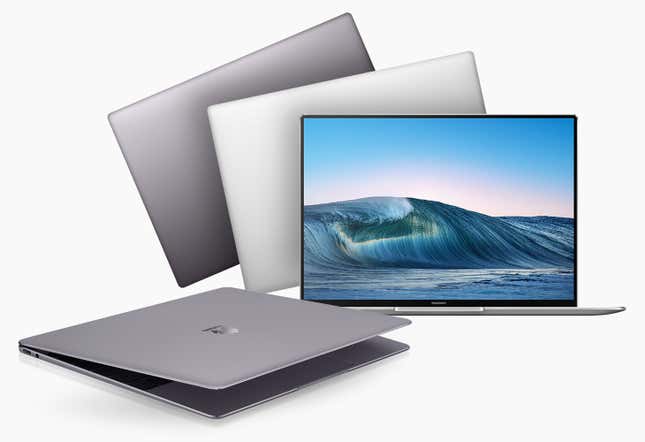 The Chinese telecom company unveiled the MateBook X Pro on Feb. 25. It's an update to the MateBook X released last year, which already had Apple-like design leanings. The new model features what Huawei says is the highest "screen-to-body" ratio of any laptop out there, more than the Dell XPS. The awkward black borders around the screen are almost entirely gone, and although the laptop is just 14 inches diagonal, it features a full-size keyboard and a screen that usually would only fit in a larger, 15-inch laptop.
To accommodate the bigger display, Huawei decided to remove the webcam from the top of the screen. It now hides below a fake function button at the top of the keyboard, allowing users to pop it up when they want to video chat with someone. It hides away when it's not needed, allaying fears that someone could access the camera without their knowledge.
The laptop also features a dedicated fingerprint scanner, surround-sound Dolby Atmos speakers, and a 3K HD touchscreen, which no Apple laptop has yet had. Huawei also added back a traditional USB port (in addition to the two USB-C ports this and last year's model have) in response to customers saying they still using devices with standard USB cables. This is something Apple is unlikely to accommodate, even though its customers have been unhappy about the number of dongles they need to carry just to connect all their old devices to the newest machines.
Still, Huawei's new Windows laptop probably won't sell like Apple's, at least in the US; Mac sales accounted for $7 billion in revenue last quarter alone. It does, however, show what's possible in modern laptop design. The MateBook X Pro will start at €1,499 (roughly $1,850) when it launches next quarter, although pricing for the US market isn't finalized. (A comparable MacBook Pro costs $1,800.)
Perhaps Apple will release something similar in the next few years, when it will inevitably be described as "magical" and sell millions of units.
After all, being first is rarely as important as being best.