Xi Jinping could be China's president for a long, long time.
Yesterday the Communist Party's central committee proposed removing presidential term limits from the country's constitution, state media reported. That's sparked fears of an unlimited term for Xi, and prompted China's internet users to turn to memes—one of their few ways of speaking out—in protest.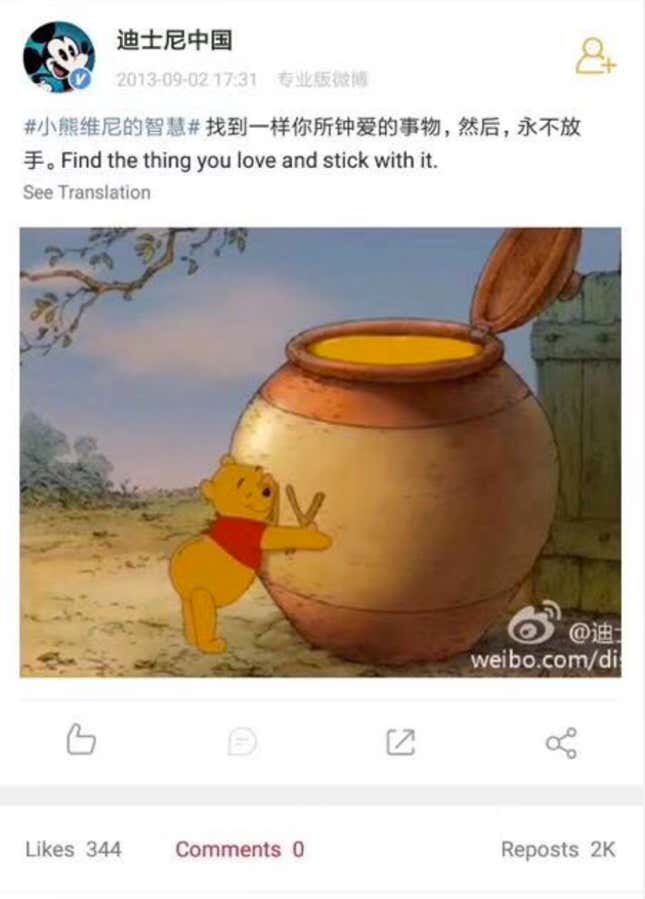 Winnie the Pooh
On WeChat, people began circulating images of Winnie the Pooh, a political meme from 2013 that plays on Xi's resemblance to the chubby character.
One image that quickly circulated on WeChat's Moments feed features Pooh hugging a large honeypot, accompanied by the words "Wisdom of little bear Winnie the Pooh" in Chinese and "Find the thing you love and stick with it" in English. Another shows Pooh dressed in a red gown with a crown, while his donkey friend Eeyore is wearing a knight's helmet.
Both images were quickly censored. When Quartz tried to send them using accounts based in mainland China, neither made it through to the intended recipient, and the sender received no alert about the failed delivery. The same applied to WeChat's Moments feed, although some images containing Pooh still made it through.
Winnie the Pooh images have long raised the ire of China's censors. In July 2017, citing the culture ministry, a WeChat message said Pooh images would be taken down due to his resemblance to a Chinese leader. Although the post didn't specify the leader, Chinese netizens were already associating the tubby character with Xi.
On Weibo, users have been getting the message that it's a "violation of laws and regulations" to post comments containing "little bear Winnie" in Chinese (小熊维尼; xiaoxiong weini). A search with the keyword returned empty results.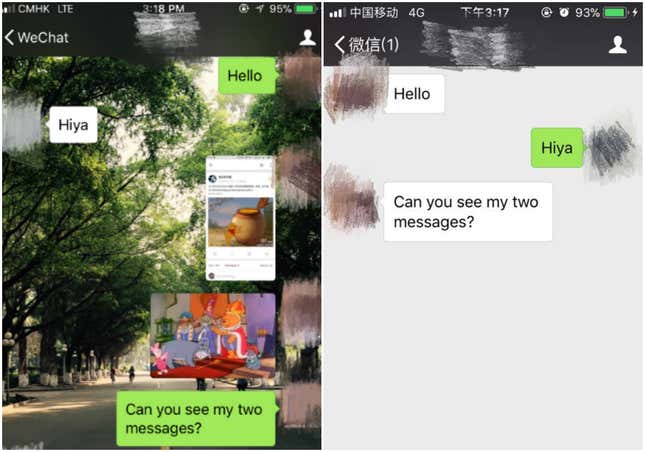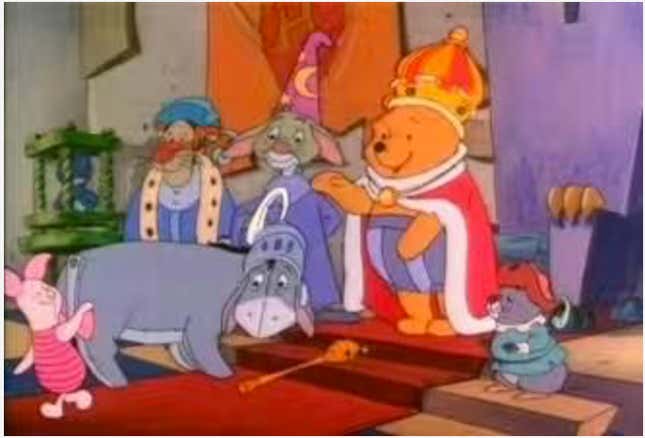 A short-lived emperor 
The prospect of Xi having no term limits reminded many people of China's past dynasties, with emperors able to remain in power until death. Some associated yesterday's move with Yuan Shikai, a Qing dynasty general who tried to restore the monarchy while the nation veered between revolution and a more democratic system. In 1915, Yuan announced a new imperial dynasty, with himself as an emperor. That lasted for about three months, and then he was forced to abdicate.
Some noticed that Yuan Shikai, along with phrases like "long live the king" and "ascended to the throne," have been censored. Users trying to make posts or comments with them have received "violations of laws and regulations" messages.
Weibo did not immediately reply to Quartz's requests about which laws and regulations were violated, and when or if users will be able to comment or post with those keywords again.
Profile pics frozen
Starting yesterday, neither WeChat nor Weibo would allow users to change their profile pictures, statuses, or aliases, citing system maintenance as the reason, according to TechWeb (link in Chinese). In WeChat's case, the move will last until March, the tech blog noted. Although it's unclear whether the restrictions have a direct link to the Xi news, some viewed it as a way to prevent subtle dissent.
It's happened before: In November, when Beijing launched a mass eviction of migrant workers out of the city, China's internet quickly resorted to using the phrase "low-end population" in aliases as a form of protest. The phrase was first used by the government, but it became shorthand for prejudice toward migrants and criticism of authorities. Users were quickly prevented, however, from using the phrase any longer.
Time to emigrate
Beyond social media, there's been a sudden uptick in Chinese internet users apparently considering emigration, judging by a screenshot of the Baidu index, which shows search trends. Searches on "migration" (移民; yimin) surged from nearly zero on Saturday to over 2,000 around 7pm yesterday.
Baidu has temporarily nixed the index feature (link in Chinese) for the keyword, according to the latest search. Searches on "migration to the US" and "migration to New Zealand" also returned empty results.
A company representative said the firm had no comment on the spike, or on when the index would be fully operational again.