Swedes—on pace to become effectively "cashless" in five years—are giving up notes and coins faster than just about anyone else. The phenomena has roots in the country's laws, technology, and culture. And a string of robberies also prompted questions about whether cash was worth the risk.
The Scandinavian country of 10 million saw a series of big heists during the last decade, according to a presentation by Niklas Arvidsson, associate professor at the KTH Royal Institute of Technology in Stockholm. One of the most daring was a helicopter caper, in which a gang stole about $5 million worth of kronor from a cash-distribution depot in Västberga in southern Stockholm. Police were foiled from calling in their own helicopter by a bag of suspected explosives planted in their aircraft hangar, according to the Guardian.
A surge in bus robberies also inspired Swedes to give up notes and coins. Criminals increasingly targeted buses after a flat fare of 20 kronor ($2.41) was introduced in 2006, meaning buses were circulating with more cash, according to The Local. Unions, concerned about driver safety, demanded an end to cash handling, and the government later announced that drivers would stop accepting notes and coins.
There was also the scandal at Panaxia, one of Sweden's biggest cash-transport companies, which filed for bankruptcy in 2012. Millions of kronor reportedly "disappeared," and the collapse may have made it more difficult for some retailers to transport cash, making them more vulnerable to robbery.
A legal foundation for going cashless
Of course, Swedes have embraced electronic payments for a number of reasons that are much less infamous. Banks developed IT infrastructure in the 1960s to support direct deposit for employee wages, and in doing so agreed not to charge for withdrawals, according to Arvidsson. This removed the need for some money handling, and checks began to phase out in the 1980s.
There's also a legal foundation for Sweden to go sans-cash. The nation's commercial law is unique, because it allows stores to overrule the central bank law requiring companies to accept Swedish krona. If a store has a sign saying that cash isn't accepted, and many of them do, then it's assumed that its customers have entered into a legal agreement to essentially use electronic payments, Arvidsson said.
"You don't see that in many countries," he said of Swedish commercial law. "It's an important reason why it's decreasing so quickly."
And then there's Swish, the fintech company launched in 2012 that connects a user's mobile phone number to a bank account. Its customers can move money from one bank account to another (person to person) in real time, and Arvidsson says about 70% of people over 15 are using it. Given the way things are going, the cost of handling cash will no longer be profitable for merchants by March 2023, according to the professor's estimates, at which time Sweden will be practically cashless.
Sweden as a lab for the end of cash
Sweden is still an outlier. The number of banknotes in circulation worldwide is still expected to grow about 5% a year, according to Smithers Pira research. That makes Sweden something of a laboratory for what happens when the use of notes and coins crumbles.
The country's Riksbank has been researching whether to issue digital currency, an e-krona, for example. Whether such a currency would use architecture similar to crypto assets like bitcoin, which resemble a digital kind of cash, is yet to be decided.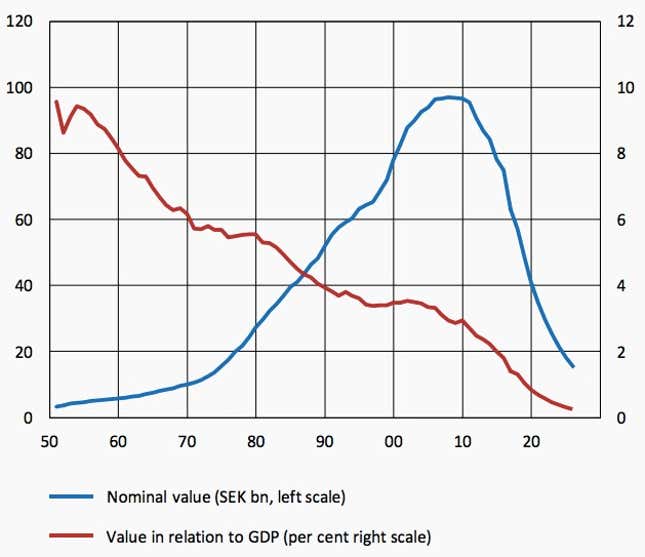 And while these electronic payments are arguably safer than holding physical cash, there are questions about what would happen during a crisis, major computer server disruptions, or power blackout. People who live in remote regions, or are less comfortable with newer technology, could be at a disadvantage.
As these concerns are being debated, the cost of maintaining what's left of Sweden's cash infrastructure is increasing. In the meantime, Sweden, like the rest of the world, has to beef up its defenses against the bank robbers of the future (pdf)—more commonly known as computer hackers.